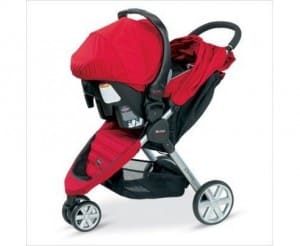 Britax, the family gear company, has recently added a new stroller to their extensive gear collection. Designed to accommodate a child from birth the B-Agile is a fabulous lightweight stroller (16.5 lbs) that is so versatile it could easily be the only stroller a family would need to buy.
Out of the box all that needed to be done to get started was to pop the wheels on. It was so easy to do that the stroller was together and ready to roll in less than 5 minutes!
I love this stroller – really love this stroller. From birth the B-Agile is travel system compatible with Britax's Chaperone or B-Safe infant car seats when using the included adapters.  It can also be used with other major infant car seat brands, including Graco, Chicco, and Peg Perego with the additional purchase of the BRITAX infant car seat adapter.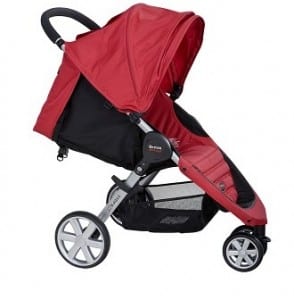 For kids 6 month+ the stroller's seat is both spacious and comfortable. It measures 14″ wide and has a deep seat that is perfect for a bigger child. Both of my boys 2 & 5 fit in it easily with room to spare. It also has a one-handed, no-rethread, padded 5-point harness at the back that is the easiest I have ever used.
To accommodate a sleeping child, the seat on the B-agile can be reclined fully with just one hand.  While reclined, a weather panel can be rolled up to allow air to flow through the stroller.
To keep your little one protected from the elements the B-Agile has a spacious and sturdy 3-position canopy. I have used it a couple times during an unexpected storm and was thankful that it covered 70% of my son and it didn't blow backwards when the wind kicked up. The canopy also has a mesh peek-a-boo window that can be secured back with an elastic toggle.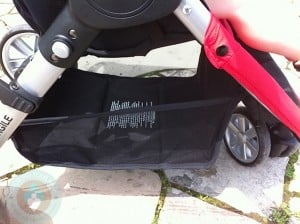 The storage on the B-Agile is surprisingly spacious for a lightweight stroller. It also has a weighted bottom which allows it to lay flat.  During my weekly trip to the market I was pretty impressed that it was able to hold a good portion of fruits and vegetables I picked up.
On the back of the stroller Britax has also added a large zippered pocket that can hold keys, money, snacks or additional accessories you may need for your day out.
The push on the B-Agile is extremely smooth thanks to an all-wheel-suspension 4 wheel design. The two 5.5″ wheels in front allow you to manoeuvre the stroller easily while the 9.5″ back wheels make it easy to go over rocky terrain.
During the last few weeks I have taken the B-Agile everywhere and it has been perfect in every situation. It goes over grass, uneven pavement and gravel easily. Even with my 36lb son in it, it pushes with little effort.
Plus, taller parents will like that the back wheels attach to the frame and not an axel so there is no concern of kicking the wheels while strolling.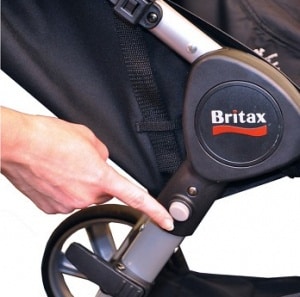 The fold on the B-AGILE is one of my favourite features. It is truly one-handed and so easy that anyone can do it.  You just simply press the grey button on the right side, lift up on the strap on the seat and the whole thing collapses in half. It's so easy to do that it is virtually impossible for a caregiver or grandparent to get confused.  In fact I've had other moms in the parking lot ask me to do it again when they see me collapsing the stroller.  Once closed, the stroller has a latch at the side that locks it instantly to ensure it stays shut.
The B-Agile is one of the best 'all around' strollers I have ever tested.  It is light, easy to push, comfortable for my son and can be used from birth.  Often parents buy a full size stroller for every day use and a second for travel.  The B-Agile can easily be used for both.
It is currently priced at $215 on Amazon, which is a great price for a product that has as many features as this one does.
Additionally, there are quite a few accessories you can add on like: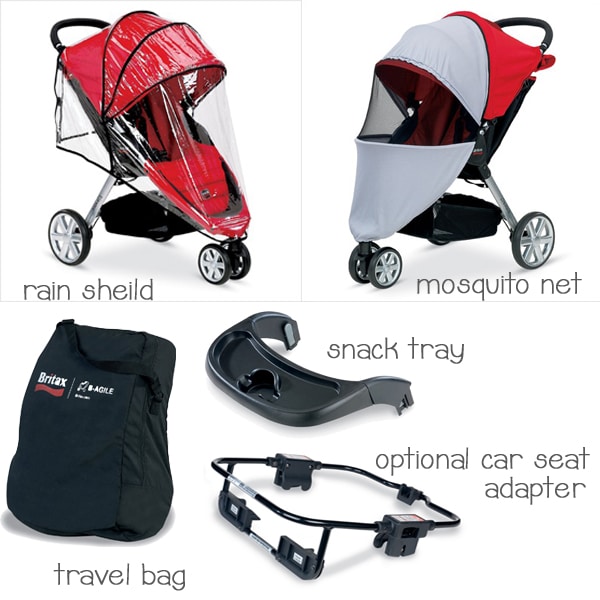 Specifications: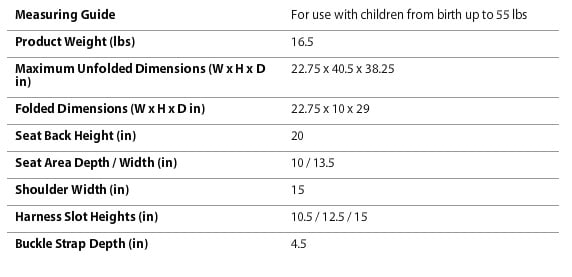 Related Articles: