The Bugaboo Donkey is amazing. Truly and absolutely amazing. I'm going to try not to say amazing as often as I'd like, but I can't make any promises. I'm in love. Can you tell? Not only is it an amazing feat of engineering, it is amazing in every way. The concept itself is genius, making it actually work is impressive enough, but it's really the wealth of details that add to the whole package that make it so incredibly functional and easy to use that are most impressive. This is the happiest I have ever been made by a stroller. The Bugaboo Donkey is, in a word, amazing.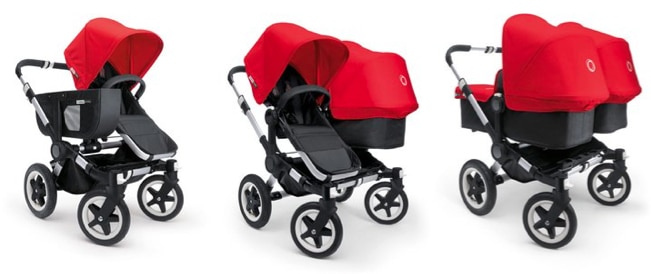 I knew I would love it, but I had no idea how much. My very first stroller was a Bugaboo Frog and I have waited for a double version since the moment I even considered having a second child. Now that the Bugaboo Donkey is here, it far surpassed my expectations. As a mother of 4 small children under the age of 6 and absolutely stroller dependent, I only wish it had arrived years earlier. Does this stroller live up to the hype preceding it? Yes. So many things in life promise to make your life better, look good, seem as if they will be amazing, but just don't quite deliver. The Bugaboo Donkey is not one of those things.
Features
The Bugaboo Donkey is available in 3 configurations, mono ($1199), duo ($1499) or twin ($1659). The mono includes the chassis with large air filled tires, side luggage basket, underseat basket, 1 seat frame & 1 set of canopy wires, your choice of sand or black base seat fabric and base bassinet fabric, choice of sun canopy and bassinet apron (available tailored fabric colors are black, red, pink, sand, off-white, and royal blue) and a rain cover. The Duo adds what you need for a second seat and an additional rain cover. The Twin adds what you need for second seat and bassinet plus the additional rain cover. An extension kit ($300) is available if you wish to start out as a mono and add the second seat capability at a later date. This is the only stroller that expands (very easily) from a single to a side by side double. This allows the stroller to function as either a single or double without one rider being in the back, which many little riders don't enjoy, and without having to bend down to a lower second seat.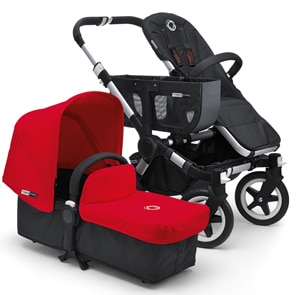 The basic features include the extendable chassis which allows the frame to be pulled out from a 25" single to a 29" double (very, very cool, easy and amazing) as well as the removable side luggage basket (with shoulder straps for use off the stroller), huge underseat basket with 3 great pockets, best and most easily adjustable 5 point harness ever (really), reversible seat with bumper bar and recline (2 position forward facing, 3 position rear facing), standing, automatic locking fold with seat(s) in either direction, telescoping adjustable handlebar, 4 huge air tires (10" front, 12" rear), large canopy (wish it had a peek a boo viewing window, the only thing I miss), foot brake and rain cover. The seat is rated from 6 mo and up, until that point the base bassinet fabric is used on the frame. The Duo configuration turns the Bugaboo Donkey into a double for an infant and an older child or if both of your children are already over 6 months and you don't need two bassinets. The Twin configuration has everything you need to use the Bugaboo Donkey for newborn twins, so it includes 2 bassinet base fabrics for ages 0-6 months for both babies.
Optional accessories include car seat adapters, cup holder, parasol, seat liner, footmuff, breezy sun canopy, wheeled board, organizer, and bugaboo bag.
Set-up
Despite the fact that this seems like a very complicated system, it is in fact relatively easy to assemble, though it does have quite a few steps. To set up the Bugaboo Donkey in Duo mode it took about 20-30 minutes to assemble with 2 seats, in mono mode it would be a bit quicker. The process involves attaching the wheels to the chassis, adding seat(s), canopy and basket. Before attaching the seat you need to you attach the fabric for the bassinet or seat to the frame, depending on which you need. You also need to attach the canopy fabric to the canopy frame wires (probably the most complicated part of the process, but still pretty easy). In mono mode you then just pop on the side luggage basket. In duo or twin mode, you need to extend the frame first to add the 2 seats or bassinets.
Use
Honestly I thought it might all be a bit much for me. I knew I'd love it, but I thought it might be bulky, heavy, hard to fold or extend, seats too small for my big children and so on. I was hoping, just a bit, that I'd hate it, so I wouldn't be sad when it's visit ended. Sadly for me, I am so in love with this stroller I'm constantly working out in my head which strollers can go to make way for a new Bugaboo Donkey and wondering how long the waiting list will be by the time I work that out…
Back to the details, the Bugaboo Donkey does look a bit large when it's sitting in the living room after it's been assembled. I know it says it's the same width as a Bugaboo Chameleon, but it just looks bigger. In Duo mode, I was thinking it was massive, despite it's narrow width. As soon as I took it outside, though it felt tiny. Even loaded up with 2 hefty children, it was so easy to use that I was already getting sad about sending it back. I can literally push it with a few fingers if I want to. The handlebar is a bit wide for my little hands, but once I figured out the right way for me to hold it, it was so easy, even one handed. I was actually glad to have the wrist strap on occasion because it really just felt as if it was pushing itself, even over rough terrain. And I took it over rough terrain. I threw everything I could find at those big air ties and we never even slowed down. In addition to our regular test circuit which includes cobblestones, badly broken sidewalks, mucky grass, big curbs hops and a few nice flat stretches just to be fair, I even took it through wet mulch and heavy mud that stops most strollers dead. In fact, our regular stroller got stuck in the same mud that I managed to roll though one handed with the Bugaboo Donkey. It actually made me want to sing, maybe do a little dance, I was that happy. On the first trip the ride was so smooth and the push so easy that my children screamed for more when we stopped and I doubled our usual walk. We happily tested the stroller in Duo mode at school, for walks, at the grocery store and it was perfect in every situation.
Despite the fact that it does look big at first it is actually 29" wide which is in fact very slim for a side by side double. We've only used one other side by side double stroller with roughly similar features that is narrower and it's just slightly narrower at the widest point. With it's excellent maneuverability this stroller will roll through tight doorways and crowded areas easily. The seats do look narrow and I know that is a concern for many people, but we found the size to be more than adequate. The seat backs are quite tall and have a 37.5 lb weight limit. Just to get an idea of size, my very tall 44 pound almost 6 year old tested the seat. His head did hit the canopy, but he had room in the seat and said the seat is very comfy. My also very tall and very wide 37 pound almost 4 year old fit just fine. His head is close to the canopy, but he has plenty of room in the seat and we've been stuffing him into way too small stroller seats for more than a year. He even napped in it very happily and I was able to easily get him in and out of the seat without waking him up which is pretty close to impossible in most strollers.
This is in part due to the fact that the harness is the best harness I've tried to date. The Bugaboo Donkey harness is very secure and exceedingly easy to adjust. The straps are height adjustable just by sliding them strap up or down, so no rethreading the straps or fixed strap heights, and each strap has a nice pull loop that makes tightening the straps so simple. This harness easily adjusts in seconds between different sized children with no fiddling, tugging or screaming (from me and/or the passengers), which often happens with certain other strollers we use. Even if you don't need to adjust the size quickly between say, a 16 month old and a 3 year old, this also makes it so easy to move a sleeping child without fuss or screams on anyone's part. In fact, I also managed to move my sleeping 16 month old in and out of the stroller without waking her, which has never happened before, in any stroller, ever.
The seats are reversible, of course, and have an easy one handed recline. You can also reverse the seat with one hand, just push in the buttons and pull up on the recline lever, turn and pop back in place. I love that I can easily reverse the seats depending on what's going on and who needs what and then just fold the whole thing in one piece. Yes, it really does easily fold with both seats in place in either direction. Because of how the recline functions, the seats can be positioned properly to fold whether forward or reversed or a combination of the 2. Also it can be folded with the bassinet(s) in place. Which brings us to the fold, it's not one handed, but it is exceedingly easy, smooth and painless. The stroller locks itself and will stand while folded, great for easy storage in smaller spaces or an apartment. More importantly to me, is then easy to pick up, even in Duo mode. This is the easiest double I have ever put into a car. I have compared it to both our regular side by side and inline and both are far harder and take longer to get in and out of the car and get going. The inline goes in in 2 pieces and it still seems heavier. We actually got to school 10 minutes faster with the Bugaboo Donkey than we did in either of the other 2 strollers. Getting back into the car was even faster, not to mention the reduction in back pain from lifting a lighter less cumbersome stroller in and out of the back of the minivan, where the Bugaboo Donkey fits very well by the way.
Switching from Mono mode to Duo mode is very simple too. All you need to do is open 3 clips, slide the frame and handlebar in or out then lock the clips back in place. So simple. Everything else works pretty much the same, it's just the number of seats and the mono weighs a bit less. You can easily just pop back and forth between modes on the go depending on how many children you have with you and everyone always has a seat with a view, with your choice of forward or reversed positions. The main basket is really terrific, great access with the seats in either direction and 2 handy side pockets for drinks or little items you need to keep handy. The best part might be the covered interior pocket. I really loved being able to pop in my bag, the iPod, etc and not have to worry about it all falling out when we hit a bump or being easy to grab by passers by as we got in and out of the car. When you're in Mono mode, you also have the side luggage basket, which is really great. Not only can it help you out in a trip to the market etc, but it can also hold drink bottles, snacks, a backpack or lunchbox, toys or books, all right where you or your child needs them. And since it pops right off, you can easily use it to tote your belongings with you when you go inside or are loading the car.
If you're concerned about the size as a single, it really does have the same rear wheel base as a single Bugaboo Cameleon. I measured to be sure. The handle bar and front are a bit wider than my Frog (the 2 front air tires add a touch of size there), but the overall space it takes up is similar. There are random places where you might not fit in Mono mode, but those will be the same places that you won't fit with a Bugaboo Cameleon or any other similar fully-featured stroller, such as a really narrow city grocery store check out (the only place I've ever not fit in a single stroller). In Duo mode, you will fit better than you would with almost all side by sides, no problems in narrow doors, small elevators, tight turns in store aisles, crowded sidewalks or stores.
The Bugaboo Donkey is truly an incredible stroller, if you have them means to work it into your budget, it suits the needs of your lifestyle or you think it will in the future, it is more than worth it. Everyone might not need what this stroller offers, but for me, it is everything it promised to be and more. If your day revolves around carrying a stroller on and off the subway or a bus or you live in a fourth floor walk-up, there might be a more appropriate choice for your circumstances. In pretty much any other circumstances, especially if you have twins or two small children, this is an exceptional choice. Oh, the existing Bugaboo wheeled board can be used with an adapter in all modes, offering even more options. Once you give this stroller a try, the donkey will become your favorite animal and its namesake will become your very favorite stroller. Both are there to help tote your ever increasing and changing load and make your life easier, what could ever be better than that?
Please visit the Bugaboo website for even more details (and there are more), to view the fabulous videos that detail every aspect of the amazing Bugaboo Donkey and to find retailers near you.
---