Australian Baby company Gr8x has one of the best on-the-go breastfeeding products available.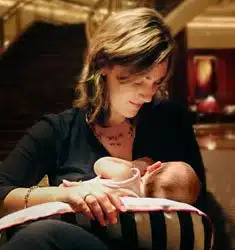 Their self inflating nursing pillow($49) has been a lifesaver lately while I have been out. I prefer to breast feed in the 'side-lying modified cradle' position which is only successful if you have a pillow. Because it's not practical to lug a breast feeding pillow around with me when I'm out, I normally find myself propping my son up with my sweater or diaper bag.
This chic pillow is compact enough that I can throw it under the stroller. But when inflated it is big enough for my 4 month-old son, who is bigger than the average child, to lay comfortably.
I like that when I'm ready to use it, I just need to pull the pillow out and it inflates easily in seconds. It's crescent shape fits nicely around my waist, allowing the baby to get close to me during feedings.
My son loves the soft and cozy velour material that covers the pillow.
The Gr8x self inflating feeding pillow is perfect for any on-to-go mom who needs to breast feed in a pinch. Mine stays in my trunk so that it's not forgotten.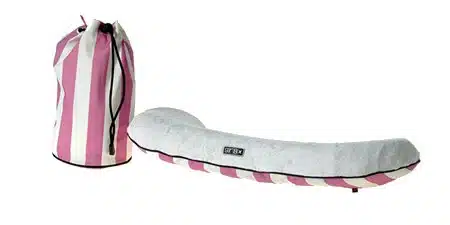 Available in 3 modern color choices:
pink/natural stripe
green/natural stripe
black/natural stripe
Dimensions when inflated – 20½" x 13″ x 2.6″
---