If you think it's impossible to love a breastpump, give the Hygeia EnJoye a try. I have pumped for four children, have tried many pumps and this is, by far, my favorite pump. In a very short period of time I can pump a decent amount without pain or discomfort. I know that I can pull out the EnJoye, sit down, quickly and easily pump what I need then get on with my day. I have consistently pumped twice as much as I do with my other pumps. I don't have to dread pumping, block out a huge chunk of time and hope I'm going to get what I need. I can now make time to pump extra milk to keep in the freezer for when I need it instead of just working really hard to just get what I need on the rare occasions that I can't avoid having a bottle ready. So, yes, I love a breast pump. I love that it really, truly works for me.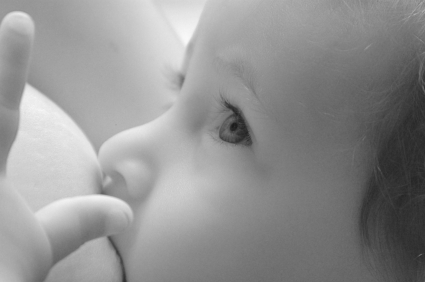 The Hygeia EnJoye offers many really superb features. It has two knobs that can easily and quickly adjust the speed and strength to exactly what works for you. You're not pushing buttons with jumps in the adjustments or hand pumping to try to get a good rhythm that you can mark for the pump to replicate. All you have to do is make tiny turns to the knobs. You can see what you're doing and get exactly what you want, exactly what works for you. There is also the Hygeia CARE Button, unique to Hygeia pumps, that records and plays back the sound of your baby crying, or whatever you prefer, to assist with let down if you need it. My sons also love having me hit the button and hearing the pump cry, which is an added plus as it helps keep them focused on the sound instead of pulling at the pump. The nice handle on top makes it super easy to carry the pump where ever you need to use it and the lack of membranes makes it fast to get ready to go.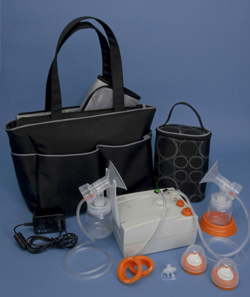 The model I tested(Enjoye LBI) includes an internal rechargeable battery. It runs for up to four hours, comes fully charged and will recharge itself whenever it is plugged in, so you don't have to worry about fully discharging the battery or leaving it plugged in to charge for a long period of time.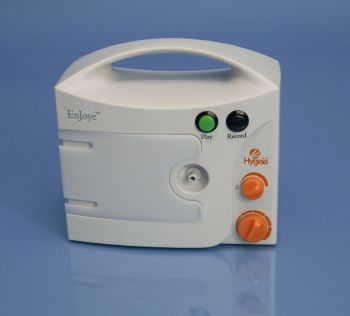 I have tried other battery-operated pumps and always found them to pump better while plugged in than off of the battery. I didn't notice any difference at all when this pump is plugged in or running on battery power. It makes it so convenient to just pick up the pump, sit down anywhere and pump. Plus the rechargeable battery means no batteries to buy or to dispose of. There are two other models, one with a removable battery pack(EnJoye™ EXT) which you can leave at home or work to make transporting it that much lighter or one that has no battery option(EnJoye™ EPS). The first two pumps can also be purchased with a very nice-looking tote and cooler set that make it easy to transport your pump and milk if you are pumping away from home.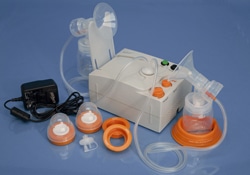 This pump is suitable for long term pumping and can be used to maintain milk supply. It is a double pump, so you do have the option to pump both sides at once if you are pumping full time. It is also really great though for those, like me, who do need to pump on a less frequent schedule and might not normally do as well when pumping. I thought that a small pump would be sufficient when I was no longer pumping regularly, but I was wrong. For me a small pump just meant more time pumping for less milk and therefore much less pumping because I avoid it at all cost. This is no longer a problem. For the first time in a very long time, I have milk ready when I need it for bottles and cereal. Having a really good pump is worth it even if you don't need to pump every day because it makes it easier for you to keep a decent supply of milk on hand for emergencies, outings and for when your baby starts solids and you want to mix cereal with breastmilk.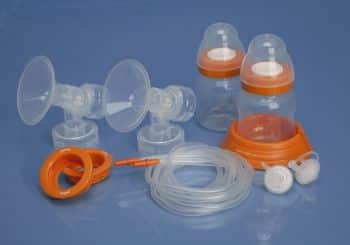 Another really amazing feature of this pump is that it is FDA approved as a multi-user pump. Most other consumer pumps are meant for single use only. That means that you use your pump and then you throw it away. Not the Hygeia pump. This Enjoye can be used by multiple users, which means you can share it or pass it on when you're done with it which makes access to a really exceptional pump much more possible. Each user just needs their own Enjoy Personal Accessory Set($35) which includes the bottles, valves, tubing, etc. One set is included with the pump and each additional user can easily purchase a set that includes everything they need to use the pump in one convenient package. Not only does this make this pump available to more users, it also helps keep the pumps out of landfills. Another "Green" feature of this pump is that Hygeia offers a recycling program, so if you don't wish to pass this pump on, you can return it to Hygeia to recycle instead of tossing it in the trash.
To make this pump even more attractive Hygeia offers a "Total Compatibility Guarantee" which allows for the return of the pump within 21 days if it is not compatible with your needs, as well as a 3-year warranty which is longer than other personal-use pumps currently available. You have nothing to lose by trying this pump. And after you do try it, you won't want to try any other pump. The EnJoye makes pumping better for breastfeeding mothers while offering earth-friendly features that are good for everyone. And truly, a good pump can make all the difference in the world in assisting a mother in continuing to breastfeed as long as possible, especially when returning to work or by allowing her the flexibility to be away from her baby when needed. The Hygeia EnJoye also makes the experience of pumping much more pleasant, not to mention "greener", and will help any pumping mother have a better relationship with her breast pump. Please visit the Hygeia website for more information on Hygeia pumps and accessories, as well as where to buy or rent their pumps. – Kiersten, Staff Writer
---