Baby carriers were not really my thing with my first baby. I did get one as a gift but found all the adjustments intimidating and time consuming for a tired first time mom. There were a lot of buckles and the carrier never seemed to fit me properly even loosened all the way. We used it a few times but my son seemed more comfortable in my arms most days.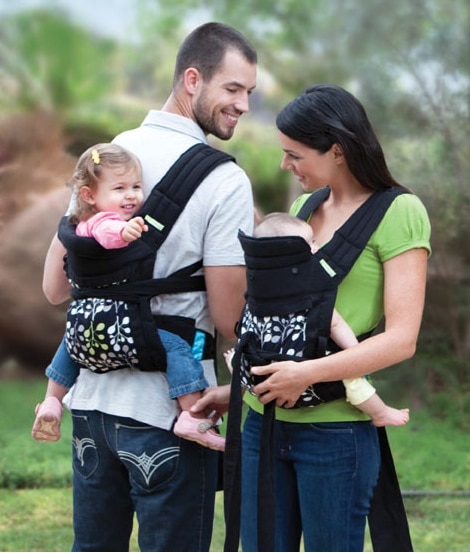 Not being an experienced baby wearer I wasn't sure what to expect from Infantino's EcoSash™ Wrap & Tie Carrier. Out of the box I immediately fell in love with its soft fabric and buckle-free design. Eager to try it out I read the manual and watched a short demo video on the Infantino site and was ready to go. To make using the carrier even easier there are placement and instructional labels discreetly sewn into the carrier. True to its name, I found using it even the very first time as simple as wrap, tie and go. With three carrying positions to be used from 8-35lbs this item is sure to be a staple in our house for a very long time.
Stage 1: Baby Facing-In
The most natural place for your newborn to be is with you. Infantino uses a centuries old carrying concept in a modern and stylish form to provide a safe and comfortable way to maintain close contact even while out and about or doing things around the house. My son was quite fussy unless being walked around in his early weeks so I found the EcoSash to be a great way to satisfy his needs and give my back and arms a break. The headrest provided the support his neck needed when he would fall asleep and the carrier was easy to untie and get him out without waking him – a plus for those hard to keep asleep babies. In this position you can use the included detachable hood to block out light and the elements while still maintaining a safe airflow.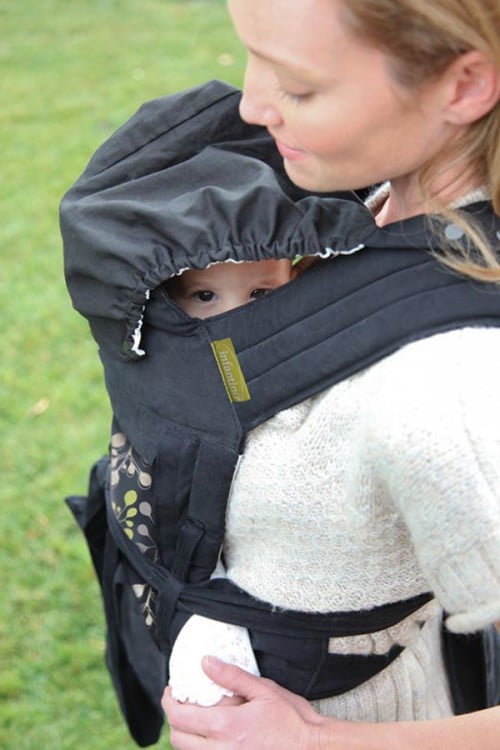 Stage 2: Baby Facing-Out
Once my son was able to hold up his head we were able to try the facing out position. Good timing because this is exactly when he started to get interested in everything going on around him and wasn't as interested in facing me all the time. To convert the EcoSash it was as simple as folding down the supportive headrest and cinching the front panel. The pacifier loop comes in handy at this stage and I even attached a teething toy to it.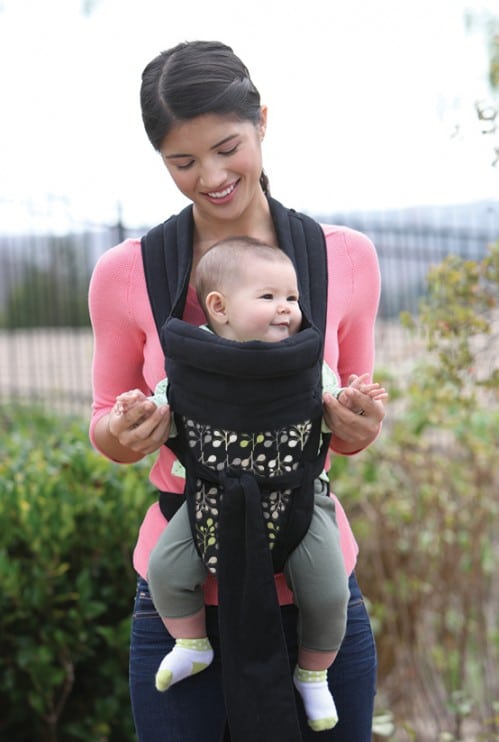 Stage 3: Baby on Back
Once baby can completely sit on his/her own the backpack position may be used. We are not at this stage yet but I am sure my little guy will enjoy seeing the world from higher up right into toddlerhood.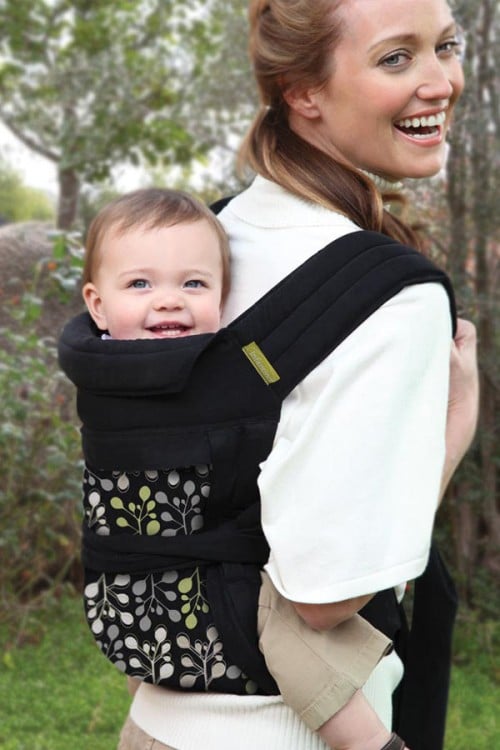 What We Like:
Reversible panel for two different looks
Detachable hood to protect baby from the elements
Natural seating position for baby
Wrap and tie design adjust to fit any body size that grows with your baby
Extra padding for added comfort
Mesh laundry bag included
Affordable at $59.99
Tips
Always try a new baby carrier on with a friend or partner. They can hold the baby and help you get everything adjusted for the first time. This will ensure that everything is ready when you are in a rush and need to just pop the baby in and go.
The instructional videos on the Infantino website are a helpful way for new parents to get a feel for how the carrier works. Those trying to decide if the carrier is right for them may want to watch how it goes on and adjusts.
*Thank you to Infantino for sending us a sample for review*
Related Articles:
---
[ad]