The Avio is Inglesina's newest compact stroller. It's perfect for new parents because it is suitable from birth to 40lbs and is designed to be fully configurable to your strolling needs.
I had the chance to preview this stroller last year and was excited for it's launch. Inglesina has done a great job of designing this stroller. From the minute I opened it up, the quality of every element was evident.
Out of the box, the stroller came almost fully assembled. All that was needed to get started was to hook the storage basket on.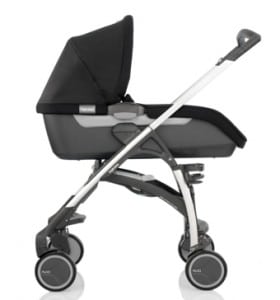 From birth, parents have 2 options; bassinet or infant car seat. Famous for their luxurious prams, Inglesina has given the optional bassinet($180) many high-end touches. To keep your baby comfortable year-round, the mattress is double-faced with mesh on one side for the hottest months and soft pile fabric on the other for the coldest months. The front section of the bassinet is pierced and lined with fabrics to ease air circulation and side transport handles make it easy to transport/attach to the frame of the stroller.
With the addition of an attachment($60), this multifunctional stroller can be turned into a travel system and is compatible with both Britax and Graco's car seats.
From 6 months+, the Avio can be used in regular strolling mode. Adjustable to 4 positions, the seat offers your child a 5-point harness, padded headrest and an adjustable footrest. It reclines to 170 degrees, which will be comfortable for a sleeping baby. To help keep the stroller looking nice the seat is covered in a nylon material, much like a jacket, that can be removed and hand washed to 30 degrees. Included is a jointed bumper bar that is covered in a vinyl type material that can also be easily cleaned.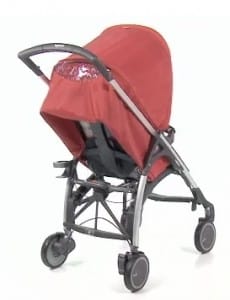 The canopy on the Avio is both generous and easy to adjust. It features a silent joint so not to wake a sleeping child and a hood flap that looks a bit like a baseball cap to offer extra protection. For moms who stroll outside year round, Inglesina includes a rain cover/weather shield that protects your child completely from the elements.
The under the stroller storage on the the Avio is a good size basket that will easily hold a medium size diaper bag and maybe an extra jacket or snack bag for your little one.
For our test, we have taken the Avio to the busy mall and market. This stroller has an incredibly smooth one-handed push. To achieve this Inglesina uses 4-6″ foam shock absorbing wheels, with ball bearings. The Avio also features a jointed handle to give the driver more maneuverability and the ability to push it one-handed. I am very impressed by the way that the Avio was able to navigate through the stores. It is very responsive and keeps up if you're in a hurry.
The break on this stroller is operated by a centralized control that is one of the easiest we have tested to engage/disengage. Once enabled, it reaches the correct position automatically.
Just like it's sister The Zippy, the Avio has a one-handed fold 'single action open/close system' (Inglesina patent). It will stand on it's own if the front tires are locked. Plus, to protect the seat from getting dirty when it is free-stand mode, Inglesina has added a rubber edge to the bottom of the seat.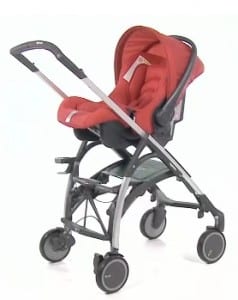 The Avio is a solid stroller that is very well made. It's functionality reduces the need to purchase more than one piece of gear as it does everything that a parent needs when heading out with a baby – it's a pram, infant seat carrier, stroller and is compact enough to be a good travel stroller as well. At $499 for the stroller it is priced a little higher than others on the market, but it's also one of the nicer made ones we have seen and is worth considering if you are looking.
If asked, the only change I would make would be to include a pocket in the canopy for keys or add a parent pack somewhere on the stroller to hold a phone or money. Everything else is perfect!
---
Specifications:

Dimensions when open: 109 x 87 x 49.5 cm (height x depth x width)
Dimensions when closed: 93 x 48 x 32 cm (height x depth x width)
Weight: Kg. 9.5 (with hood)
Structure materials: aluminum
Materials of the internal and external lining: Nylon.
---
[ad]