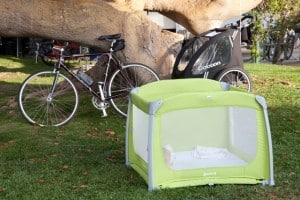 New from Joovy, the Room² Ultralight offers all of the features of their Room² playard, with a few improvements and at a 30% lighter weight (21.25 lbs). The new design still gives kids more space than your standard playard, with plenty of extra room for playing or napping (9 square feet), while being easy to store and transport. In fact, Joovy has designed it with an additional storage option, a quick fold, that fold it flat and keeps it ready to go in a moment's notice. This, together with the memory foam mattress and a cotton jersey sheet, complete the package for this very practical playard.
My son has been napping in the Room² Ultralight for several weeks. He sleeps longer and has plenty of room to roll around without getting woken up by bumping into the sides. Because the mattress is flat on the floor, the sides are taller and he is no longer able to climb out, which is a bonus. This is also aided by the fact that the sides taper in, narrower at the top, so that it's harder to climb out of anyway. Parents will like that one side is solid, which is nice if you want to turn that side out at naptime to block out the room light and noise a bit or outside to block the wind. There is also a pocket on this side that can hold toys or the carry bag to keep it handy. Two little wheels hide in two of the legs to make it easy to move around the room as well.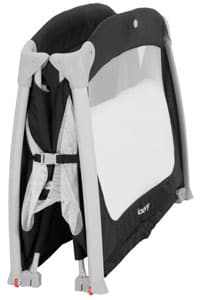 The Room² Ultralight is more like the playpens many people had as children, but are hard to find now. You will get that same larger area that seems more like a space for playing than just a spot to stow your baby. Your child will have much more fun playing in it, sleep more soundly with the extra space and comfy mattress plus have a  much harder time escaping once you hit that point. It will take up a bit more floor space, but not so much that it will get in the way. Those nice tapered sides act to keep the playard more stable and also make it feel less bulky in your space. We have had our Room² Ultralight sitting in the corner of our dining room and I am very glad it's there. My son is napping well and I know he's safe and comfortable. I couldn't ask for more. The Room² Ultralight retails for $209.99 and is available in black and Greenie (green).
---
---