The 4×4 Jeep from Joovy is undoubtedly one of the coolest toys that has ever arrived at our house.  Introduced last year, we first previewed them at ABC in 2010.  Knowing it would be a quick hit, I haven't been disappointed over the last few months as my boys put theirs through the paces!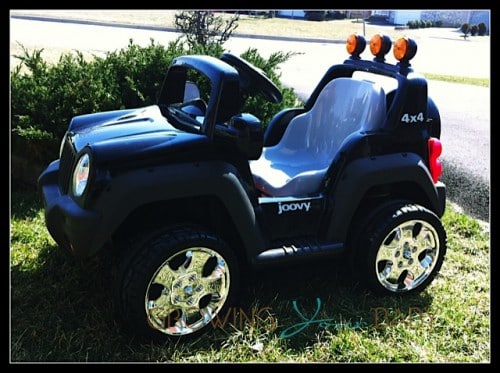 Out of the box the Joovy 4×4 took me about 40 minutes to assemble. It comes 90% together with just a few extra pieces that needed to be added before you can be on the road.
I highly recommend parents keeping this car out of sight when it arrives and installing it in the garage while your kids are sleeping as it does need 8-10 hours after you put it together to charge the battery.  I was not aware of this and I had a 3-year-old hoovering over me the whole time I put the truck together and then pouting when he realized that he couldn't whip around in it immediately.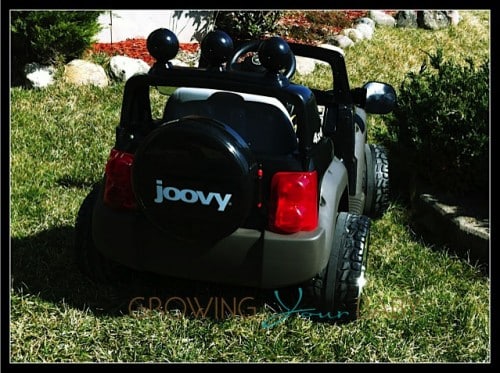 Once put together and charged this Jeep is pretty cute and it has all of the elements of a real Jeep.  Operating it is very easy and it took just a couple tries for both boys to get the hang of how to cruz around the neighbourhood.
On the dash Joovy has attached a key that turns the Jeep on for your little rider.  There are also 2 switches; one that controls the direction(front and back) and another the speed(low or high).  At first my boys wanted to keep it on low because they weren't used to driving the car. But now they only drive it on high, which is quick but not dangerously fast.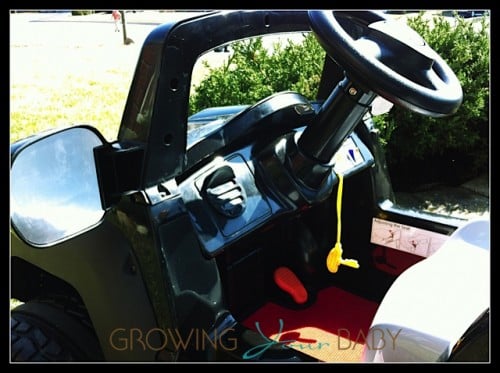 Under the dash there are two pedals one that acts as the Gas and another that is just a fake brake.  To brake your child just needs to simply take their foot off the accelerator and the truck stops.
For early evening drives, Joovy has designed the 4×4 with real head lights.  Our boys like to stay out as long as possible so these came in handy especially now when it gets dark early.  Plus, they make it easier for vehicles and other kids on their bikes to see them on the street.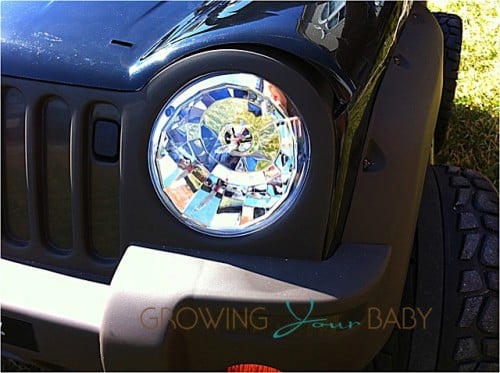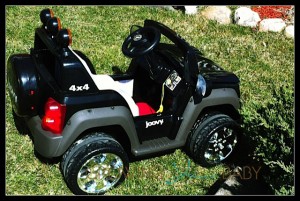 This car has been very popular with my boys and also other kids on the street.  We have had to implement some rules because young kids can get careless if they don't drive the car properly.  When you think about it, what does a three-year-old know about driving anyway?  Not a lot.  So our biggest challenge has been teaching both boys about safety.    Both hands on the wheel, slow down for pedestrians and don't run mommy and daddy over, which they did anyway – a couple times. There was a learning curve but in a short time my guys caught on and have been whipping around the neighbourhood in style!
I have to say this Jeep has taken it's fair share of play and it still looks as good as it did the day we put it together. Over the last few months the cousins have rode it, the kids on the street have taken turns taking it for a spin and my boys zipped around the neighbourhood and I can honestly say the only issue we have had was that the side mirror pooped off, which was re-connected in seconds.
The Joovy 4×4 is smaller than other models on the market, but it is incredibly peppy and very responsive when they kids want to turn it or veer to not drive over something on the road.  There is also a strip of rubber in the middle of each tire that gives them extra traction. The smallish size is, however, a blessing when you need to put it away as it doesn't take up a lot of real estate in your garage.
We have been testing this Jeep for a few months now and have not had one issue with it.  I highly recommend the Joovy 4×4 to any parents looking for a fun, ride-on for their kids.
Likes:
Stylish
Compact
Battery has a long life
What we would change:
Add a radio
Offer a 2 passenger model
Update:  We recently tested the Power Wheel Escalade, which is also rated to go 2.5mph & 5 mph.  In terms of speed, the Joovy 4×4 is much zippier than the Escalade and another power ride-on that a neighbour has.  In fact, it laps both ride-ons even when they are in top speed.  Small but mighty!