Family gear company Joovy has introduced their first side by side double stroller. Building off of their popular Scooter stroller, the Scooter X2 adds room for a second child and so much more.
Famous for their reasonably priced, easy to use gear, Joovy has created a really nice double stroller that will work for families from 6 month to 45lbs.  I have been testing the X2 for the last couple weeks and love it.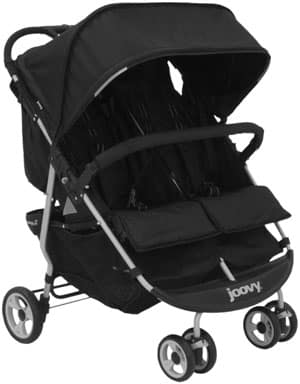 Installation
Out of the box all that was need to do was install the wheels. While the back wheels go on with a simple washer, spring, washer clip combination, the front set just pops on. In just 10 minutes, I had the wheels on, the stroller open and was ready to go!
Features
I really like this stroller. It has spacious seats that are both equipped with adjustable 5-point harnesses and mesh pockets for toys or snacks. Joovy also uses super durable 600 D fabric which spot cleans easily. Like the single Scooter, each seat on the X2 independently reclines to a 149° angle, which is near flat for napping.
The canopy on the Scooter X2 is massive, mostly because it is all one piece. I like this because ensures that both of my boys are protected against the elements by a huge 'umbrella'.  A half-moon peek-a-boo window allows you to keep tabs on your precious cargo and the cover can be tied back with an elastic that has been sewn into the canopy.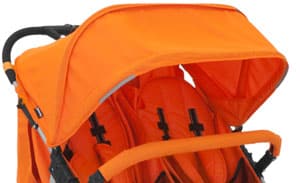 Storage on the Scooter X2 is infinite and the most I have ever tested.  As previously mentioned each seat has 2 mesh pockets for toys or snacks.  Joovy has also added a huge zippered pocket and a cup holder to the back of each seat for keys, more snacks, diapers, wipes and money.  Underneath the stroller there is a huge basket that will easily hold a big diaper bag and a days worth of shopping if needed.  Because it extends the full length of the stroller it can be conveniently accessed from the back.
In Use
Even full loaded with my 2 and 5 year-old sons, the Scooter X2 pushes nicely.  The wheels have sealed bearings, which allow them to move quickly and smoothly.  The handle is easy to hold in all positions and the bar even has a center spot for one-handed strolling.   Because this stroller measures 30″ wide  I took it to the mall to see if I could navigate through the stores.  As most moms know, many stores don't plan for wide strollers so there were some that I couldn't get through but that wasn't due to any fault of the stroller but just poor planning on the part of the retailers.  The Scooter X2 made it through all of the business doorways and it also did fine at our house as well.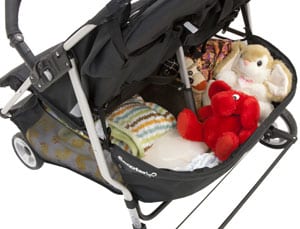 Folding the stroller is a one-handed action from the handle bar.  Joovy has added a lever in the middle that rotates to close the stroller when depressed.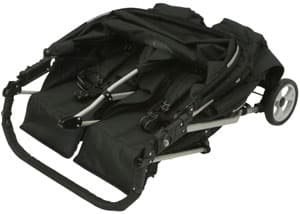 Once closed, it can be locked with a latch at the side and transported using the full length bumper bar.  The Scooter X2 will stand on it's own when closed, but does so on it's canopy so be careful not to do this during bad weather.
Joovy has done a great job designing this stroller.  The Scooter X2 is easy to maneuver, folds nicely and holds everything I throw into the basket.  At a retail price of just $199, it is one of the lowest priced double side by side strollers on the market that has some of the best features.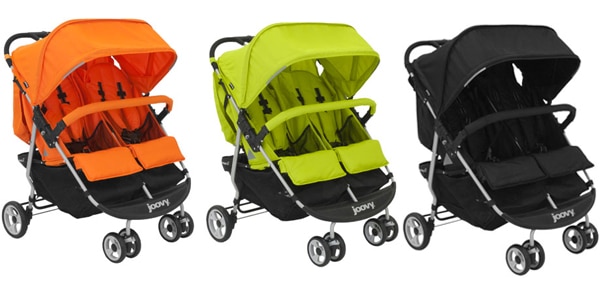 Specs:
Stroller weight ~ 28.1lbs
Minimum age: 6 months
Maximum weight ~ 90lbs (45lbs each seat)
Dimensions:
40″H X 30″W X 32″D(assembled)
17″H x 30″W x 37″D(folded)
Related Articles:
---
[ad]