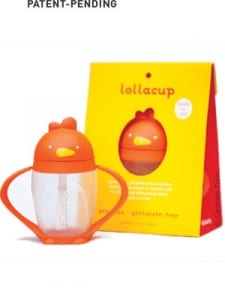 My first son went straight from breastfeeding to straw cups so when it came time to introduce my second son to water and other beverages I naturally opted for cups designed with built in straws.  There are not as many cute options for straw cups as you would find in their sippy counterparts so I was excited when we opened up the lollacup package to see a friendly chicken face peeking at me.
This cup is really cute and my son fell in love with it as soon as I handed it to him, he had the bird dancing and waddling on his tray in between sips from the very start, but there is so much more to the lollacup than its adorable look.  It is designed to make the transition from breast or bottle to a cup easy and fun for your little one.
Lollacup's handles are the perfect shape and size for little hands and unlike other handled cups I have never found my son accidentally holding the cup upside down.  The flip open lid is easy enough for wee ones to slide open and my son figured it out after seeing me do it once.  The handles make the base of the cup wide but the designers have thought of everything and to make parents life easier for times when you need your lollacup to fit into a cup holder you can remove the handles with ease.
My son is still at that explore everything stage and when drinking with his other straw cups he has a hard time getting a sip out if he has tilted or turned the cup the wrong way.  Lollacup has a weighted straw so no matter which angle the cup is on the straw is in the liquid and ensures he gets a drink every time.
Sipping from a straw with a valve can be like trying to drink an ultra thick milkshake for beginner drinkers so that is why lollacup is valve free.  It helps encourage your child to drink using a straw by giving them just the right amount of liquid without any frustration.  Unfortunately because of the valve-free design the cup isn't leak proof so remember not to just toss it into your diaper bag or cooler.  I prefer to save it as a cup at home or if we do bring it along we fill it up once we get to our destination.
Lollacup holds 10 ounces of your child's beverage and comes in 5 vibrant colours: red, orange, green, purple and black with each colour sporting a slightly different face.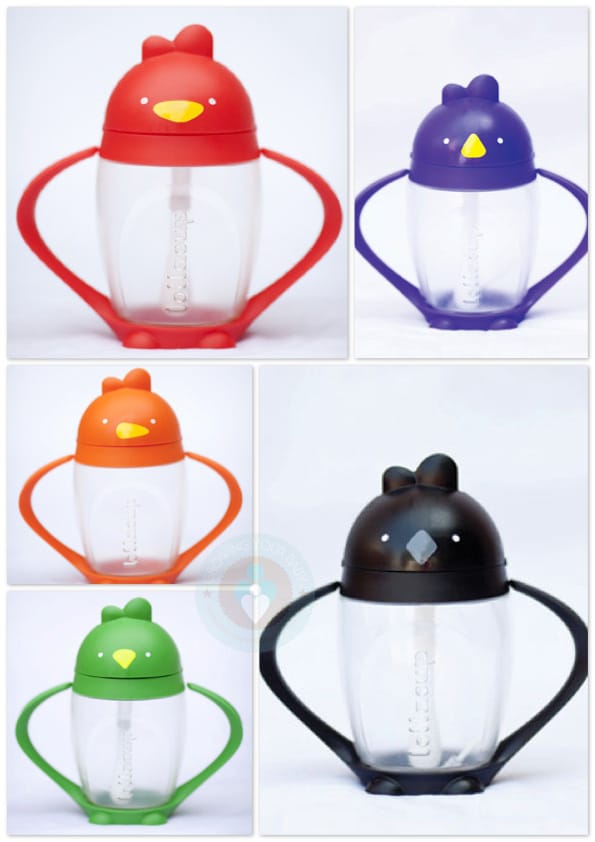 To add some fun at snack and mealtimes we suggest the lollacup, with its innovative design and high quality materials you and your child will both be happy.
What we like:
BPA and phthalate free
Made in the USA: All parts are manufactured, assembled, and packaged in the USA
Easy to clean and includes a straw-cleaning brush
All parts are recyclable
Would love to see:
A bigger size lollacup
Leak proof version at least with the lid closed
Retails for $18
Thank you lollacup for sending us a sample to try.
Related Articles: