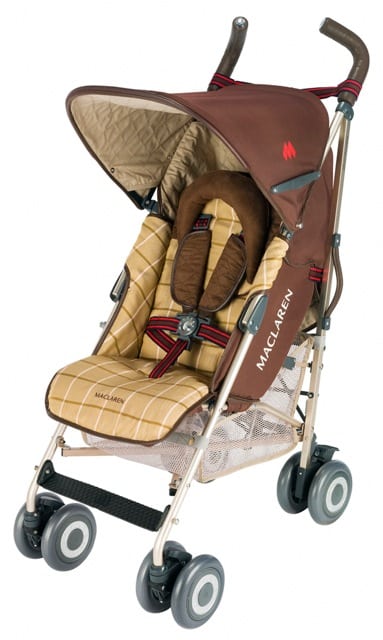 I have long been a fan and user of Maclaren strollers. Their lightweight design and compact fold is always handy for the car, storing at home or for riding public transportation. They're also great for a day at the zoo or the park because they're super easy to park or carry as needed, but still offer a great spot for your child to rest. The Object of Design collection offers a bit of a departure, not just high function, but high design as well. The Albert Thurston design of the long popular Ryder model is an exceedingly gorgeous example from this fine collection. I knew it would be nice, but I was still surprised at how very nice Albert truly is.
Assembly
There really isn't any assembly with a Maclaren, but for the Albert Thurston, you may want to allow a good 15-20 minutes. Not because you'll be putting anything together, but because you'll need that long to ooh and ah over it once you've puled it from the box. Oh, and maybe a few extra minutes, to go through all of the lovely accessories that accompany Albert to his new home. The well appointed Albert Thurston Ryder retails for $349. The stroller comes well equipped as any Gentelman should, ready for anything that comes his way. Included in the box are infant headhugger, strap covers, a wheel cover, a rain cover, luggage tag, an extra set of hunting dog straps for the harness and the gorgeous footmuff.
Features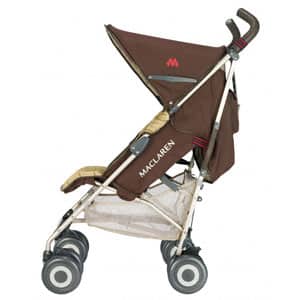 The most exciting feature is the design. This is quite a stroller. The details are amazing, the fabrics and textures are amazing, you will be impressed. This is not your run of the mill umbrella stroller. As soon as you touch the leather handlebars you will think, where have you been all of my stroller pushing life. You will wonder why all strollers don't have leather handles and you will feel disappointed by anything less. You will be spoiled for other strollers. The Albert Thurston has been designed by the venerable British purveyor of fine accessories for Gentelmen, sported by "kings, princes, presidents and James Bond", as the Maclaren site will tell you. Since 1820, Albert Thurston has been turning out Gentelmen in suspenders and fine dress ties and they have carried their refined country squire aesthetic over to the Albert Thurston Ryder. Leather trim and a herringbone plaid is the basis of the look, but the really lovely detail is in the striped "braces"- the straps of the carry strap and harness. All of the usual Ryder features are there as well, like 4 wheel suspension, linked rear brake, one-handed fold, aluminum frame, 6 inch wheels. The stroller is quite light at around 14 pounds, but can still hold a very generous 55 lbs.
In Use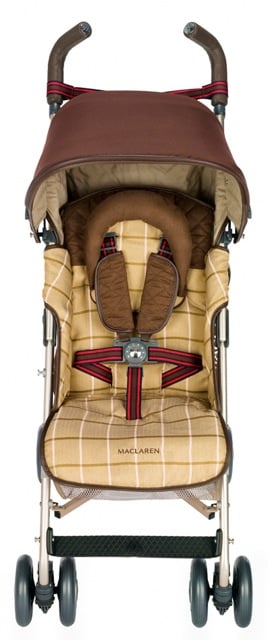 The Ryder is one of the larger seated Maclarens, but without any added bulk. It weighs a bit more than a Volo, but not much more than a Quest. Yet it does feel a bit more substantial and taller. I sat my very tall 5 year old in it and he had plenty of room. Despite his 45 pounds the stroller did not feel heavy when pushed. The 4 wheel suspension really wipes out most of the bumps in its path and the ride remains rather smooth. The seat is rated for newborn and up and it does offer adjustable heights for the harness and an extendable leg rest. My 8 month old daughter was also quite comfortable and secure in the seat as well. The seat has a 4 position recline that is easy to lower and raise. The Ryder is also extremely easy to fold and open and can easily be done one-handed. The rear foot brake is linked, so stepping on one brake lever locks both wheels. The basket is nicely sized for a smaller stroller and will hold quite a bit. The canopy is also nicely sized, plus the pocket on the back is quite handy and even has a cell phone pocket inside, not to mention one more hunting dog on the outside.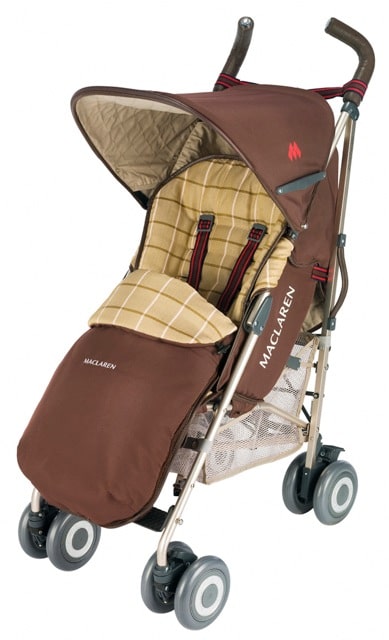 The Albert Thurston Ryder is a very beautiful stroller. The beauty of the special fabrics and details of the Object of Design collection only enhances the true functionality of the Maclaren Ryder. If you're looking for a stroller, Maclaren is always a great place to start. If you're looking for something a bit extra special, the Object of Design collection will give you exactly what you're looking for- beauty, great style and incredible detail. The Albert Thurston will not disappoint in any way. For more information on Macalren and the other members of the Objects of Design collection, please visit www.MaclarenBaby.com where you can also link to their Facebook page and keep up to date on any Maclaren developments.  – Kiersten, Staff Writer
Likes

Beautiful details- leather handles, gorgeous material, striped harness and carry strap
4 Wheel suspension
one handed fold
High Weight Capacity
Included accessories- rain cover, beautiful footmuff
Dislikes

*Thank you to Maclaren for sending us the Albert Thurston Stroller for review*
---
---
[ad]