When you have a 4-year-old, 2-year-old, 1-year-old, and a newborn you spend a lot of time thinking about strollers, whether you want to or not. Add in very little space in the car (4 car seats take up an awful lot of room, even in a minivan) and the necessity of passing through an archaically narrow hundred-year-old door every day, and you become obsessed with finding the perfect stroller. You constantly look for the stroller that will make your life even a little bit easier, especially when you are pushing said stroller with one hand and carrying a kicking and screaming 40-pound ball of terror in the other.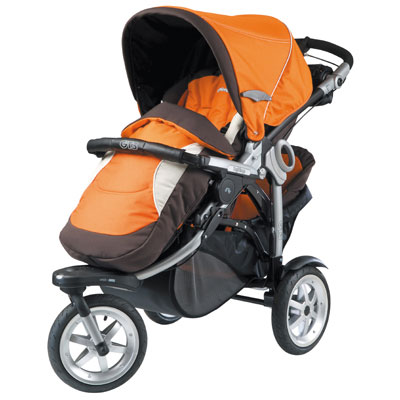 When I first saw the Peg Perego GT3 FORTWO I got very excited. It offers an inline configuration that folds with the seat in place. It seemed quite possibly perfect for my rather impossible-to-meet needs, so I was thrilled to give it a try.
Set-Up
The GT3 FORTWO comes in a not-very-big box, which translates to quite a bit of assembly required. It took about 45 minutes to fully assemble the stroller. Luckily Peg Perego always provides a detailed manual with both pictorials & written step-by-step instructions in quite a few languages. It's not complicated, it just takes a bit of time to put all of the pieces in place. Once you're done you have a very nice, very compact stroller with two seats.
Features
For me the most important feature of the GT3 FORTWO is the second seat. It's a sling seat that sits in the basket of the stroller. This means two things, 1) the seat is really out of the way and does not impact performance at all and 2) there is no storage space other than the small parent pack.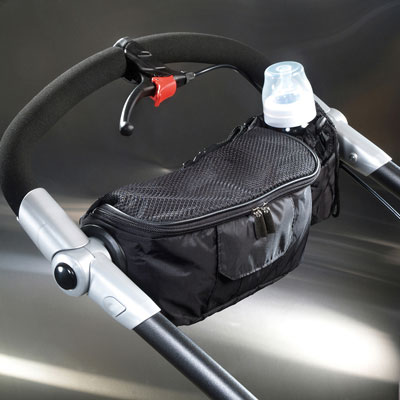 The stroller is a three-wheeler with a swivel or locked front wheel option. The adjustment is made at the side of the stroller, not in the front, which is quite handy. There is also a 3-setting rear suspension system. Included with the stroller are a footmuff, rain cover (for the front seat only), a very generous canopy, and a "parent pack" that attaches to the handlebar. The parent pack will hold keys, a cell phone, a wallet, and possibly a bit more. It is detachable, so it can be carried with you (fanny-pack style), and has a spot on the side as well which will hold your drink. The canopy is really nice and spacious. Parents will like that it has a mesh insert for ventilation that can be covered for sun coverage and that it can be extended forward to the bumper bar. For partners of different heights, the handlebar is height adjustable, pivot, not telescopic and holds the hand brake in the center. There are also two pop-out cupholders on the front of the stroller and the clips that hold the parent pack can be flipped down to be used as diaper bag clips.
For parents looking for a travel system, the front bumper bar allows the GT3 to accommodate an infant seat with the included straps. While the specs list it as being compatible with the Primo Viaggio SIP 30-30, I also tried it with my Graco Safeseat and it was very secure. Because the GT3 doesn't offer a full recline it's only suitable for babies aged six months and up without the use of the car seat. The recline on the seat is managed by a lever on the rear of the seat and can be easily lowered one-handed and raised by pushing on the back of the seat. It reclines just far enough as to not hit the rear passenger in the head and is more than sufficient for naps. The footrest is also adjustable.
In Use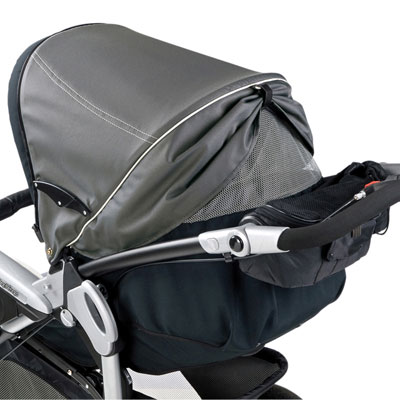 The GT3 FORTWO offers a really great ride. With three choices for the suspension, it can easily be adapted to any terrain. Even with three wheels and the front wheel unlocked it continued over everything I put in its path without hesitation. I rolled over asphalt, bumpy, old sidewalks, grass, sand, gravel and mulch. I popped over bumps, and curbs and even took it up a few steps with my daughter in the front seat. She was very comfortable and wasn't jostled at all even when she was sitting fully upright. In fact, she loved the seat. It was her first upright ride in a forward-facing "big-girl" seat and she was thrilled. She loved the wide, comfy, well-padded seat and rode with her feet on the bar. I love that the canopy keeps her well-covered but easily flips back and forth so that I can adjust it as we're walking for more or less coverage. She loves the mesh insert, so she can look back and see me as she's rolling along. I can still see her, which makes me feel better too. The recline also adjusts easily with one hand, so it can be adjusted while rolling. The stroller looks a bit bulky with it's full seat, but it offers an incredible ride and feels very sleek as you roll along. It's a great combination of comfort for your baby and a great push for you as well.
Because the back (sling)seat comes with a three-point harness, my 20-month-old son rode in the back seat and I kept my six-month-old daughter in the front. The front five-point harness is very nice. It adjusts easily and quickly and has a closure that would be difficult for a child to undo. I found it easy to switch the straps between the two of them despite their very different sizes.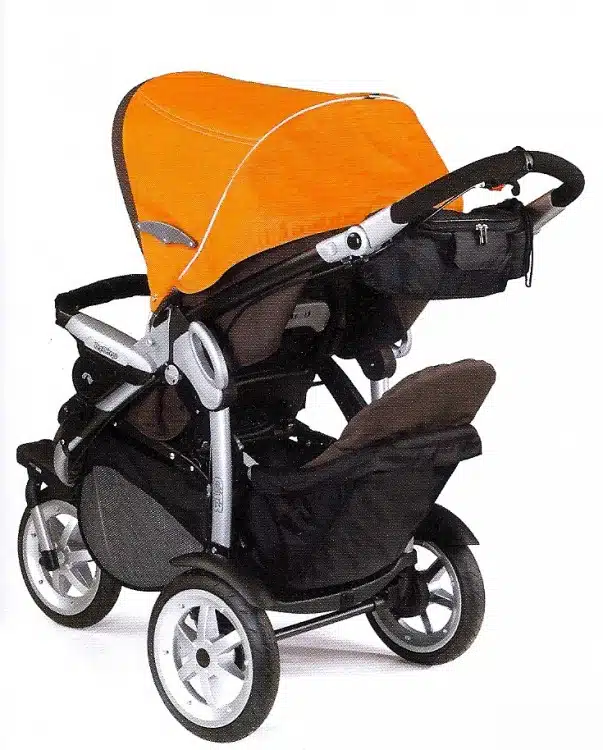 The sling seat is rated to a 35-pound limit versus the front seat's 45 pounds and is a much slimmer seat that is more a spot for quick rides for those who don't need to sit or ride all of the time. It is in the basket so it is well out of the way making it unlikely that your child will be hit on the head by something attached to the handlebar. The placement of the seat does however mean it can be a bit trickier to get your child in and out. It is quite low and under the handlebar, which means I have to climb under it whenever loading or unloading my son. The seat back does come up fairly high and it is at a bit of an angle, so your little rider will have head support if they fall asleep.
The three-point harness does adjust down nicely, but it doesn't really do what it needs to do as it allows for quite a bit of movement. While out during our test I found that my 20-month-old was able to hang over the seat. Having shoulder straps on the harness would definitely make this less possible.
When your child is in the sling seat you cannot use the basket for storage, so it's really an either-or situation. If you need the seat, you can't put anything in the basket and if you have anything in the basket it has to come out to use the seat. Because the seat doesn't have its own canopy I needed to be creative when it was sunny. I was able to unsnap the front canopy and pull it out enough to shade my son adequately. A rain cover that covered the back seat would also be nice too just in case you get caught in the rain or really need to take both children out in bad weather.
Folding and unfolding the stroller is easy. To get it open Peg has numbered the steps. Simply press button 1, then button 2 pull slightly on the side handles and it flops flat on itself. The lock is manual and can be a bit tricky to lock. It does unfold easily, you just pull back on the handlebar and push a bit on the seating area or even just give it a good shake and it locks upright.
When folded the GT3 can be bulky and a bit awkward to get in and out of the car. While it did fit in the small cargo area of my minivan with all the seats up, it was close depth-wise. Because I'm not huge, I found it a bit harder to lift than some other strollers with a similar weight (36lbs). I did, however, like that it all folded in one piece including the back seat, so the trade-off of the weight is balanced by the ease of setting up and break down – in and out of the car.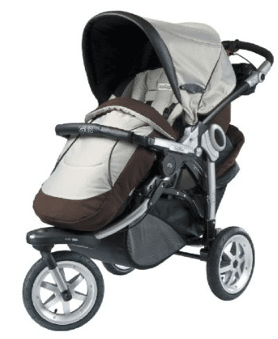 The GT3 FORTWO comes in two color combinations, Java (brown and silver) and the one I tested, Tropical (brown and orange). It is a very attractive, full-featured performance stroller and you will love pushing it. The stroller comes with the footmuff, front seat rain cover, tire pump (under the seat), rear seat, and parent pack and retails for $649. As previously mentioned this is not so much a stroller for two full-time riders as a stroller with a spot for a second rider who only rides occasionally. The back seat would need a few more features to make it a viable stroller for two full-time riders, such as a five-point harness, a canopy, and a rain cover. It might not be the best choice if you are constantly in and out of the car or really need two fully featured seats, but it does offer an incredible ride with a great deal of comfort for the main rider and a convenient seat when you need it. – Kiersten, Staff Writer
Likes
Three-setting suspension and air-filled tires
Super comfortable ride for your baby and easy push
Folds with second seat in place
Huge canopy
Comfy main seat
Included footmuff
Dislikes
Lack of five-point harness in rear seat
Lack of raincover for rear seat
SPECIFICATIONS:
UNFOLDED
Height: 44″
Width: 24.67″
Depth: 50.25″
Weight: 35.9 lb
FOLDED
Height: 17.5″
Width: 24.67″
Depth: 43.25″
Weight: 35.9 lb
Related Articles:
*Thank you to Peg Perego for sending us this stroller for review*