Last year, Peg Perego announced a new addition to their car seat range – a Convertible car seat designed to hold a child from 5lbs to 65lbs.  This news was met with excitement from parents who loved the safety features offered in the Primo Viaggio SIP 30/30 infant seat and wanted to continue along with Peg Perego as their child got older.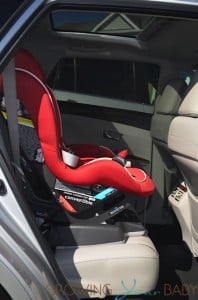 Car seat safety is very important to me and I have always chose seats that allow children to stay in 5-point for as long as possible.  With the new recommendations from the AAP to keep a child rear-facing until they are two, Peg Perego has met this by creating a seat that will hold a child up to 45lbs (47″) rear-facing.
We have been using the Primo Viaggio SIP Convertible Car seat with my boys for a couple months now and I love the ease of use.  Out of the box it came configured for a newborn but was very easy to adjust to fit each of my boys. By pushing the lever in the middle of the seat(just above the strap) you can adjust the harness out to your desired length. A strap at the top of the Side Impact Protection head panel allows you to easily move it up(to a max of 26″ from bum to head) to fit your child perfectly.
Measuring almost 14″ across where my son's shoulders would sit, the Primo Viaggio SIP Convertible Car seat fits both of my boys perfectly with some room to grow on either side.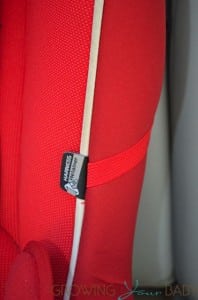 For your convenience there are elastics on either side of the seat that will hold the harness in place when your child is getting into the seat.  I like this for when they are sleeping and we have to get them into the house without waking them.  Having a place to secure the straps makes it easier to wiggle them out.
For comfort the seat is designed with a sturdy, dotted material(Fresco Jersey Performance Fabric), which is removable and washable. The back of the seat, the inside of the strap pads and the inside of Side Impact Protection head panel are lined in a soft terry material that wicks moisture during warm days.
To keep little bums comfy, Peg Perego has added a terry-lined contoured cushion, which can be removed as they get bigger.  My guys are over 40lbs so we have removed this to give their bums some extra room.
As the name suggests, the Primo Viaggio SIP Convertible Car Seat has Side Impact Protection which keeps your child's head, neck and spine safe in the event of an accident.  Energy-absorbing foam and expanded Poly Styrene, in the shell and head panel also protect your child's head and torso from impact forces.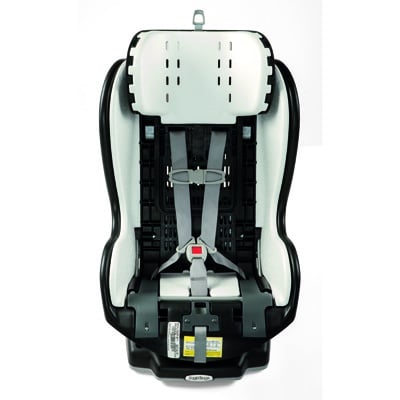 Additionally, our seat has an anti-rebound bar for use in a rear-facing mode that will prevent the car seat from moving as much during a collision.

We currently have this seat installed in our car using LATCH and the tether strap on the back of the seat.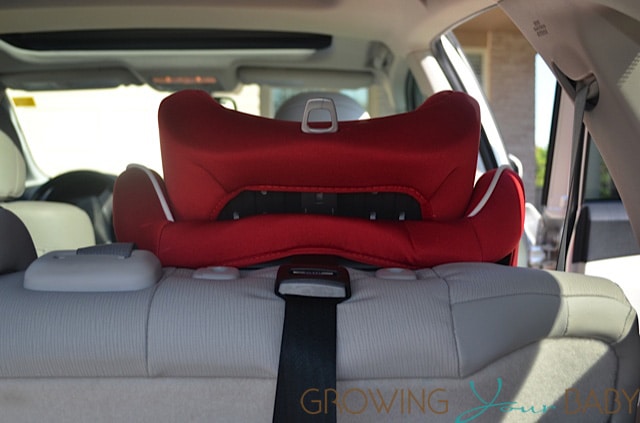 The  Primo Viaggio SIP Convertible Seat is a fairly compact seat, but not small enough to fit three across the seat, at least not in either of our vehicles.
Peg Perego has always been a brand that we have loved because of the quality and design.  My boys love riding in this seat and often fight over who is going in the 'red' seat.  This is likely because we have two bigger seats in our other vehicle that aren't as comfortable if they fall asleep because they are position upright.
I highly recommend the Peg Perego Primo Viaggio SIP Convertible Car Seat to any parent looking for a chair that will work from birth and keep them safe until grade 3 or 4.
I have rounded up some of my favorite features.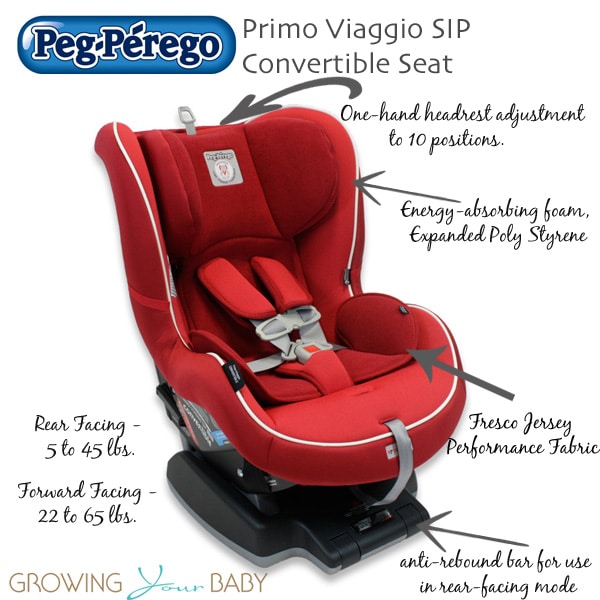 ---
*Thank you to Peg Perego for sending this seat for testing purposes*