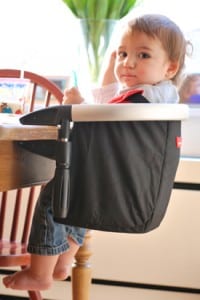 How many times have you been places with no where to feed your child?    phil&teds has introduced a new portable highchair that will making eating out effortless.
The lobster clamps onto almost any table, weighs less than four pounds and is sturdy enough to hold a thirty seven pound child. Besides that, the lobster is stylish as well as functional, while sporting a chrome frame, and a robust polyester fabric seat. It even comes with its own tote bag.
The phil&teds lobster ($80) is a step up from their metoo – with a wider and deeper seat, thicker aluminum supports, extra-padding throughout, and a removable plastic tray.
The lobster is designed to hold a child up to 37lbs, which means you could potentially use it up until your child is approximately 3 years old!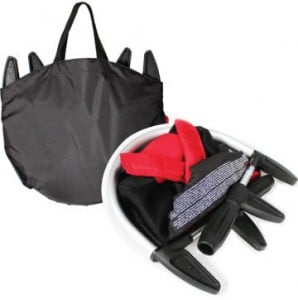 I found the lobster extremely easy to use!   Not only is it light weight, it comes in a handy carrying case that makes it easy to tote around.  This on-the-go seat simply unfolds and is ready to attach to a table within seconds.  The plastic covered knobs easily turn to adjust the "claws" to accommodate tables from .8 to 3.75 inches thick.
At first my son wasn't sure about being placed in the lobster, perhaps it was the unfamiliarity of the seat (compared to his highchair) or the fact that he finally got to sit so close to us at the table… but he quickly adjusted and now he loves being such an active participant at the dinner table.
We like to eat out, and the lobster gives us the ability to easily do so anywhere, while giving us the piece of mind that our tot isn't chewing or eating off of a germy restaurant highchair.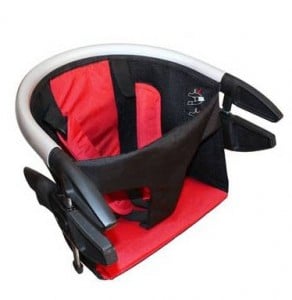 If I could change one thing about the lobster I'd like to see the padded harness covers be removable.  I like that the fabric set can be removed and cleaned, but I found it a little challenging to slide the harness up or down while adjusting it and having the ability to remove them would make for easier cleaning.
I would, however, highly recommend the lobster to parents who like to travel and eat out or for those who are short on space and really can't fit a full size highchair in their dining area.
Once again, phil&teds knew what parents needed and went above the mark to meet it with the lobster! – Tanya, Staff Writer

Related Articles:
---
[ad]