The most important piece of gear that a parent should invest in is a good car seat. Every day of the year it is the one piece of equipment that will save your child's life. Choosing that seat, can be a challenge. Forward facing, rear facing, latch, tether there is a bit of a learning curve but parents are always asking us for a recommendation that won't break the bank. Safety 1st's 3-in-1 Elite Air 80 Convertible Car Seat is not only a great car seat, but it is packed with safety features that will keep your little one safe in the event of an accident.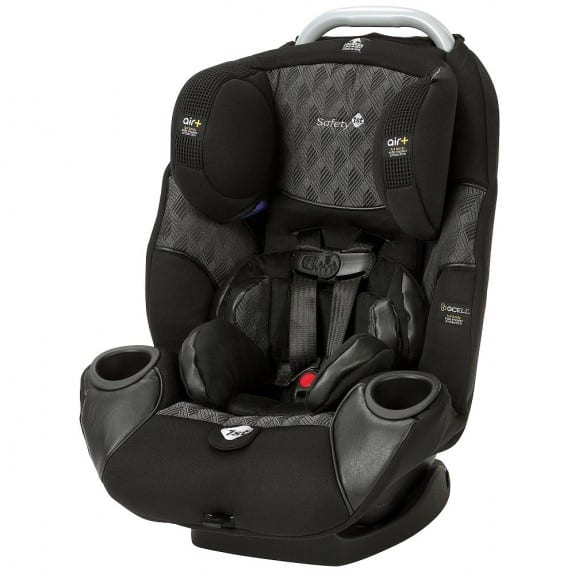 The 3-in-1 Elite Air 80 Convertible Car Seat was designed with a 'super-extended weight range'. Parents can use it from birth (5lbs) to 40lbs(40″) rear-facing, 22-80 pounds forward facing and up to 100lbs as a belt positioning booster.
We have been using the 3-in-1 Elite Air 80 Convertible Car Seat with our boys for the past couple months.
It is a big seat, but both of my sons love how comfortable it is. It also has 2 cup holders, a feature that is great for long trips. They only care about superficial features, but I am more impressed by how the seat was designed.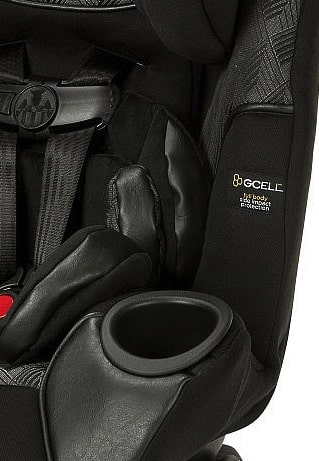 GCell HX™ patented foam inside the seat provides superior body protection with hexagonal shapes, while the Air Protect® advanced cushion system protects your child's head.
This is our first Safety 1st car seat and I love its usability. The biggest concern parents have with all car seats is installation. Getting the 3-in-1 Elite Air 80 Convertible Car Seat into our car was a cinch. Granted, we've been doing car seat installs for years, this one goes in easily, either using LATCH OR your car's seat belt(never together). Plus, Safety 1st has added color-coded belt paths and installation labels to help you install it quickly and correctly. The green stickers and paths guide new parents with a rear facing install, blue for forward facing and grey – belt position booster.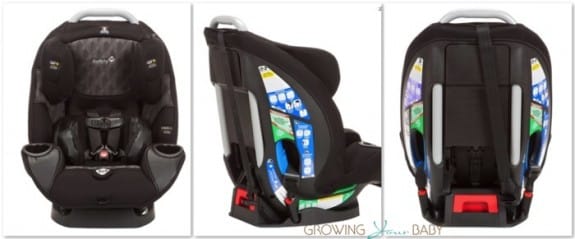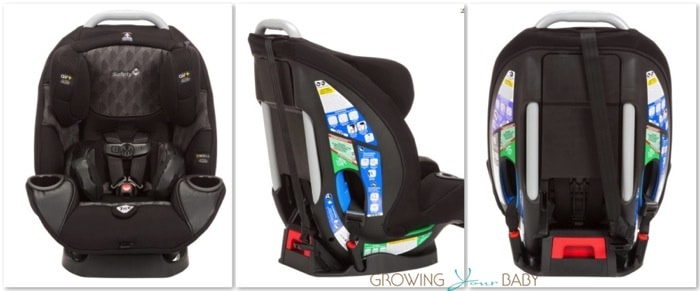 If you still need some additional help, they have a full set of videos on their site to help with using all of the seats functions.
Adjusting the seat's harness for your child's height is easy. After you determine which position the lower buckle should be in you can position the shoulder straps by moving the headrest up. Four and eight, my boys are both still in 5-point. And even though we we are close to the highest point for this seat there is still about 4 inches before we top out and will need to go to booster mode.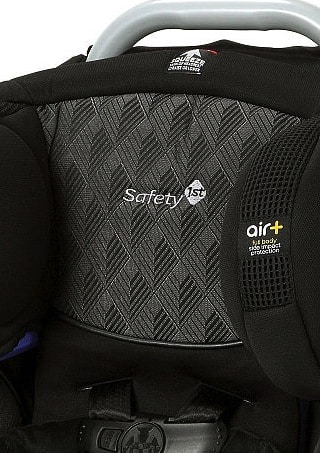 The Safety 1st 3-in-1 Elite Air 80 Convertible Car Seat is definitely a seat we would recommend for parents who are looking for a product they only have to buy once. Usable from birth it could replace the need for buying an infant car seat, a convertible and a booster.
Additional features include:
Durable Design: steel-reinforced metal frame for extra stability
QuickFit™ Harness system with Center Front Adjustment
Push button LATCH
removable, washable fabrics
SPECS:
Product Weight:24 pounds
Product Dimensions (in inches):27.8 x 24.2 x 20.8
---
[ad]