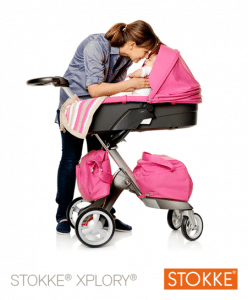 For some reason, though I have tested and owned many strollers, I have not, until now, had the chance to test out the Stokke Xplory. Well, I had no idea what I was missing. I knew that this stroller is quite unique, but I didn't realize how much fun it would be and how very impressive all of the many options it offers would be. If you are looking for an exceptionally full featured stroller that will make you and your baby very, very happy, this is a terrific choice.
Features
The Stokke Xplory offers quite an amazing degree of adaptability in a very fully featured single stroller. It's most unique feature is of course it's height adjustable seat. Also included are a very adaptable height adjustable handlebar, reversible seat (45 pound weight limit), very large canopy with a mesh ventilation insert and pop out sunshield, removable Baby seat insert, very cushy, comfy seat pad, secure 5-point harness, removable bumper bar, rear foot brake, 4 no-flat foam tires, suspension, detachable zippered shopping bag, mosquito net and rain cover. The Xplory is available in 2 configurations: Basic (without the Carry Cot, $1049.99) & Complete (with the Carry Cot, $1259.99, recommended for ages 0-6 months), in 6 colors, Light Green, Beige, Blue, Red, Purple and Dark Navy plus the current Limited Edition Pink. Optional accessories are extensive and include everything you could wish to customize your stroller at any time of year, such as changing bag, travel bag, foot muff, car seat adaptors, Sheepskin lining, knitted blanket, cup holder and Summer and Winter kits designed to perfectly adapt your Xplory to the elements for your child's maximum comfort. The optional ride on board offers a spot for an older child with either the seat or carry cot, is the easiest to add or remove that I've seen, and, what I love, is that because of the unique handlebar, you can easily position a perfect spot for both you and your child to hold on securely.
Assembly
Despite the fact that this beautifully designed stroller offers such a complex level of adjustability, assembly is not that complicated. It took about 20 minutes to pop it all together, including attaching the shopping bag.
In Use
My youngest is now 16 months old and though I love using this stroller with her now, I wish I had been able to use it with her from the start. This is a perfect stroller for a baby. The seat is designed perfectly for an infant and yet still adapts well to an older child. The height adjustability is great. This is what gives the very attractive Xplory it's unique appearance and it's most special feature. The height adjustable seat allows you to position your baby at a multitude of heights with the highest being perfect for keeping the littler ones close to you or perfectly positioned at the table when dining away from home. The added height also makes it so much easier to take your child in and out of the seat since no deep bending is not required, really nice when you have a hefty toddler on board. Once they are older though you can drop it down to the lower height, but I was just as comfortable pushing my older children with the seat up or down and they loved the extra height.
This stroller offers an incredibly smooth ride to go with its incredible design and features. The stroller rolls over everything with ease and is easily tilted up and over onto large curbs or broken sidewalks. Because theres's no rear axle, parents of any height or length of stride can walk without fear of kicking the stroller. I can easily push one handed with my 16 month old aboard or her very tall, 40+ pound, nearly 4 year old brother, the great handlebar design makes effortless and the adjustability offers exactly the position that feels best to you. Maneuverability is superb and it can turn on a dime, which is great in crowded areas.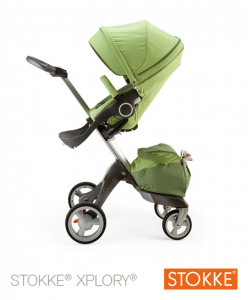 And though when you look at the seat you think it might just be designed more for a little one, the adjustability options mean that it can easily be adapted for a larger child. My son had plenty of headroom and seat space plus the foot rest adjusted down far enough to offer a comfortable leg position as well. He also liked how straight the seat is at its upper Active position as opposed to many stroller seats that always offer at least a slight recline. The seat offers great comfort for your smallest to your largest rider. The seat offers a 2 position recline forward facing and 3 positions rear facing. The seat does not reverse quite as easily as some because you do have to remove the footrest to flip it, but it's more than worth it. The design offers so much adjustability and adaptability, such as flipping up the 2 rear wheels for popping it down the stairs more easily (without the baby on board) or the fabulous full coverage canopy that can be opened up for ventilation when hot and a zip off pop out sun visor, that you won't even notice that it takes 2 steps instead of one to flip the seat. The shopping bag is great, it offers ample storage for the things you need to carry with you, zip shut for security and has a very nice front pocket that it the perfect size and height to hold a drink for your little walkers. My 2 year old loved that he could just grab his bottle of water for a drink whenever he needed it. The fold is fairly simple, though not in one piece, and far more compact than I thought it would be.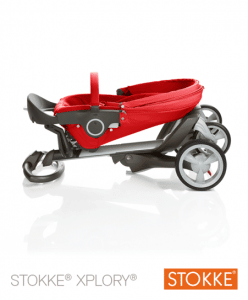 The Stokke Xplory is a fabulous stroller. The design details and functionality are some of the finest I've seen. This stroller is a dream stroller for use with an infant right up through to the end of your stroller pushing days and with the board attached, you even have room for 2. The adjustability offers such a wealth of options that you will likely not ever have to say of only my stroller could… because it very likely already does it. Whether you're 5'4" tall or 6'6", this stroller is built to adapt to you and whatever you need it to do. You, and anyone else that pushes your stroller, will be in stroller heaven with everything the Xplory offers, not to mention how much happier your baby will be sitting right up at table height in a restaurant or your toddler, actually being able to reach the elevator or crosswalk button. And yes, everyone will be staring at you because you have possibly the coolest looking stroller on the planet.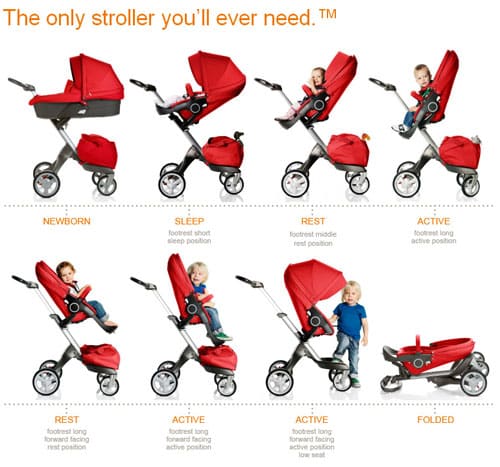 Please visit the Stokke site for more details, including the full line of accessories and their handy videos that demonstrate all of the fabulous features. There is also a lifestyle video that will give you an excellent idea of how the Xplory performs in daily life.
Specifications:
Weight
Chassis with seat 10,5 kg/23 lbs
Chassis with carry cot 12,5 kg/27.5 lbs
Chassis 8.3 kg/18,3 lbs
Weight limit of seat 20.5 kg/45 lbs
Weight limit of carry cot 9 kg/20 lbs
Sibling Board (Stokke Xplory Rider) Intended for use with only one child at a time and is suitable from approx 2 years of age. Maximum weight limit is 20kg/44lbs.
Measures
Length: 75 – 102 cm. Depending on if you are using Carry Cot/Seat, and the height of the handle.
Height: 89 – 123 cm Depending on how you adjust the height of the Carry Cot/Seat.
*Stokke provided a sample for review
---
Related Articles:
---