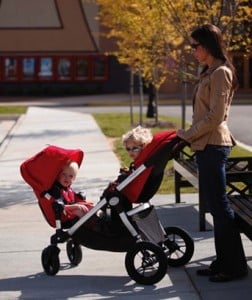 One of the most anticipated strollers to come out recently, the Baby Jogger City Select has given us something that most strollers just don't do, an incredible variety of adaptable options to suit just about any stroller need you will come up with on a daily basis. The City Select can take you from 1 newborn to 2 Toddlers in just a few clicks. Twins are no problem. You can even use 2 car seats. This is a stroller that you can easily use for as long as you have children from birth until the last one is out of a stroller.
Assembly
Assembly is very simple. It's pretty much just snapping the footrest in place and tightening a strap on the seats and popping on wheels and canopies. It can be done in minutes. I put mine together within a few minutes of its arrival with my children "helping" and we were off for our first ride in the living room in no time at all. If adding the second seat kit, adapters fit onto the front of the stroller that allow you to mount the second seat.
Features
There are so many great features, but of course, the most fabulous is the fact that the Baby Jogger City Select can adapt from a single reversible seat stroller to a double with 2 full sized seats with the optional second seat kit. The stroller offers 16 configurations with the optional bassinet and car seat adapter. The City Select can even add a ride on board to take a third rider. It is truly fabulous, great for twins or 2 of different ages, you can easily adapt this 1 stroller to all of your stroller needs from your first until your last is out of the stroller and easily adapt every day from single to double, newborn to toddler, just by clicking on a different option. Additional features are the super easy to use and reach side hand break (you won't realize how convenient this is until you try it), seatback storage compartments (love this so much), telescoping handlebar, huge canopies with magnetic closure peak-a-boo windows, adjustable footrests, huge basket that adapts with the seats and offers plenty of storage and access no matter the seating configuration, 12″ forever-air rear and 8″ lightweight front wheels with front wheel suspension and sealed ball bearings and the same easy Baby Jogger fold adapted to a reversible seat stroller.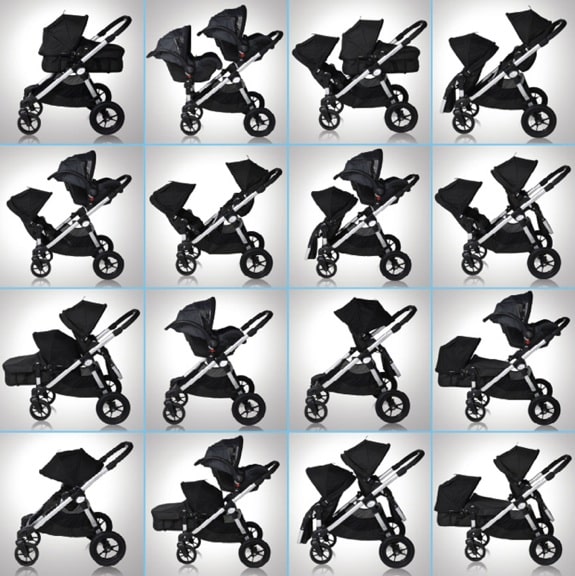 In Use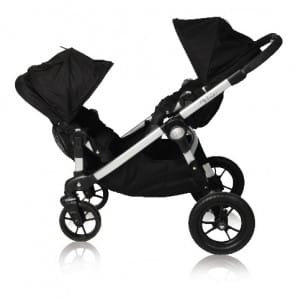 I used the Baby Jogger City Select everyday for about 3 months with my 4 children. It has been everywhere with us from preschool and camp drop off to the grocery store, crowded Ikea visits and even out into the muck covered back lot at the Garden Center rolling through pots, mud and puddles. I've used it with all 4 children ranging from ages 5 months up to 5 years old. It adapts so well to each child, seating preference and outing. At first glance the seats do look small, but my very large 3 year old has ridden in it quite often and he fits fine. My tall 5 year old has also ridden on occasion and is really at the limits of the seat, but he still enjoyed the ride, plus he thinks the stroller is really cool. With the canopies in the higher positions, they both have plenty of room. With the canopies in the lower positions, my 2 younger children are comfortably enclosed in their own seats. The height adjustability of the canopies also allows for a bit more space in certain configurations when in the lower position. The harnesses also adjusts well to suit all 4 children. My daughter started riding in her infant car seat with the adapter, but even at 6 months she was easily and comfortably accommodated in the seat. As with all Baby Jogger harnesses, it has that great swivel clip at the top that really helps keeps the straps from getting twisted and makes it so easy to raise and lower the strap position. The adjustable footrests also make it easy to adapt the seat for a younger or older child.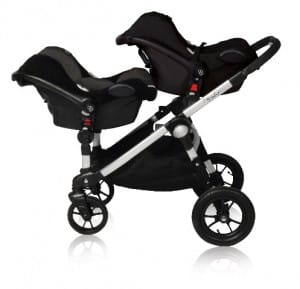 The seating options and the fact that both seats are full sized are really amazing. I can just flip the seats into whichever position worked for each rider. On the occasions that either of the 2 older boys were riding both seats could face out for maximum space, but with the 2 smaller children I would choose between both rear facing, both facing each other (their favorite) or back to back. My 2 year old son always prefers to face away from the outside world and my daughter started to prefer facing out as she got older. It was so easy to make each happy on any given day depending on mood or who really needed a nap. Certain configurations offer a better recline than others, but both seats offer the absolute same features as the other, which I love.
Storage is incredible. Feet do not take over the whole basket as they do on some in-lines. You can even adapt the basket to certain seating configurations and you always have the access and space you need no matter who is siting where or in what position. The only drawback is that the big open basket does tend to get quite wet in the rain, so the rain cover would be in order if you live in a very wet climate, otherwise you might find yourself dumping out the basket more than you like. The seat rain covers are optional and independent, so each rider also gets full coverage no matter where they are placed, a great plus since the second rider is often overlooked in some in-lines. I also really love the pockets on the backs of the seats. These are so handy for keys, cell phones, toys, you name it. The side hand brake might seem odd at first, but once you have to lock it in place while chasing down a rouge 3 year old instead of trying to find the foot pedal, you will love it. There were so many times when I was very, very glad to have that handle right where it is both for locking and unlocking the brake.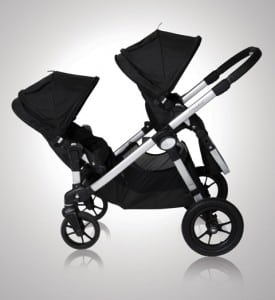 The only real drawback is that it can be a bit sluggish to push when it's loaded with 2 heavy children. The ride itself is very smooth, but the extra length, which provides the extra space for the second rider can slow you down a bit on turns or with one handed pushing. However, if you consider the trade-offs, it might just be worth it. If you really need to push one handed the majority of the time or have two children at the top end of the weight limit, it might be a bit slower going at times than you would like. On a straight path it's fine, but tight maneuvers can be a bit harder one-handed. Under any other circumstances, this is a great stroller and has a great ride. With my 2 youngest children on board I can do anything without difficulty despite the added length. And I do love the extra space and all of those seating options. Plus the ease of getting the City Select in and out of the car and set up to go is also a huge plus. The fold is a snap and it is so easy to switch the seats around on the spot. I can even reverse the seats one handed while holding the baby, it's that easy.
I've mostly used it as a double, but it is also a great single stroller. The City Select offers all of the terrific Baby Jogger features with the superb option of the reversible seat. This really is a great stroller to start with and know that you can still use it when your second child arrives. It really is a fun stroller as a single. There are 2 seating positions, one higher than the other. This allows for the seat to sit higher for use as a double or in the reverse position. In the forward facing position, you have the option of the higher or lower position. My now 10 month old daughter loves riding in the forward facing lower position. And it is so easy to use, you will love it to. A big plus, the fold is not only easy, but very compact, so as a single it pops in and out of the car in a very compact package. The lock is manual, but easy to flip on a and off. As a double, you do have to pop one seat off to fold it. However, it does make it lighter than most doubles to get in and out of the car and the seat is so easy to click on and off, it's really not a big deal. It only adds seconds and the drop in weight over a big double is more than worth it.
The Baby Jogger City Select is an incredible option for those who need an adaptable stroller. The choices and features are so impressive that you will love taking it out for a ride. There are also some really useful additional accessories like the Glider Board for that third rider and the Child Tray for snack time. This stroller can take you from your first child to your second and adapt to every adjustment that comes on a  daily basis with children- single to  double and back again, bassinet, 2 car seats, toddler and newborn, front or rear facing. You need it, the City Select will probably do it. There are very few strollers that I have tried that are so easily adaptable to life with 4 children and can accommodate each one in whatever way they need. I really love that I can look at the City Select in the back of my car and know that whatever our needs are for that day, we've got it covered. Available in 3 colors, Diamond, Ruby and Onyx, the City Select retails for $499.99 with the second seat kit at $159.95. – Kiersten, Staff Writer
Likes
2 canopy positions for extra headroom when you need it (also wonderful, huge canopies)
Easy fold and easily removable/reversible seats
So many configurations
45 lb weight limit on the 2 full sized seats and lots of room for both riders
Great storage- the seatback pockets are so useful.
Dislikes
It can be a little harder to push one handed because of the extra length, but it's a small price to pay for 2 full sized seats
Having to buy 2 $45 rain covers to use it as a double. It would be nice if at least one were included.
Specifications
Weight:
single:28 lbs
double: 34 lbs
Unfolded:
single: 43.5 x 25.75 x 41.5
double: 53 x 25.75 x 41.5
Folded:
single: 32.75 x 25.75 x 12.5
double: 32.75 x 25.75 x 12.5 (plus the  separate 2nd seat)
---
[ad]