The Bumbleride Indie Twin is a very full featured double.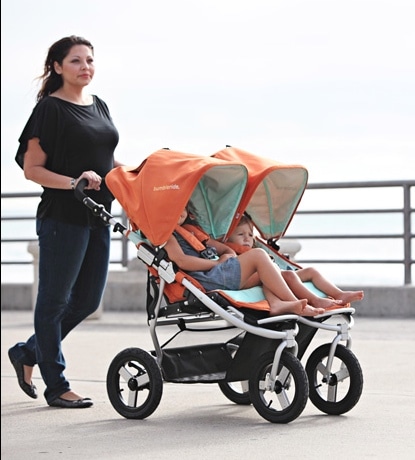 It's gorgeous, offers a superb ride and has everything you need right in the box. If you're looking for a double that will take you anywhere- from a walk down the street to light jog in the park- the Indie Twin is worth more than a look.
Assembly
The Indie Twin isn't hugely complicated to put together, but because it is rated for light jogging, there's a bit more to attaching the wheels than just popping them on. It took about 30 minutes including popping on the rear axle, attaching the wheels, tightening them up and inflating the tires. Other than that it's just attaching the canopies, harness covers and multi-use bars. Included in the box are the stroller, tire pump, rain cover, infant headrest, adult cupholder and straps that can be used to convert the multi-use bar from a bumper bar to a car seat adapter. It only takes one car seat at a time, but it is compatible with most major car seats without a separate adapter.
Features
The Indie Twin has a lot of really great features. In addition to its super smooth ride with an easy push, it's decked out with everything you could want in a stroller. It performs so well because of 12" air filled tires, lightweight aluminum frame and rear suspension. The front wheels fully swivel, but can be locked in the forward or rear facing position. The stroller is rated for light jogging which means you can use it for short runs or to chase down an escaping toddler without your front wheels shaking off or jostling your newborn. It's such a light push that you really might just feel like running even if you don't need to, I did. The Indie Twin does well as an all-terrain stroller, but it looks more like a luxury stroller- nicely padded seats, gorgeous colors, every detail included. The canopies are amazing. Complete with peekaboo windows and zippered storage pockets, they not only fully extend to the bumper bar, they also have zip off backs. This is perfect for added ventilation or accessing a crying baby without having to stop. The separate bumper bars are great too. It's so nice to have the option to use one, both or neither for different children. They're especially handy when you want to help keep the toddler from poking the newborn or you have a baby that wants to pull up a bit riding with an older child who just doesn't need a bar.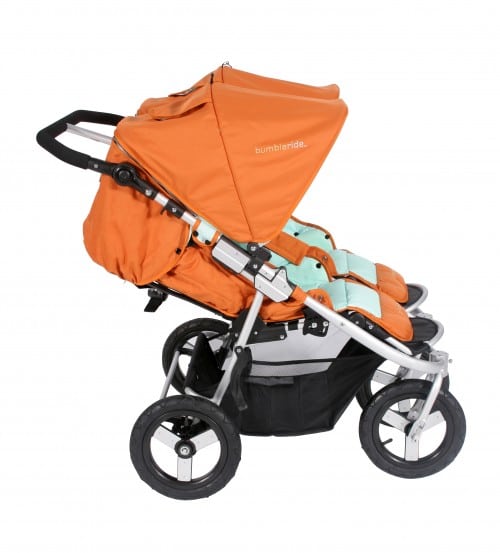 Parents with and infant and older child will like that the Indie Twin offers many adjustments for each rider.  The seats, foot rest, canopy and bumper bar are all independently adjustable. Plus a great capacity, both in weight and height- 45 pounds with ample headroom for a very tall child. My huge 40 plus pound three year old fit with room to spare. He loves the seat and the canopy and he actually asks to go for a ride, not something he usually does. The seats and harness are well suited to a large child, but easily adjust down for an infant.  The infinite position recline extends to a fully flat position and coupled with the adjustable leg rests make a comfy seat your your littler ones. This great stroller is also narrow, at 29 inches, it will fit through even the tightest door. An adjustable handlebar, huge basket and easy to operate rear foot brake are also part of this very lovely package. Another plus is the easy fold. The rear handles also make it easy to pop in and out of the car.
In Use
For the main test ride I took the Indie Twin out with my 22 pound 9 month old and my 40 plus pound very tall 3 year old.  We took a very long route which gives us a good trial over most types of terrain, no mud covered mountain sides, but most of your typical stroller situations are covered. Even with the two very different weights on board, the stroller performed really well over the worst spots without any drifting or pulling to one side. I've also had some doubles feel a bit tippy with a higher weight child on one side, but the Indie Twin feels very solid. Even over the very hardest, bumpiest terrain I was able to easily push one handed and as I mentioned earlier, the push is so light that it makes you feel like running a little. And even while jogging along over that same terrain, bumpy and broken or smooth sidewalks, the Indie sailed along smoothly even with nearly 65 pounds of child on board. Mulch and grass were also just as easy to glide over as the smoother sidewalks, nothing presented a problem.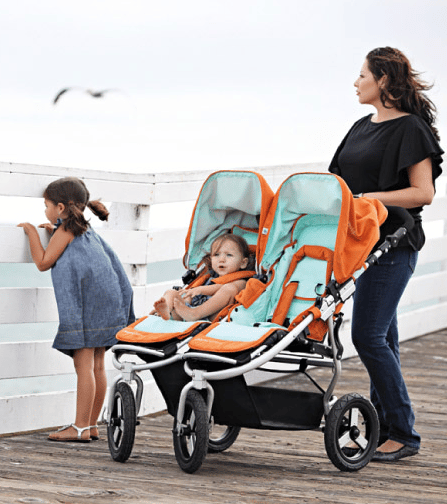 With the two more evenly weighted children on board, my  9 mo old with her 26 pound 2 year old brother, the Indie Twin just sailed along as if it were empty.  Really, it was so easy to push it felt like I had left them in the car. The stroller even does well at Kindergarten drop off, fighting our way through a sea of swarming parents and children, with out any difficulties. Maneuverability is excellent and I even pushed it through the crowds while carrying my 3 year old, not something that is easy to do with most strollers, especially a side by side. The Indie Twins's performance is so superb that I could weave in and out of the crowd, over bumps, up and down hills, stopping and starting with one hand and a lot of extra weight on my hip. And despite it's 34lb weight, it is also easy to get in and out of the car.   When folded, it doesn't take up much room in the back of our minivan compared to other doubles, something that is impressive for a full featured stroller that has 12" tires. We also had room on the side for a small single stroller if needed. Did I say yet that I love it? I really do. And it is so very pretty. The Seagrass is a nice green with light blue details. Honestly, Bumbleride makes some of the prettiest strollers anywhere. Black and gray can be practical, but I love a happy stroller.
Available in Seagrass, Spice (orange, my other favorite), Lava (black), Ruby (red) and the Vita (pink) and retails for $679.99. As I mentioned earlier it comes complete with a full array of accessories. There are also some terrific optional accessories. First is the very nice carrycot which includes the Bumbleride footmuff and seat liner. These can be used later with the stroller seat, a great touch. This lovely carrycot also handles to make transporting your baby easy and secure. It's also fairly simple to switch back and forth from the carrycot, seat or using a car seat, no major stroller transformations required to use all of your options with your newborn or to switch around for different children. The footmuff and seat liner combination can be purchased separately from the carrycot as well for your older children. Also available are the Snack Pack and the Jam Pack, two very clever accessories. The Snack Pack has a built in adapter bar so it can be popped on in place of the bumper bar (another reason to love those independent bumper bars) and opens up to provide two compartments for snacks, drinks or toys. The Jam Pack is a bag with 2 bottle holders and a waterproof lining that can be used on the stroller, as a shoulder bag or repurposed as a toddler backpack.
The Bumbleride Indie Twin is a fabulous stroller. Beautiful in every way- great to look at, amazing to push and exceptional included and optional accessories. It is absolutely a luxury stroller, but it offers so much right out of the box and such impressive thoughtful attention to detail and functionality that it is a bargain compared to certain other strollers where everything is an option and the ride is often not nearly as nice. You get so much for your money and you will not be disappointed. An Indie Twin will take you from country to city in high style with supreme functionality to boot. On the Bumbleride site it says that their products "stand at the intersection of form, function and fun," and that is so very true for this stroller. If you take your children out in the Indie Twin, you won't be able to help but have more fun.
Likes:
Love the colors, especially the Spice and Seagrass
Everything you need is included and the extras are fabulous too
Super smooth ride, easy push, lots of fun
Dislikes:
Only one- the manual locking straps sometimes pop open, but not enough to be a real problem. An automatic lock would be nice.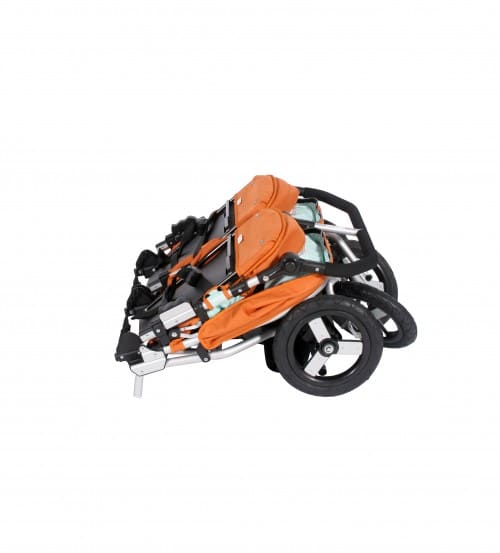 Specifications:
Standing Dimensions: 36L 29.5W 34.5H
Folded Dimensions: 32L 29.5W 15H
Total Weight: 34 LBS
Weight Capacity: 90 LBS
Please visit the Bumbleride site for more information on the Indie Twin or any of their other fine products.  You will also be able to sign up for their newsletter and find links to Bumbleride on Facebook, Twitter or YouTube.
* Thank you to Bumbleride for providing a sample for review.
---