The Joovy Scooter ($149) is a lightweight stroller that is different from anything on the market. Weighing in at just 18.5lbs, the Scooter is a medium sized stroller with full-sized features. Perfect from birth, parents can use it with all Graco infant car seats as a travel system and then as a 'go everywhere' stroller from 6 month to 55lbs.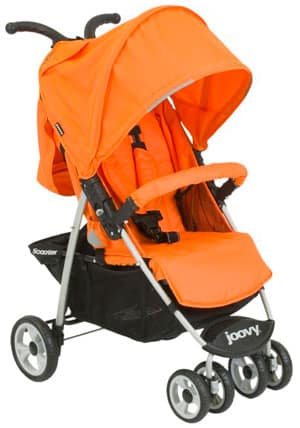 For the last few weeks we have been testing the Scooter out and have been impressed.
Out of the box all I needed to do was pop on the front and back wheels. Because I have done the back wheel installation before, it was a breeze. Joovy also provides a great installation booklet that walks you through every step to ensure a successful installation.
For kids 6months+ the Scooter has a generously sized padded seat with an adjustable 5-point harness. At 14 inches wide and 27 inches from bum to the top of the canopy, this stroller will hold your child until they are well past strolling age. It also has a nice one-handed recline that can be done while strolling. When fully reclined, the seat sits at a 149° angle, which is near flat for napping. For your little one's convenience, Joovy has also added 2 mesh pockets – 1 on each side for toys or snacks.
I personally love that it cleans up nicely(spot clean) if they spill or drop food on the seat. I was forced to test this out when my son smushed strawberries into the seat during a trip out.
To protect your child from the elements, the Scooter has a good sized canopy with a peek-a-boo window. An easy to access pocket on the back will also hold your keys, money or phone, while a cupholder, that clips onto the handlebar, will hold your beverages – up to 1lb(454ml).
The storage on the Scooter is one of the best we have tested for a stroller that can be used for travel. You could easily fit a large diaper bag and 2 or 3 shopping bags in the bottom of this basket, which measures 16″ at the back and 24″ long. For this reason, the Scooter is my stroller of choice for heading to the market. It's small but mighty and holds everything I need, without me having to hang bags off the handles.
Pushing the Scooter is a dream thanks to a cool set of 'rabbit ears' the designers at Joovy have given this stroller. Manoeuvrable with just one hand, this stroller moves easily through any space. It also has sealed bearings on all six wheels for great handling and 4 wheel suspension to help smooth out the bumps.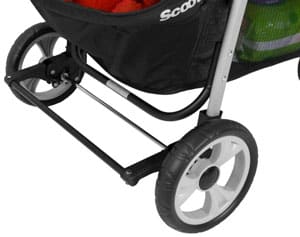 The brake on the back locks both sides at once, but it extends out making it probable that a taller parent will kick the frame while strolling.
Folding the Scooter takes skill until you master the buttons to push. Once folded, it will stand on it's own and can be transported using the bumper bar. It does, however, stand on the canopy, so be careful to not do this on a messy day.
Price paired with functionality and a bunch of great features makes the Scooter the perfect stroller for on-the-go parents who are on a budget. It will work from birth to pre-school and can be used almost everywhere that you need to go.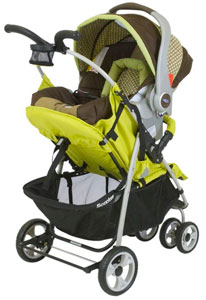 I am very fond of this stroller and it gets lots of compliments while we are out for it's bright colour and interesting handle!
Specs:
Max weight 55lbs
Stroller Weight 18.5lbs

Folded dimensions: 15″H x 21.5″W x 33.5″ D
Unfolded dimensions 41.5″H x 21.5″ W x 29.5″ D

Related Articles:
---
[ad]