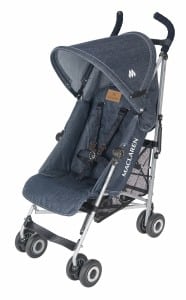 Maclaren Strollers are classics. If you only want one stroller, chances are Maclaren can give you exactly what you're looking for. With their high weigh limits and wide variety of features, there is always a Maclaren for everyone and you can go from birth right on up to a whopping 55 pounds. Not to mention that they are perfect to carry on public transportation, stow in your car or fold up nicely into any closet. They are convenience at its best when it comes to strollers and so well made and sturdy they will easily last through more than one child or pass on when you're done. Recently I had the chance to test out the new Maclaren Denim Quest and I'm pleased to say that this classic stroller is even better than before. My very first Maclaren was a Quest. After five years of heavy use it's still just as beautiful as when I bought it and is now being used by my nephew and I'm sure it will keep going once he's done with it too. Maclarens are sturdy, practical, compact, easy to use and so easy to take anywhere.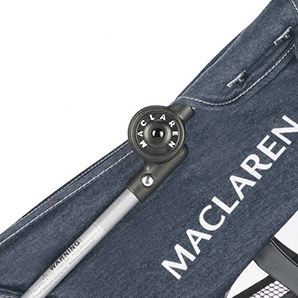 This new Quest is even better with some handy improvements, like a linked rear brake, the combination of shoulder strap and side handle for carrying and the fabulous new Maclaren hinge. Not only does the new hinge look quite cool, it seems to offer a smoother fold. This hinge is such a great solution to the recent problems with the older style hinges on most umbrella strollers and a very welcome update.
This is of course, the Denim Quest, which means style accompanies function as well. The classic stylings of Maclaren have been coupled with a classic denim. This heavyweight dark denim should prove to be hard wearing, forgiving of sticky fingers and juice dribbles and yet stylish for the adults involved in any trip. One warning, the Denim Quest does come with its own warning to wash before use to avoid dye transfer onto lighter colored clothing (or babies I should think). I did wash the seat cover myself to test it all out thoroughly. Yes the dye does rub off a bit before washing and did bleed a bit while being washed, but it really wasn't very much and the seat looks just as lovely after washing, a bit softer, with no rub off noticed yet. Honestly, it did seem like it might not be worth the trouble, but it was so little trouble in the end and the result is a very nice stroller that I know will improve with age.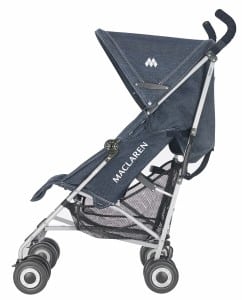 The Maclaren Denim Quest is part of the lovely "Objects of Design" collection, which offers a full range of beautifully styled Maclaren Buggies with all of the great Maclaren functionality. It retails for $229 and offers the hard wearing blue denim fabric with authentic blue jean stitching and a weather resistant coating on the canopy. The Quest weighs in at around 12 pounds, offers comfy foam handles, a roomy basket, raincover, 5 inch wheels and a 4 position recline. The easy one handed fold means you can open and close it while holding your baby which is always handy. And as with all Maclarens the compact design means it will go anywhere. I bought my original Quest as my Subway stroller when I still lived in the City, but it's just as much at home in the suburbs. This stroller is perfect for shopping, travel, subway or bus and for use in and out of the car. It really can take you anywhere, even for those times when you really do still need a stroller for a larger child, like trips to the amusement park, the zoo or when sightseeing. It will hold 55 pounds, so that's a pretty big child and is rated from age 3 months and up. It's not meant for a newborn, but my son was in one at 3 months and it suited him very well. At 5 and 42 pounds, he can easily ride in the Denim Quest quite comfortably. He has plenty of headroom and the harness easily adjusts from him to my 11 month old daughter, so this is a very versatile stroller.
If you're looking for a compact, easy to use stroller that will last, Maclaren is a perfect choice. If you want a bit of extra style, very practical & functional style at that, then the Denim Quest is well worth looking at. And like a good pair of jeans, you will love it more every time you use it. – Kiersten, Staff Writer
---
Related Articles:
---