When my husband and I were expecting our first child we headed off to create a baby registry, and like most new parents we included a baby bouncer on it. Not knowing anything about baby products, we picked the one that we thought would match the rest of our furniture. Needless to say we ended up with what is quite possibly the worst bouncer on the planet – not only does it not bounce, it hardly moves at all!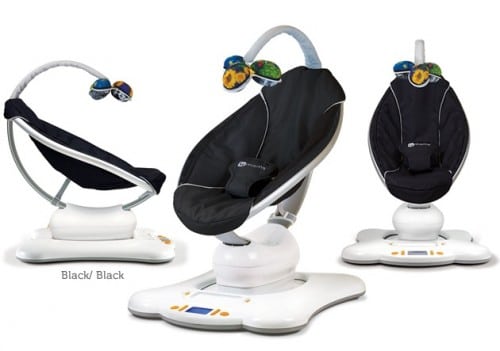 So, since I came across the mamaRoo by 4moms I've been dying to try it out! When designing this seat the team at 4moms studied how parents move while holding their babies, and created the mamaRoo to move in the same way we do.
Out-of-the-box assembly was just under 10 minutes. After attaching the frame to the motor mechanism I just needed to zip the seat into place.
The mamaRoo is very easy to operate and features an LCD screen and menu system that allows you to select one of five different movements: Car ride, Kangaroo, Tree Swing, Rock-a-Bye and Ocean Wave. The motion patterns are slow and soothing – each one is a variation on the up-and-down and side-to-side movements the 4moms research team found parents making over and over again to soothe their infants.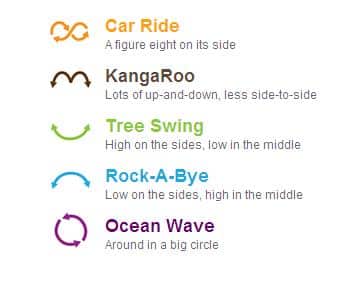 The luxury bouncer also features speed control, built-in sounds (running water, crickets, ocean waves, and 2 white noise settings), and an input for an MP3 player/iPod. Although you can hear the motor inside the mamaRoo running, it's quiet enough that a little music or the built-in sounds will cover it.
For our test, we used two babies that were under three months of age. Each baby was a different weight, but both fit comfortably into the deep spacious seat. The recline on the mamaRoo can be set to any position along the axis – ranging from nearly flat for newborns to as upright as an umbrella stroller. One of our baby testers suffers from a little acid reflux, so the recline feature was a huge hit with his parents. His mom was thrilled to know that she could easily adjust the seat to have him sitting more upright.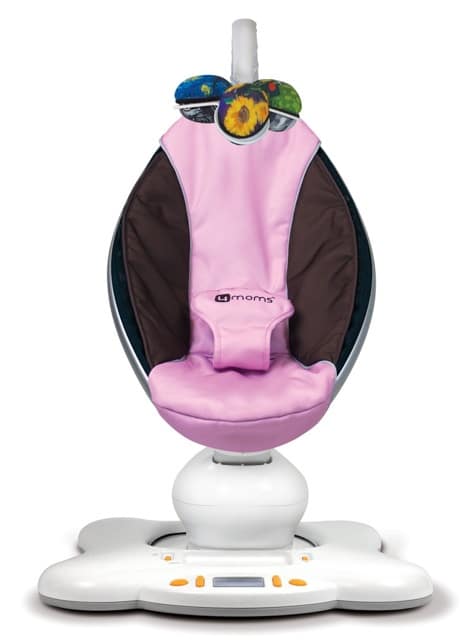 Our second tester has a history of preferring constant motion by either mom/dad or a car ride to nap. Her parents have even been known to put her in her car seat and put it on top of the dryer to mimic the motion of a car. For her we set the mamaRoo to "car ride" and she stayed asleep for an entire two-hour nap in the mamaRoo.
At the top of the seat, a mobile consisting of 3 balls gives your child a visual while they are relaxing. The plush toy balls are reversible to show either black and white for infants or versions of Van Gogh, Monet, and Seurat paintings for little ones who are able to see color (4 months+). One thing to note: the mobile doesn't move on its own – however, according to the 4moms research team the movement is really more entertaining for parents than it is for babies. Infants younger than eight weeks aren't ready to play with toys yet and like just to look at them. Newborns and older babies alike are able to concentrate on the mamaRoo's mobile and it's visually stimulating graphics because it remains within their field of vision and doesn't disappear, which can be confusing when you haven't yet developed an understanding of object permanence. Plus, the mobile moves with the mamaRoo and thus with the baby, which is very soothing.
One of the things I found when testing out the mamaRoo was that it didn't appear to go very fast. On the 4moms site they say the extra speed isn't necessary, and that they've discovered 'a very real difference between how adults perceive a motion and how babies do. What seems slow to an adult may be just right for a baby.' Just be aware that the type and speed of the motion on the mamaRoo is quite different from what you may be used to with other products.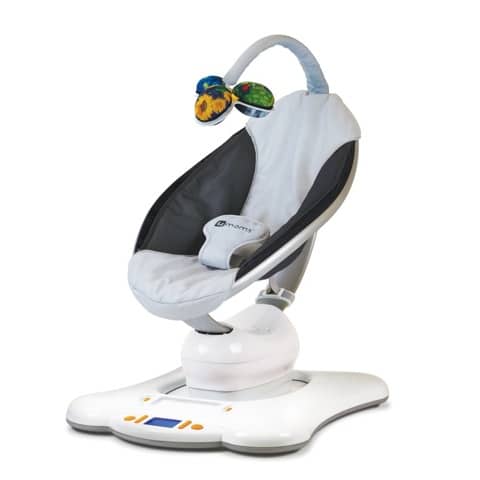 One of my favorite bonus features on the mamaRoo is the fact that it doesn't operate by batteries – it runs on AC power! Meaning you're going to save a bundle by not having to purchase batteries all the time.
Another plus is washability. For small spills, you can simply wipe the fabric clean. For larger messes, the cover zips off and is machine washable.

Available in 4 color choices and under $200.00, the mamaRoo is full featured, unique in style and motion, and it's a great, durable solution for soothing baby that doesn't require a lot of space in your home making it a winner with us! The mamaRoo Plush($239) is also now available for the first time ever with a softer, plush seat microsuede fabric that's even more comfortable for your baby.
5 unique motions (Car Ride, Kangaroo, Tree Swing, Rock-A-Bye, Ocean Wave)
5 motion speeds let you slow down for sleep or speed up for play
Removable toy mobile with 3 plush toy balls decorated in the style of classical artists (Van Gogh, Monet, Seurat)
5 built-in nature sounds plus a hookup for any MP3 player
Easy to use LCD display
Reclining seat
Available in 6 easily removable, machine washable fabrics
Max child weight: 25 lb or able to sit up unassisted
Unit Weight: 14.5 lb
Assembled size (LWH): 24 x 20 x 34
Power requirement: 100-240 VAC, 900 mA