I'm a big fan of Mamas & Papas products. Everyone that I've tried offers superb features and design with impeccable attention to the tiniest of details. The Mylo is no exception. This stroller, the top of the Mamas & Papas stroller line, offers everything you could think of in a very full-featured stroller and a bit more.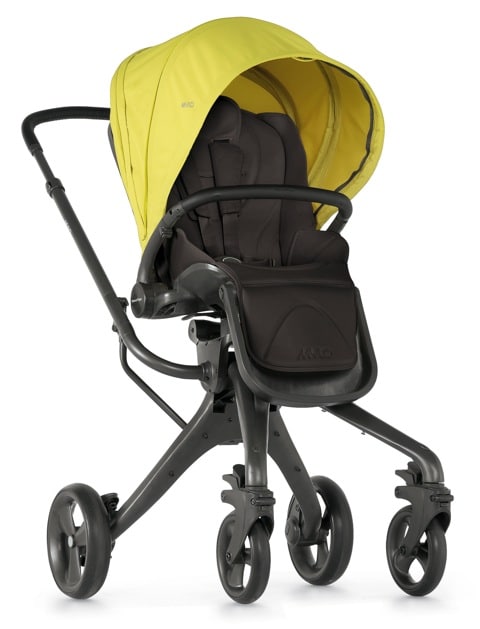 As soon as you look at it you'll know that it's special. It's very unique, very stylish and modern form makes that very clear. After a close inspection, you will see that this stroller is ready to take you anywhere and look fabulous while doing so, from shopping in town to a mucky path in the park, you will roll along in complete style and your baby in extreme comfort. The Mylo offers a very impressive set of features with a smooth ride and easy push to match. I was very excited to have the opportunity to test out this fabulous new stroller, but after using it I'm even more excited.
Features
This is a very well-appointed stroller with some unique features. Included with the Mylo are a bassinet and reversible toddler seat, adjustable handlebar, great suspension, a large canopy with a peekaboo window that can be zipped out for more coverage or zipped up for a sleeker look (Mylo is nothing if not very stylish), flat recline and molded infant headhugger, removable bumper bar, side zip shopping basket, one-touch brake, super comfy molded seat with adjustable leg rest, very sleek modern styling and the fabulous one-handed fold. Next to the overall look of the Mylo, which is exceedingly cool, is the also exceedingly cool folding mechanism. This is a full-sized, full-featured stroller with a reversible seat that can be folded with the seat on in either position with just one hand. It doesn't sound possible, but it is. Optional accessories include a bassinet stand, car seat adapters, changing bag and footmuff, parasol, sunshade/insect netting and a cupholder. Available colors are currently Black Jack, Welly Green/Lime Jelly, Plum Pudding/Rasberry Ripple and Dove Grey/Sandcastle. The Mylo retails for $999.00.
Assembly
This is the only area where we had a bit of trouble and assembly is a bit time consuming. Most of the process is fairly simple, but piecing the seat, straps & seat covers together was a bit challenging, though we are old, sleep deprived and it was late, so it might have been more operator ineptitude. Overall it took about 45 minutes to an hour to put the Mylo together, most of that was spent on the seat. If you can, do as I did and pass that part off to someone else. (After scanning the instructions, I saw that it might be a bit more work than I really wanted to do, since I'm more of a pop the wheels on and go sort of person, so I passed it along to my husband and then feigned ignorance when he got to the seat. However, his frustration at midnight on a Friday night was more than worth it once I actually pushed the stroller out on the open sidewalk.) Mamas & Papas does offer a video detailing the assembly process, you can see it here. Try watching it before putting it together, not after like I did.
In Use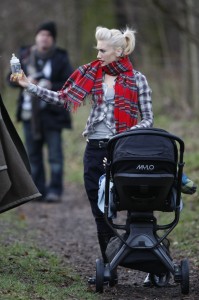 The first thing you notice about the Mylo is the way it looks. This stroller is like a sleek, very modern, very expensive sports car. Every detail is well styled and this stroller is designed for the parents as much as for the baby. Everyone will be very happy and comfortable when Mylo comes home to live, even the most stylish of mothers or fathers will look perfectly suited with this stroller. The stylish design does follow through in the details, such as the molded seat and headhugger, very comfortable handlebar, super smooth ride with perfect maneuverability. It rolled smoothly along and over all sorts of terrain without incident. The stroller weighs 28 pounds, which is not lightweight, but it feels very light when you're pushing it. It really is a joy to push no matter what sized child is on board. The seat is well sized and hold a very generous 50 pounds. All 4 of my children, ages 1 through 5 could fit in the seat. The harness is secure, but rather large. This is great for longevity, but it took a bit of adjusting to get it down to size for my 1 year old. Though the seat has a very flat recline and includes a very nice headhugger, I'd probably keep the bumper bar on or stick with the bassinet for smaller babies for as long as possible. And since the bassinet is included, you're all set either way.
The fold is pretty nifty and can be done with the seat in either direction, which is great. It's easiest to do with the seat reversed or off, but once you get used to the action, forwards get to be pretty easy too. You just grab and turn a handle under the seat and the stroller folds down to a nice compact package. It's just as easy to open which makes taking the Mylo with you in the car quite simple. The recline is also very easy to operate as is the mechanism for reversing the seat. This stroller also offers an open-wheeled design with no rear axle to kick, no matter how long your stride. The handlebar is adjustable to a good range of heights, which means that the Mylo really can work well for anyone. Mylo's brake is an easy-to-use toe touch style brake that feels very secure, which is not always the case with easy-to-operate brakes. The basket looks to be on the smaller side, but it holds quite a bit. Plus the stiff mesh side and double zippers offered a perfect spot to hold my huge stainless water bottle ready for easy access as we walked.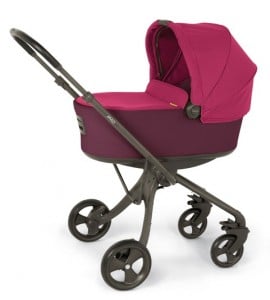 The Mylo is the perfect stroller for the fashion-forward style-conscious family that also wants solid features and impeccable performance. Even if its looks don't matter to you, though they are quite hard to ignore, the features are impressive enough on their own. Any stroller that offers a superb ride and push, 50-pound weight limit, included bassinet, well thought out details, supreme comfort for your child and a one-handed fold with the seat in any position is a fabulous find.
Specifications:
Birth – 50lbs
Weight: 28.6lbs approx
Size: H: 43" W: 24" D: 46" approx
Folded: H: 9" W: 24" D: 30" approx
---
* A sample was provided for review purposes
---