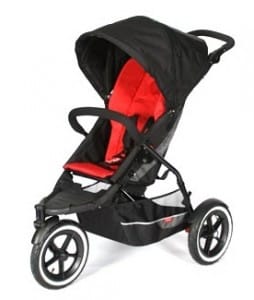 The new phil&teds Explorer and Doubles Kit offers some very welcome updates to their well loved inline. The Explorer takes the Sport and improves on it in every way you may have wanted to give us a terrific new stroller. As a former Sport owner, I'm well acquainted with it's predecessor and I couldn't wait to give it a try. I have to say that I was very pleased. In fact, the more I used it, the more I loved it. It's also very popular with my 5 year old son and husband who always loved our Blue Camo Sport best.
Assembly
Assembly is pretty quick, just add the wheels, mudguards and canopy and you're set. In the box are the stroller, bumper bar and wriststrap. The optional doubles kit just needs the canopy snapped on as well and is ready to be added to the stroller if desired. It took about 15-20 minutes to take it all out of the box and get it ready to go as a double.
Features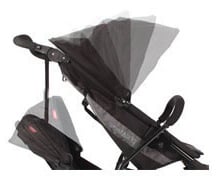 The most important features are the improvements. First, to the stroller itself, are an improved canopy, plastic footwell, a much easier rear pedal brake and a super easy fold with an very simple, secure automatic lock. The seat has also been improved to offer more support and comfort for little riders and an easier, one handed recline mechanism for parents. The colorful seat liners are interchangeable and sit atop the Explorer's contoured, vented Seat Performance System™ seats. My 5 year old, who insisted on a ride, said it was very comfortable and actually did not want to get out. As with the Sport, the seat still offers plenty of space even for taller riders. There was still plenty of headroom for my son and he's fairly tall for 5, so that's a pretty good seat size. The harness is now just 2 clicks instead of the 4 clicks to secure the old harness and very easily adjustable for all sizes. All 4 of my children(9 months to 5 years) rode in the seat and were well accommodated in the "slide and lock" harness. It's very easy to adjust the harness quickly for each rider as I do several times a day depending on who is riding where.
For those of you that want the option of using the Explorer for two, you have not been left out in the improvement department. Not only is there now a canopy for the rear seat, but you can now use the doubles kit with an infant car seat in the front. This is such a great option for those times when you just don't want to pull the baby out of the car seat to place into the stroller. It also gives you the option of using the doubles kit on the front or back with a newborn, which I think is great.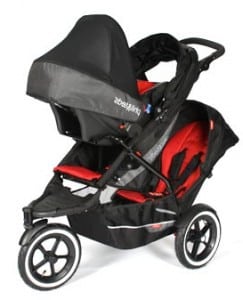 If you haven't used a phil&teds inline before, this stroller offers you a wealth of options. For parents with more than one child or those who are considering having a second in the future, this is a great option. You have a terrific single stroller that easily adapts back and forth from single to double, really extending its lifespan. The doubles kit seat is very easy to add or remove, so it really is a no effort transformation. You can use the stroller in 7 configurations for ages newborn through age 6 including as a conventional single, with the doubles seat in back or car seat & doubles seat together as mentioned above. Additional options include, toddler in front and newborn flat in the main seat and as a single with the optional peanut bassinet.
In Use
The fold was one of the most exciting updates for me. I have to say that my Sport could be such a pain to fold that I often left it unfolded in the car. When I saw the video of the new fold mechanism, I got very excited and then when I tried it myself, I was even more excited. It is actually a one handed fold and so easy to use just pull the lever, squeeze, fold and it locks in place into a nice compact, easy to lift package. With a weight of 26.5 lbs, it's as light to lift in and out of the car as it is to push. It's about 10 pounds lighter than my other double and I can really tell the difference. Comparatively, it takes up so little space in the back that I thought it wasn't in the car and had to go check. It would be nice if it folded with the seat in place, but the seat is so easy to pop on and off, it's really not a big deal and hardly adds any effort or time to the process.  The Explorer actually was out of the car and ready to go with both passengers on board faster than both my inline that folds with the seat on and my side-by-side. Very impressive.
The new canopy ratchets all the way forward to follow and block the sun, plus has a pop out sun visor and 2 pockets in the sides, big enough for keys or a cell phone, but can hold my 1.5 liter water bottle as well. Now flip-flop friendly, the brake is a little red pedal, also a great improvement. It is really nice to not fight with the brake any longer and just pop it on and off. Because it is very easy to move the pedal with just a touch, you need to take care to make sure it is fully engaged and not to accidentally bump it because it will pop up.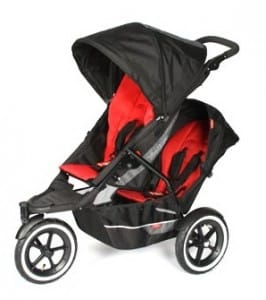 The doubles kit seat has added the canopy, but lost the recline. For those who are worried that this is really gaining one thing and loosing something more important, don't worry. The angle of the seat is perfect. My 2 year old fell asleep in the back seat and his head remained upright. There was no forward head flop that occurs in other add on seats that lack a recline. He rode happily in the rear and seemed just as comfy once he fell asleep. I've seen him asleep in a seat without the recline and he falls far forward. In the doubles kit seat he didn't even budge. Another plus to the new seat configuration is that the top uncovered bar is now gone, so no worrying about head bumps. A canopy and a comfy seat angle makes for a great spot for your rear riders. My 2 year old loves riding in the back so much, he will not ride in the front seat without a fight.
The Explorer has the same great ride and push as the Sport with it's 3 air filled tires and light feel. We rolled over everything in our path quite comfortably, mulch, mud, bumpy sidewalks all no problems and one handed pushing was quite easy both in singles and doubles mode. The stroller also is as easy to push with the doubles seat on as it is as a single. You really loose nothing by going to a double. You take up the same amount of space while in a crowd or out shopping as you do with a single stroller which is so convenient. The handlebar is adjustable as well, so it's easy to find a comfortable height and walk with out hitting the rear seat. I have a very long stride and tend to walk very fast and I've not kicked the seat at all.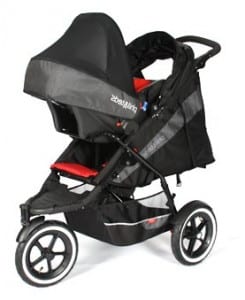 The phil&teds Explorer retails for $479.99, with the doubles kit at $89.99. It is available in black with a choice of red, blue, black and green colored liners or in All Apple (green with charcoal liner). The range of accessories include rain and sun covers for single or doubles mode, travel bag, cupholder, additional buggy liners, the peanut bassinet and the travel system options (phil&teds own car seat or an adapter for major brands, like Graco and Chicco). Another of my favorite accessories is the Lazy Ted that lets you adapt your doubles kit seat to a baby bouncer that you can easily take with you wherever you go.
The Explorer is truly a wonderful stroller and such a great option for those who need the flexibility of a single to double or a compact ride for two. It's so easy to push, maneuver, fold and transport, you won't miss lugging a big side by side around. If you're trying to decide if it's worth upgrading from your old phil&teds to a new Explorer, in my opinion, it is absolutely worth it, you will love the improvements. However if you're not quite ready to take the full plunge, the new doubles kit with the canopy will work on your older model too. – Kiersten, Staff Writer

Likes
Fold- one hand and so easy
New pedal brake
Smooth ride and light weight
Canopy on the doubles seat
Dislikes
An included rain cover for the single mode would be nice
Specifications:
Width: 24.4″
Folded: 20″ x 37″ x 12″
Folded (wheels off): 30 x 20 x 9″
Weight limits: main seat: 44lbs
double kit:
front load – 44lbs
rear load – 33lbs
---