A firefighter in Mississippi showed a little creativity and a lot of compassion when he summoned the help of the movie "Happy Feet" to calm an injured child.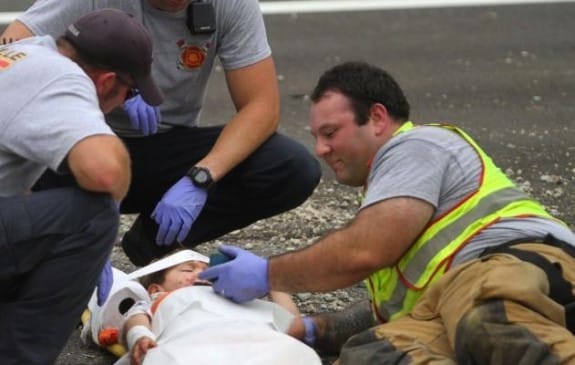 Firefighter Casey Lessard was called to the scene after a woman and her five children, ranging from 1 to 7 years old, were involved in a serious auto accident on Saturday. The woman and three of her kids were ejected from the SUV as it flipped repeatedly.
The 4-year-old boy and a sister suffered the least severe injuries, remaining in their car seats in the overturned vehicle until Good Samaritans got them out before authorities arrived.
The boy was the last to be transported to the hospital and was understandably upset. Lessard said he wanted to "take the bad out of the situation," so he took out his cell phone and played the first movie that popped up on Netflix. Together, they watched the animated dancing penguin movie as they waiting for an ambulance on I-10 in D'Iberville.
"He went from crying to instantly calm," Captain Darren Peterson told the Daily News Tuesday.
"He was still scared," Lessard said. "He watched [the movie] for a little bit with me, but then he'd go back to fidgeting and worrying about his family."
Lessard remains humble about his heroic actions, saying, "I just did my job. I know everyone else in our department would've done the same thing."
The boy was released from the hospital Monday, but two of his siblings remain in critical condition. Their mother suffered severe injuries, including a broken spine, but managed to walk, according to a family fundraising page.
The cause of the single-car crash is under investigation.
---
[ad]