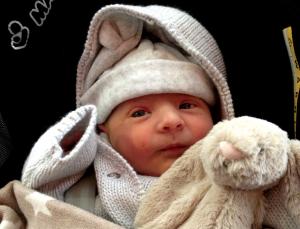 Conventional in vitro fertilization methods have been used for some 30-odd years. And though generally safe, there are some known risks associated with the current IVF – the most dangerous being a rare but fatal complication known as ovarian hyperstimulation syndrome (OHSS). But the risks of conventional IVF may soon be a part of the past, especially if little baby Heath – the first baby to be born with a new, 'safer' IVF method – proves to be an indication of what the future may hold.
Baby Heath, now eight weeks old, was conceived with the help of a natural hormone. The pioneering treatment "kisspeptin" was created by UK doctors at Hammersmith Hospital and Imperial College London. Designed to naturally kick-start a woman's ovaries, the treatment avoids the OHSS complication.
Rather than produce just a few eggs, which are needed for the fertilization process of IVF, the ovaries of women suffering from OHSS go into overdrive, producing more eggs than needed.  For most, the condition is mild, and they eventually recover. However, for about one in 100 women receiving IVF, the condition is extreme, and potentially fatal.
Doctors carefully monitor for OHSS while women undergo IVF, and they pay special attention to those that may be at risk for the condition. But even with the monitoring, some women are at severe risk. But according to UK experts, the kisspeptin method could eliminate this risk.
According to lead researcher Professor Waljit Dhillo, from Imperial College London, and Dr. Geoffrey Trew, who runs an IVF clinic at London's Hammersmith Hospital, human trials of the new drug have already started. A total of 30 women underwent the first human trial, and for the majority of them, eggs were produced using the more natural, safer drugs (28). However, only one baby – baby Heath – was actually born out of the study.
Heath's mother, Suzie Kidd, already had one child born via IVF. She honestly wasn't expecting to actually achieve a healthy pregnancy, but with baby Heath now in her arms, she says she is ecstatic that she had a chance to participate in the study.
"We already have one son, Lochlann, through IVF on the NHS, so I didn't think we could be that lucky again," Suzie told BBC News. "We are so, so grateful."
Suzie and her husband aren't the only ones thrilled about Heath's birth. Study authors are looking at his successful conception and healthy delivery as a huge indication of what may be possible in the future.
"We're absolutely thrilled that this study has resulted in the birth of a healthy baby boy," Dr. Trew told BBC News. "Each year, thousands of couples in the UK start families using IVF treatment, and if we can work towards eliminating the risks of OHSS, using the naturally occurring hormone kisspeptin, we can hopefully help even more women and make the treatment potentially safer."
The study that resulted in Heath's birth will end this summer, and they plan to begin bigger trials at that point. Those trials will focus on women that are at higher risk than normal for OHSS. And, if it works out, some serious waves may result since, despite the fact that IVF is relatively safe, doctors have been looking for something safer for the women who seek out IVF treatment.
"What's been the conventional treatment for the last 30 years is risky. This looks like another way to make the whole IVF process safer," Professor Richard Fleming of the British Fertility Society told BBC News.
However, Fleming pointed out that it's still too early to recommend the treatment to the general IVF community. He says more studies need to be done. And even then, the new treatment may not be right for everyone.
"If women are concerned, their doctors can explain the risks and merits of IVF and recommend what is the best treatment. There are patients who are far better treated with conventional IVF," Fleming said.
Related Articles:
---
[ad]