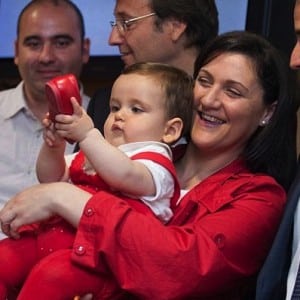 A baby dying in his mother's womb has been saved by doctors in Spain who performed and in-utero surgery. The infant was suffering from a rare condition affecting his lungs and causing his heart to fail, but at 10 months old, his is now healthy and thriving.
Gonzalo Pardo Sanchez was in his mother's womb when doctors found the baby was suffering from a rare medical condition called congenital high airway obstruction syndrome (Chaos). The problem was preventing his lungs from expelling fluid through the trachea and causing his heart to fail.
Doctors advised his parents Maria Jose Sanchez and Francisco Pardo, to abort the baby as the condition was too risky.
But then their doctor in Almeria learned about a team at a Barcelona research hospital who had performed three operations on infants diagnosed with Chaos, all in the womb. The three procedures had been unsuccessful, but it gave the doctors and the parents a better option than terminating
'We came to Barcelona without any hope,' Francisco said. 'They gave us an option and a chance.'
It was seven days of agonising wait for the parents before Maria was admitted at the Fetal Medicine Centre Clinic Barcelona for the surgery.
The most challenging part for the medical team was positioning the baby in such a way that the surgery could be performed. Three surgeons then spent 22 minutes removing the membrane blocking Gonzalo's larynx.
Eduard Gratacos, head of the unit in Barcelona explained that the actual operation of removing the membrane was quite easy. The difficult and challenging part was getting access to the baby inside the mother's uterus and then finding his trachea to precisely operate on it.
'One move a millimetre to the wrong side of the larynx could have caused serious problems,' he said.
Globally the procedure has been performed four times but in each of the cases the baby either died, suffered brain damage or had respiratory problem.
This is the first time however that a baby survived the operation, was born healthy and after ten months is showing no signs of any brain damage or other post surgery complications.
Gonzalo's parents from Cartagena are overjoyed that a baby they thought they had already lost, is safe in their arms thanks to the team of surgeons who saved his life.
---
[ad]