If you are expecting a baby in the coming months Fisher-Price has a lot of options in store for you! While in Las Vegas a couple weeks we previewed their new collection. Here some of the highlights:
The new 4-in-1 Smart Connect Cradle 'n Swing was a finalist for the JPMA Innovation award. Retailing for $199.99 new parents can connect the Cradle 'n Swing to their smartphone or tablet for convenient control of swing features from anywhere inside your home. To soothe your baby it has 4 soothing motions in one – 2 ways to swing and 2 ways to rock. It has a removable rocker seat with a swaying mobile. It has a plug in option to save on batteries and features 6 swing speeds, 16 songs, and soothing nature sounds Max. Weight: 25 lbs. To be available January 2015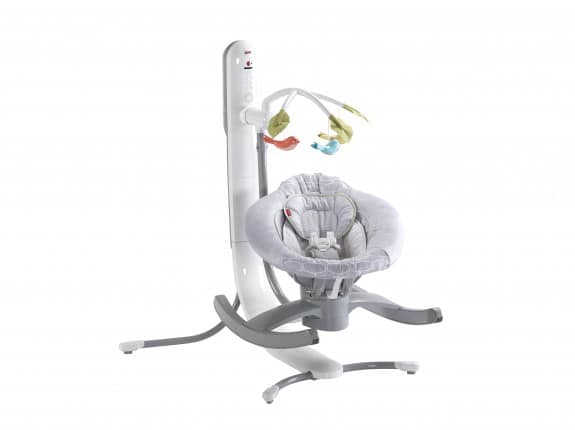 The 4-in-1 Rock 'n Glide Soother ($139.99)  features a multiple motion glider and a removable infant rocker and cradle.  The soother entertains your baby with 12 songs, 3 sound effects and removable toy bar.  To allow for better mobility the seat removes with easy-carry handles and can be taken with you.  Parents will love that the glider plugs into the wall so no batteries are needed. To be available in Coastal Mist exclusively at Target and Waterscape exclusively at Walmart.  Max. Weight: 25 lbs.  Look for it in store in January 2015.
The Comfort Curve Bouncer features a new modern platform with plastic front and base.  This seat offers calming vibrations to help soothe your little one.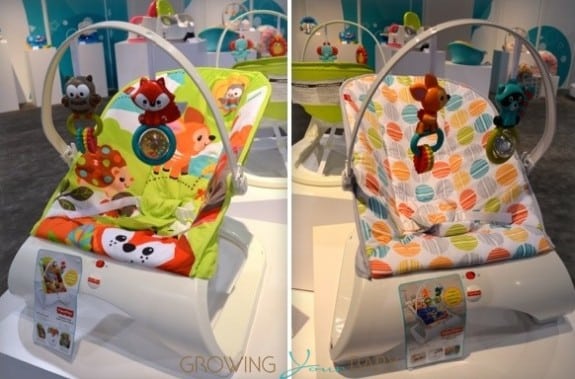 The removable toy bar encourages baby to reach for the two animal friends and helps with motor skills and eye-hand coordination.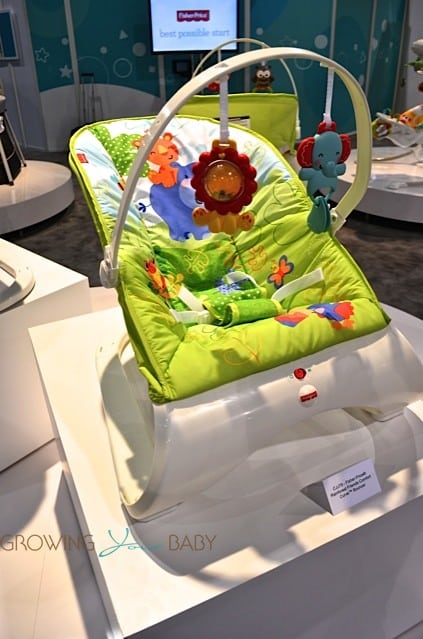 To be available in three patterns – each exclusive to a different retailer.   Saturn Snuggle will be available at Target, Color Chromatic will be available at Walmart and Ringlet Wave with Soft deluxe Insert will be sold at Babies R' Us.
Fisher-Price's Sit-Me-Up Floor Seat will get a couple new fabric designs and a new model with a tray($49.99) – Just like the original model, the seat has a place for two linkable toys, squeaker feet for kick n' play fun and a flat fold design for easy storage. There will also be a Sit-Me-Up Floor Seat 'Girl' which is photographed at the back for $39.99.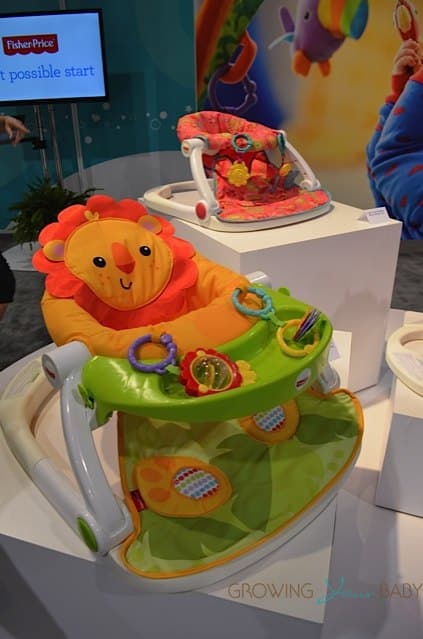 In October Fisher-Price will introduce a new Woodland Friends collection.  It will be available in a SpaceSaver Jumperoo® for  ($69.99).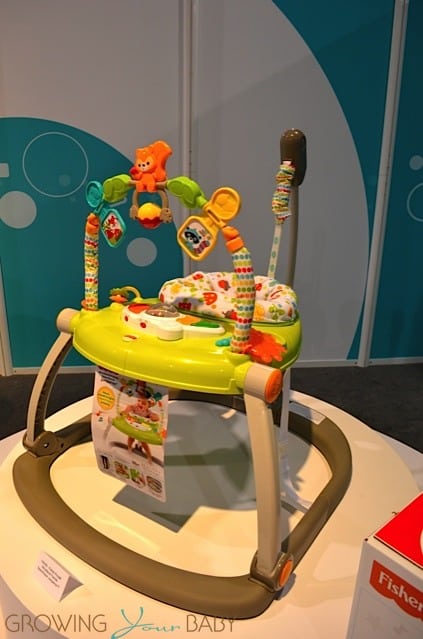 Baby's natural jumping and kicking actions send the seat bouncing up and down with lights, sounds and music.  The set's new styling features the bouncy spring in the back and lets you easily fold the whole frame flat for portable play or space-saving storage
Like with the other Jumperoos in their collection it grows with your baby through its 4-position height-adjustments.
The new Ultra-Lite Day & Night Play Yard ($139.99) is approximately half the weight (approx. 16 lbs) of other popular play yards for baby with all the same great features for truly portable use.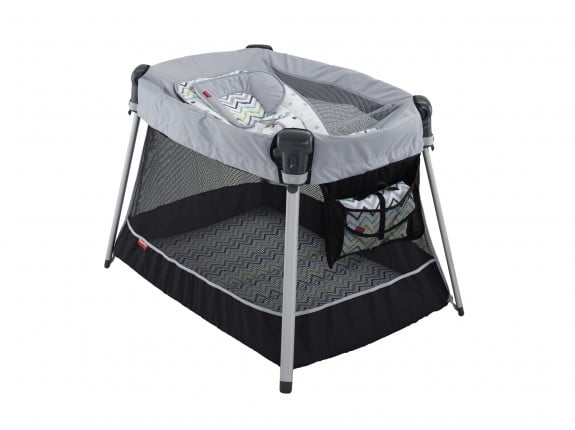 The Ultra-Lite Day & Night Play Yard($139.99) includes everything needed for napping, sleeping, playing and changing on the go.  It features the same inclined sleeper as Rock n' Play Sleeper and also has a supportive seat back, cushioned head support, and three-point restraint to keep your baby comfortable, secure and gently inclined.   When it's time for changing parents can use the portable changing clutch at home or on the go.  Parents can remove the sleeper for lots of room for older babies and toddlers to rest, relax and play.  The easy to fold design is perfect for travel and everything fits into the travel bag for portability!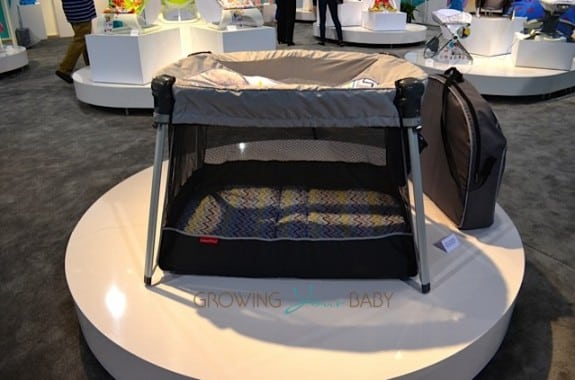 To be available in three patterns – each exclusive to a different retailer.   Refresh will be available in January 2015 at Babies 'R Us, Coastal Mist will be available December 2014 at Target and Morning Cloud will be available in December 2014 at Walmart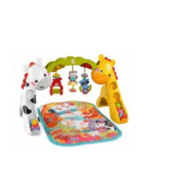 The new Newborn-to-Toddler Play Gym ($59.99) is a convertible activity play gym that features lights, sounds and more than 10 activities and toys.  It is designed to entertain babies from newborn to toddler with three "grow-with-me" modes including lay
and play, sit and play and stand and play.  It features two musical modes include long play for up to 20 minutes of music and baby-activated short play. Perfect for little ones birth+.  To be available January 2015.
The 3-in-1 Musical Activity Gym ($29.99) is a playful activity gym the keeps your baby busy with toys, sounds, and music.  The set features six linkable toys, including a take-along musical fox with fun sounds and two music modes to keep little ones busy.  Perfect from birth+.  To be available January 2015.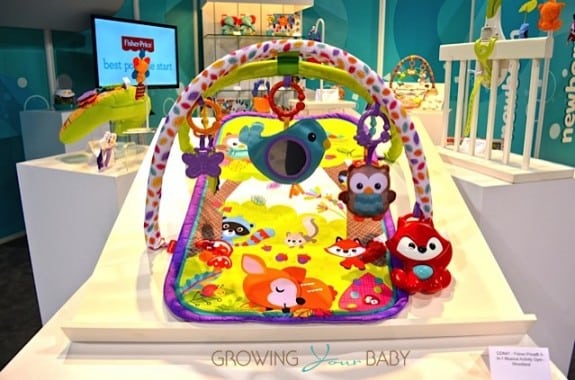 ---