Unveiled last week at the Toy Fair, Fisher-Price is expanding its popular Kid Tough toy line to include a Video Camera($60) and Music Player($60). The Kid-Tough line has been built to survive drop after drop while also featuring simple controls and large buttons.
Even though I love that my son is interested in learning about new technologies, I am always on edge every time he wants to use my stuff.
Having a product that was designed for little destroyers may go a long way to helping me keep my sanity. Lord knows we have enough tech toys that need to meet with the technician – with iPods leading the list.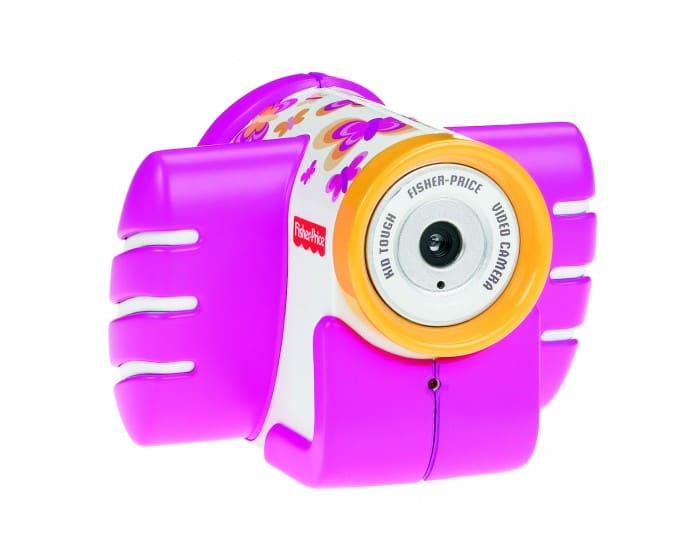 The Video Camera features include a 1.5" color LCD preview screen so kids can instantly playback the videos they've taken; sturdy rubberized dual-handle grips, built-in memory for storing up to five minutes of video right out of the box and an SD card slot for even more storage. The Video Camera also includes a TV out jack, USB Cable for computer connection, and simple software that makes it easy to get the pictures from the video camera to the computer in just one click. Will be available in 2 colors – pink and blue.
The Music Player features built-in speakers, a sing-along microphone, a 1″ x 2″ black and white LCD screen that enables kids to easily find their favorite songs; carry handle, built-in memory to store over four hours of music, five fun sing along songs, volume control, headphone jack, USB Cable for computer connection and simple software that makes it easy to get music from the home PC to the Kid-Tough Music Player. The Music Player is compatible with the most popular formats of digital music (mp3, wma and DRM-free AAC files). Also available in pink and blue.
Also worth mentioning is the iXL: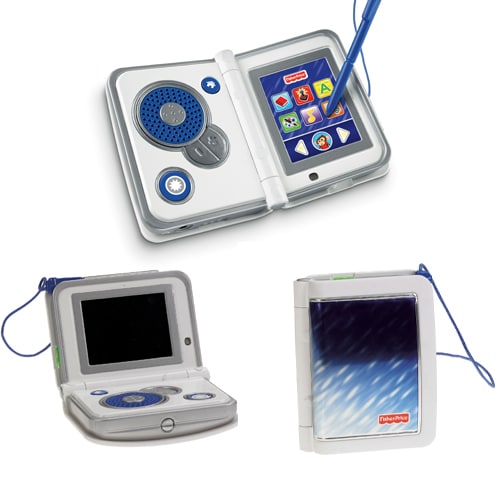 This interesting new kid's gadget features 6 great applications:
Story Book

– features 1 animated story with 15 pages and 2 modes: read to me mode (words highlight while story animates) and interact with me mode (child can press key words and learn more about them). Kids will learn reading for meaning, comprehension, key words and spelling.

Game Player

– preloaded with 1 classic arcade-style game, which has 3 levels and teaches numbers, sequencing and counting.

Music Player

– preloaded with 1 learning song and is compatible with MP3 and WMA file formats.

Art Studio

– includes stampers, backgrounds, bucket fills, colors, pen styles, erase button and it has background music so kids can listen to their favorite songs while they create their masterpieces.

Note Book

– enables kids to trace uppercase letters and numbers 1-20.

Photo Album

– preloaded with 3 sample images. Kids can transfer additional photos from their computer and they can even draw on their photo images to customize them! Kids can customize their login name for personalized play – they can see their name appear in the story and elsewhere.
Best of all is that the iXL is PC AND Mac compatible, it features an SD card slot for expanded memory and comes with a USB cord to connect to the computer.
Expect to see it in stores in June with a projected retail of $59.99