For many parents, having a device on hand that will play their child's favorite movie or show is a god send if you are headed onto an airplane or on the road for a long trip. The problem with DVD players is that you need to change the disc every time your child wants a different show and the issue with iPads can be that they break easily if dropped by a toddler.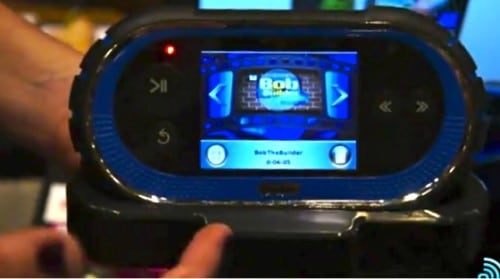 Fisher-Price announced this week at CES that they will expand their Kid-Tough® line of electronics to include a Portable DVR. Whats nice is that parents will even be able to record new TV episodes for viewing on this cool, kid-friendly, hand-held device.
It takes parents only a matter of minutes to simply attach the Kid-Tough Portable DVR to its base unit that is connected to their TV and set-top box (DVR, cable box, satellite box, digital converter box) and they can record their children's favorite TV shows. Recording can even be programmed for up to 24 hours in advance of the show's air time.

The Portable DVR has easy-to-use, kid-friendly controls and contains a rechargeable battery for 4-6 hours of playtime (the battery re-charges when the unit is docked). The built-in memory accommodates up to 2 hours worth of content. Families heading on a cross-country road trip can expand their memory and stock up on the latest TV episodes before they leave the driveway by purchasing an additional memory card for the micro SD card slot. This will help minimize the "are we there yet?" hollers from the back seat!
In addition, the device features a 3.5-inch touch-screen interface and a slick, high-end design that preschoolers will love, in either pink or blue.
The Kid-Tough Portable DVR will be available this summer at major retailers nationwide.  No price was available.
Related Articles:
Screen CAPS Via Engadget (unit shown a prototype)