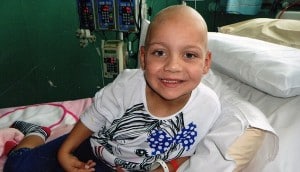 It is the biggest fear of almost any parent – to hear that your child has a life-threatening illness. Mark Withers, 41, and his wife Jo, 34, received this awful news in April of last year. Their five-year-old daughter Emily had only six months to live.
Emily had been lethargic and exhausted, so Jo took her to the family's general practitioner. Emily was diagnosed with a cold. But Emily continued to feel sick. She returned to the doctor and received some blood tests. While the family was waiting for the results, Emily was finally starting to feel better so the family was completely unprepared for the terrible news.
Emily had a rare condition known as aplastic anemia. Without a bone marrow transplant, Emily wouldn't survive. "It was just devastating. We couldn't believe it …To be told she had this and needed a bone transplant to survive was just devastating. Our whole world just collapsed around us," Jo said.
Now that Emily and her family knew the truth, it was a desperate race against the clock to find a donor match. Everyone in the family was tested. Her parents, Mark and Joe were not a match. Neither was Emily's twin brother Jack. Lauren, Emily's nine-year-old sister, however, matched 12 out of 12 possible markers. A perfect match.
"Lauren had been the one who had been desperate to help Emily and she was hoping that she would be a match for her," Jo said. Adding that, for Lauren, knowing that she could help her sister, "it was like winning the lottery."

"I got the call from the hospital just before I went to pick Lauren up from school and as soon as she came out of the school gates, I told her that she had been found to be a perfect match. She just started crying with joy and ran straight back into school to tell her teacher that she was going to save Emily."
Despite Lauren's excitement, Jo couldn't help but worry and feel bad that Lauren had to undergo a painful operation to help save her sister's life. "It was such a relief when she was wheeled back up a few hours later," said Jo. "She was groggy from the anesthetic and sore too, but she didn't complain."
Lauren's bone marrow was then placed into a drip for little Emily. Once the transplant was completed, Emily was moved to an isolation room to reduce the risk of infection. Lauren and Emily had to wait a full three weeks to be reunited.
"They had to wave at each [other] through a glass window….It was tough for the girls not being allowed to see each other. Lauren just wanted to go in and hug her sister," Jo stated.
But once the two were able to unite, "it was so wonderful to see, and very emotional. Lauren just went in to see her and they had a big hug. Emily said a big thank you to her for saving her life."
Emily came home in October and has been recovering very well. Just before Christmas, she did have a bout of pneumonia but is now fully recovered and back in school.
As for Lauren, she refuses to see herself as the hero that her mother tells her she is. "She just says that she is looking out for her little sister. She 's the best big sister anyone could wish for [though]. If she hadn't stepped forward to help then Emily wouldn't be here today."
What a wonderful, beautiful ending to such a scary situation. We all wish little Emily the best in her recovery and commend Lauren for being so wonderfully brave!
Related Articles:
---
[ad]