Breastfeeding your child is a completely natural occurrence. Decades of stigmas associated with the practice, however, have made feeding our children, in some places, controversial. As mothers, we shouldn't have to fear consequences because we are simply feeding our children. However, one Florida mom has been given a trespassing warning and has been banned from her niece's school after breastfeeding her infant daughter on the school's property.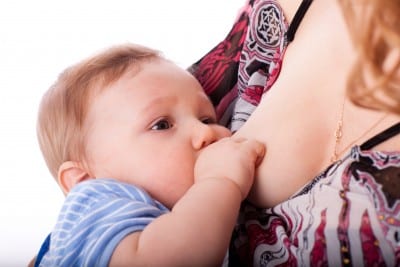 Maegan Shoemaker, 25, of Niceville, Florida had been attending her niece's Mile Club, a weekly fitness event that is held at the Plew Elementary School, typically outdoors, where parents and spectators can watch from the school's bleachers. During the event, Shoemaker's 8 ½ month-old Arya became hungry and restless. Doing what any mother would do, Shoemaker began to feed her child. "When they're hungry, they're hungry," said Shoemaker. "…I don't eat under a cover, and I don't expect my children to eat under a cover. You can't dictate where I breastfeed or how I breastfeed."
A parent made a complaint about Shoemaker's breastfeeding within the sight of the fifth grade class using the track, after which school Principal Carolyn McAllister approached Shoemaker to speak with her. McAllister said, "I asked her to use discretion around the kids. I never told her she couldn't breastfeed." McAllister said that she has breastfed her own children, and also supports teachers and staff who choose to do it during the school day.
While school officials say that Shoemaker's breastfeeding was visible and distracting to the students, Shoemaker maintains that she was discreet while feeding her daughter, putting a barrier up between herself and the students. Shoemaker said, "It was tall enough that it was blocking (their) view, none of them could see."
McAllister said, "That is a classroom situation and anything that disrupts a class becomes my concern."
Before leaving the school, Shoemaker decided to stop in at the school office to defend her rights, as Florida law allows mothers to breastfeed their children in public. Shoemaker says that she was not hostile, as the school staff alleges, saying, "I wasn't yelling, and I wasn't cursing. I wasn't coming at her with my body. I wasn't backing down and I was standing my ground, but I wasn't violent." McAllister disagrees, saying, "She was hostile. She was not in control of herself. She was belligerent. She upset my secretaries to the point that they were calling the resource officer."
After Shoemaker left the premises on foot, carrying her daughter on her back, McAllister and the school's resource officer tracked her down in a patrol car about two blocks from the school, where she was then questioned and subsequently issued a trespass warning, barring her from setting foot on the school grounds for the remainder of the school year, which means that she will not be able to attend her young niece's school events, or pick her up from school. Distressed by the entire incident, Shoemaker said, "I'm very involved with her and her school and now I can't be, and it seems very unfair. Breasts are so…sexualized that they can't be used for their intended purpose. And that, to me, is wrong."
---
[ad]