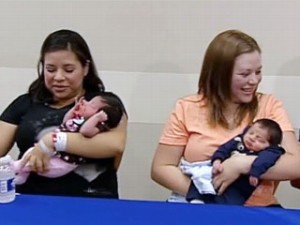 It is a sister act that will be hard to repeat. Four sisters from the same family in Chicago gave birth to four babies in the span of four days. In fact, it was the same doctor who assisted in the birth of three of the babies in the same hospital.
29-year-old Saby Pazos, 27-year-old Lilian Sepulveda and 24-year-old Leslie Pazos gave birth in Westlake Hospital in Melrose Park, Illinois on Friday and Saturday. Saby was the first one to go into labor on Saturday.
The good news quadrupled when their sister Heidi Lopez gave birth to a baby boy named Jonathan on Monday in California.
Babies Abel Brian, Ashley Mishell and Emily Marie were delivered by the same obstetrician Dr. Jean Alexandre who jokes, "I couldn't make it to California."
The family says that the births were not planned but a pleasant coincidence and they look forward to all the cousins growing up together.
According to Dr. Alexandre, "The births were very unusual but wonderful at the same time." – Atula, Staff Writer
Related Articles:
SOURCE