In her exclusive interview with Celebrity Baby Scoop, Model, legendary volleyball player, mother of three, Gabrielle Reece shares her health and wellness secrets – and it's not all about the fitness!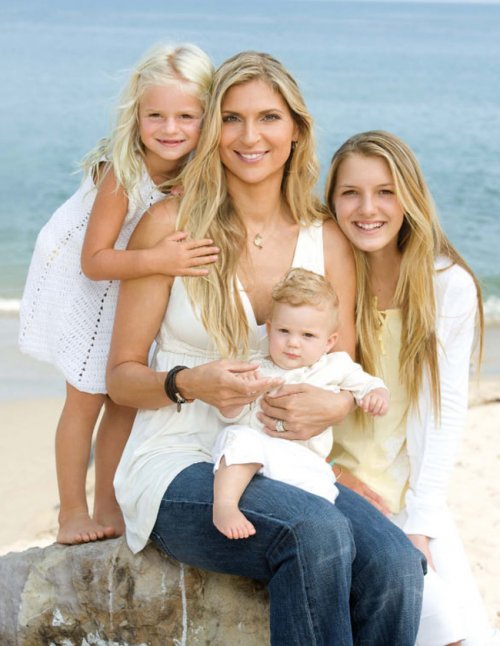 The 39-year-old legendary athlete opened up about her Web site HoneyLine, her positive outlook on life and how she would rather discuss a holistic approach to health rather than the "same old fitness questions." Gabby talks candidly about her positive approaches to parenting, life with professional big-wave surfer husband Laird Hamilton and how she wants to help shatter the myths that all women and mothers are supposed to be perfect and have it all figured out.
CBS: How did HoneyLine<start?
GR: "I wanted to create a site for women to connect and share their experiences and knowledge. Whether it's the best restaurants in the neighborhood, your favorite recipes or the best parenting tips, we all turn to our 3 or 4 best girlfriends to get anything answered. We all have something to share and contribute. The idea of the HoneyLine is to create a place to connect and share our ideas, big or small. It could be about healthy snacks, to relationship tips, to fitness tips, to finding the best jeans for a body type with short legs and a big butt. Whatever it is, the HoneyLine is open to sharing it."
CBS: Is there any topic that is off-limits?
GR: "We want to cover it all, but we want to focus on keeping it positive. It's not a place to just moan and groan about life. Of course venting is welcome and normal, but we do have our limits. I've always been plugged into the supportive sisterhood from being a professional athlete. I want to create that same kind of supportive environment on the HoneyLine – it's like a harsh honesty from your friends, but in a supportive way."
CBS: Do you share your own ideas and personal experiences?
GR: "Definitely, when it makes sense and when it's relevant. I'm not going to ramble on about myself, but I definitely share my own ideas and tips. My goal with the HoneyLine is to let women know that you're not alone and to encourage each other to ask questions in life. It's a place to help you be the best 'you' possible. My focus is to make all things true and positive on the HoneyLine."
CBS: Do you have nannies for the girls?
GR: "Yes. I take the girls everywhere I go and the nanny helps out when I'm working. I don't leave the girls with my husband until they're 4 – not that he's not a great dad, it just works best for us that way. We have a great French-Canadian nanny who is so intelligent and so great with the girls."
CBS: Do you and Laird want to try for a boy?
GR: "Oh God, in some ways I'd be so stoked if someone came and placed a baby on my lap – either a boy or a girl. But I don't think I'd want to go through another pregnancy. Secretly, I think it's not a bad thing if Laird doesn't have a son. I think he loves being wanted and surrounded by girls."
CBS: Are your disciplining styles similar?
GR: "I'm the bad guy because I'm the mom and Laird has more broad strokes. Like, he'll come into the room and say "be quiet" to the girls after I've been trying to deal with it. He's more fun than me. I'm fine with that. I'm not here to be their best friend – this isn't a popularity contest. I have a job as a mom to guide my kids from right and wrong, teach them manners, help them find what they love. I'm always looking for ways to be positive with the kids."
Please visit Celebrity Baby Scoop For the full interview and a bunch of personal family photos.
PHOTO COURTESY OF CBS – not for use on other sites without permission