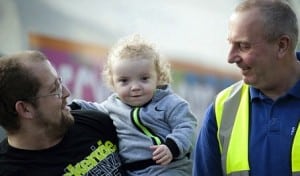 Dave Hammond was doing his job collecting garbage when he remembered he had accidentally missed a house. The turn around saved one toddler from choking on a packet of chips.
Dave was supposed to pick a collection of plastic bottles left in brown bins but he realized he had missed one and turned back.
He then noticed Rachel Fitton, mother of one year old Calvin screaming for help in the street. Calvin was lifeless after he had choked on chips.
The baby had already turned blue when 54 year old Dave jumped from his collection truck to use his first aid skills.
He said, 'As I pulled down the street I saw a woman come running out into the road, she was hysterical screaming "somebody help my baby. I jumped out of my cab and ran over to try and help and to have a bit of a look at him – it was just instinct."
He feared the worst at first when he saw the lifeless body.
'She just had him lay in her arms and he was completely limp, to be honest when I first looked at him I thought he was dead, his skin had even started to go a bluish tint and his body was just lifeless. 'I asked her what was wrong but she was too upset and hysterical that she couldn't even tell me what was wrong, I think that she was just so in shock at seeing her son like that, that she couldn't do anything."
However Dave didn't panic and applied what he knew. He dislodged the crisps with his fingered and patted the baby strongly on the back to revive him.
'I opened his mouth to check his breathing and saw what looked like crisps in his throat, I tried to pull them out but I couldn't so I bent him over my arm and patted him on the back and he just started coughing.
'It was amazing, all the colour rushed back into his face and his eyes began to light up, it was such a relief.'
As a dairy driver previously, Dave had taken a voluntary first aid course and the skill came in handy to save young Calvin's life.
'I learnt first aid in my previous job, as a dairy driver, and it all just came flooding back but I think anyone would have known what to do it was just common sense." Dave said.
What amazed Dave later was how an eye-witness interpreted the whole incident wrongly. She thought that the recluse collector had actually run over the toddler.
'I wasn't even going to bother reporting it but I overheard a neighbour asking someone who had been stood by watching ask what happened and this woman turned round and said "that bin man's just ran over that little boy" so I panicked and thought I'd better report it.

'Once everything had calmed down I just got back in my cab and carried on with my rounds.'
Later the Calvins couldn't thank the man enough.
Rachel said 'I am extremely grateful to David for saving my son's life. When I brought Calvin out on to the road everyone was panicking and nobody knew what to do. I was so glad Dave was there, he is a real hero.'
Even his bosses think he acted very bravely.
Stuart Jackson, Service Director for the Environment at Stockport Council said, "It is fantastic when we hear of staff that have gone over and above the call of duty when they are at work, and on this occasion Dave did just that. We are sure the family are delighted that you were there to help in their time of trauma and hope the child remains in the best of health in the future."
Thanks to one man's quick thinking, the life of a child was saved.
Related Articles:
---
[ad]