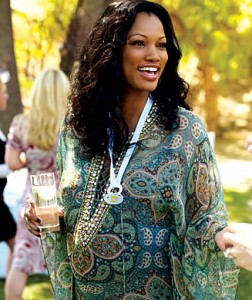 On Saturday, Gladys Gonzalez and actress Angie Harmon, co-hosted an intimate shower in the back yard of Angie's L.A. home for Garcelle Beauvais-Nilon.
Garcelle is expecting twins so she is going to need a lot of advice, help and gear.
"I can't believe I'm pregnant with twins!" said mom-to-be Garcelle Beauvais-Nilon, arriving at a baby-themed bash to celebrate her impending arrivals. "Other than seeing my body grow and thinking, 'Will my stomach ever go back?' it's a pretty exciting time," she laughed.
Angie Harmon's advice for her expectant friend?
Just go with the flow! "When you're pregnant, your body isn't yours anymore, it's the baby's!" she teased. "And you want Baskin-Robbins Mint Chocolate Chip ice cream for breakfast. It's like, 'Okay, I'm up, let's have some ice cream.'"
Garcelle is expecting boys, which showed in the elegant blue decor.
---
PHOTOCREDIT:Thayler Allyson Gowdy via INSTYLE.COM
---
[ad]