A gas naturally found in air might help save the lives of infants who suffer brain damage at birth. Britain's Medical Research Council (MRC) is funding the world's first trial to see whether Xenon, a naturally occurring gas can help newborns by ensuring their oxygen-deprived brain suffers minimum damage.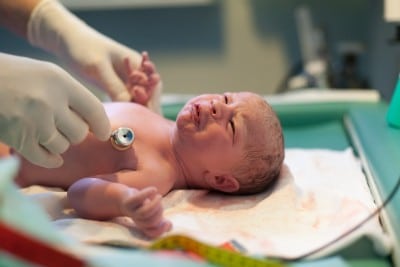 Xenon is a known gas in the medical world as it is already used as an anesthetic. But now doctors are experimenting if the same gas that can be used on infants who are brain damaged at birth because of lack of oxygen.
According to Daily Mail, three London hospitals – University College Hospital, Evelina Children's Hospital, and Queen Charlotte's and Liverpool Women's Hospital are offering trial treatments with Xenon for at-risk infants.
In a year almost 100 infants are born deprived of oxygen and with damage to their brains. The newborns are otherwise healthy and while severe brain damage may turn fatal, others risk various conditions including learning difficulties and cerebral palsy.
The oxygen deprivation of the baby inside the mother's womb may occur because of various reasons like the umbilical cord twisting around the neck, the placenta coming apart or an infection.
Till now, doctors treat such babies by cooling the body temperature as the brain damage has been found to minimize in lower temperatures. With the use of Xenon gas the temperature can be drastically reduced and therefore experts believe, might help many newborns survive the initial oxygen deprivation.
Professor Denis Azzopardi, a paediatric specialist at London's Imperial College says that oxygen-deprived brain cells begin to die rapidly. The xenon can at this stage help revive these cells.
Dr Andrew Kapetanakis, from Guy's and St Thomas', told Daily Mail,
'Birth asphyxia occurs in one or two out of 1,000 deliveries in developed countries and may have lifelong implications for the children and their families. We are trying to discover if new treatments can be added to cooling to improve outcomes.'
The doctors will continue the trial for 18 months and study at least 70 babies. Hopefully, the miracle gas will be able to easily breathe life to damaged brain cells and save baby's from lifelong complications.
---