After more than a decade of decline, the Girl Guides of Canada are revamping their image and boosting their numbers.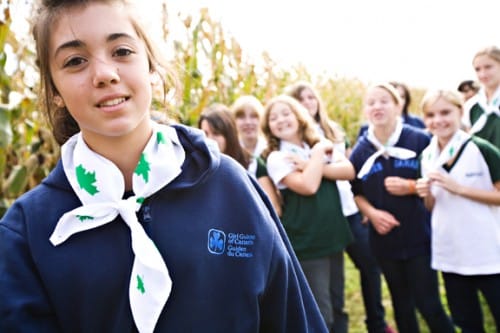 Since 1910, the Girl Guides of Canada have moulded and influenced generations of girls into vital, dynamic women. The organisation boasts such impressive and influential women as astronaut Roberta Bondar and members of parliament Lisa Raitt and Diane Finley among their alumni.
But, beginning in the mid 90s and into the early years of the new millennium, the organisation suffered a crisis of image and a sharp drop in membership. In 1995 they were 250,000 members strong, but by 2005 membership had fallen to just over 116,200. From there things only got worse, bottoming out in 2009 with a meagre enrolment of 90,000.
It's hard to blame young girls for losing interest in the Girl Guides, with all the other claims on their time and new distractions like the internet and more fascinating video games every year. The Girl Guides, with their campouts, and badges for needlework and meal planning, simply faded out of relevance for little girls who couldn't identify with these traditional themes.
Over the past three years, however, five provinces have reported steady growth in their numbers, and the new recruits seem to be sticking around.
The upswing can be credited to an image tweak. While they haven't done away with the traditional activities and initiatives that have benefited so many girls in the past, they have added new projects and skill badges that reflect the current times; badges like financial literacy, aeronautics, geocaching and video-game design.
They have also added initiatives to combat bullying and issues of poor body image while spearheading projects at home and abroad like: community gardens, collecting donations for women's shelters and helping to build schools in Haiti and Dominican Republic.
Recruiter Barbara Wilson says, "We're dedicated towards making girls confident, resourceful, courageous and able to make a difference in the world. Girl Guides encourages them to pursue their goals and foster a respect for one another, a respect for women, for female friendship and role models."
Throughout its history, the Girl Guides of Canada has unwaveringly remained a female only organisation. Even when Scouts Canada went co-ed in 1998, the Girl Guides were unmoved.
"The difference with Girl Guides," says spokeswoman Nisha Lewis, "is that instead of just saying 'Girls can do anything and women can do anything,' we're showing them the girls and the women around them doing everything."
Well the tactics seem to be working. Hopefully the Girl Guides will continue to modernise and enrolment will keep heading up. – Jen R, Staff Writer
Related Articles:
image via Calgary Girl Guides