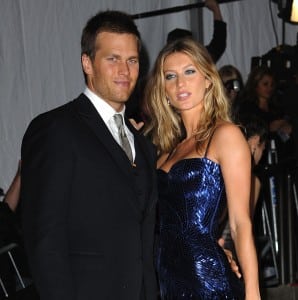 Just 7 weeks after welcoming her first child, Benjamin, Gisele Bundchen is back to work and talking birth details!
On Monday, the supermodel shot a campaign for Brazilian fashion label Colicci in Boston, where she was visited by a reporter from Brazilian magazine Fantástico, who reported the new mom looked radiant, beautiful and as "in shape as always, six weeks after the birth of her baby."
The new mom was not shy about discussing baby Benjamin, her son with husband Tom Brady. In the interview, Gisele 'dispels reports that she went into labor and was taken to a Boston-area hospital. Instead, she says, "I gave birth in the bathtub," at the couple's Beacon Hill penthouse'.
"Gisele gives off simplicity, spirituality, shows that she has concern with living well, being happy and, now, with being an excellent mom," the reporter recounts in a preview of Fantástico's interview. "From what I saw in the interview, I'd say she's right on track."
Photos from the shoot will be posted on the model's site in the coming weeks.
---
[ad]