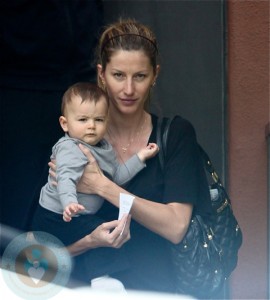 Gisele Bündchen is a gorgeous model and a first time mother, but she is trying to add the title of lactivist to her resume. Unfortunately, her outspoken opinion may cause more harm that good.
According to her, mothers should be required by law to breastfeed their infants for the first six months. While many experts agree that this time is the most crucial for infants to receive breastmilk, few have suggested that mothers should be forced into the job.
"Some people (in the US) think they don't have to breastfeed, and I think, 'Are you going to give chemical food to your child when they are so little?'" Bündchen says in the magazine's September issue, according to the Daily Mail.
Bündchen, who is married to NFL quarterback Tom Brady, recently made headlines over her pain-free water birth of their son. Now she is stirring up more debate with her frank comment over a mother's choice to use infant formula. Gisele Bündchen would like to see that choice be stripped away.
She adds, "I think there should be a worldwide law, in my opinion, that mothers should breastfeed their babies for six months."
The comment has angered many mothers, even those who support breastfeeding and would like to see the rates higher. Support, education, and encouragement can help many women who want to breastfeed, be able to do so. Creating a law forcing them, however, would breed resentment and limit many mothers who have jobs and commitments that are not breastfeeding friendly. – Summer, staff writer
Related Articles:
---
[ad]