Google's Project Bloks has the ambitious goal of creating an open hardware platform that researchers, developers and designers can use for building easy physical coding.
What does that have to do with kids?
Children are by nature playful and social. They learn by using their hands. Google thinks that the "open platform" they are creating will help kids develop different kinds of computational thinking. To that end, their system can create a variety of different programming experiences. When connected together – their Brain Board, Base Board, and Pucks – create a set of instructions that can be sent to devices like toys and tablets over WiFi or Bluetooth.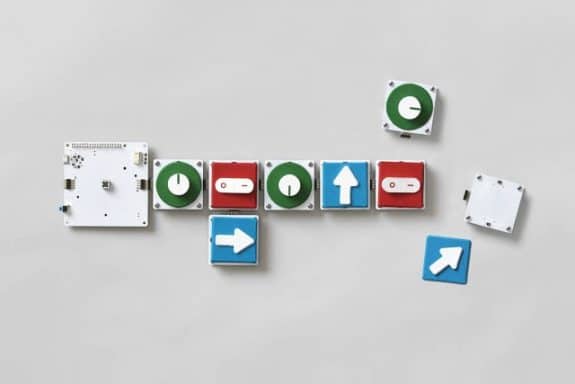 The "Pucks" component is what makes Project Bloks so versatile. Pucks can be programmed with instructions – commands such as "turn on or off," "move right or left," or "jump." They also can be switches, dials, or buttons. Because they have no active electronic components they're cheap and easy to make. The pucks make it possible for the system to have endless numbers of domain-specific physical instructions.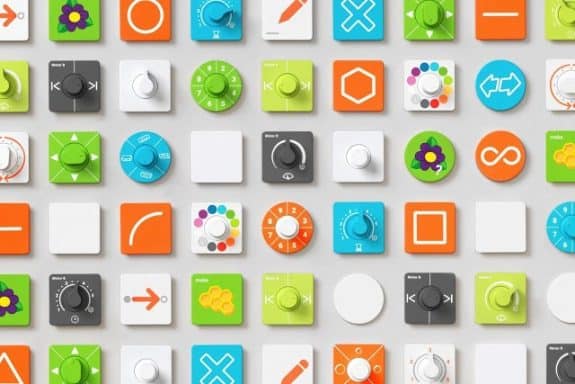 The Base Board's job is to read a puck's instructions through a capacitive sensor, carrying the commands to the Brain Board. Each base board is modular, fitted with a haptic motor and LEDs that give users real-time feedback on the programming experience.
The Brain Board is the processing unit for the system, built on a Raspberry Pi Zero. It can control any device that has an API via WiFi or Bluetooth, and provides the other boards with power.
Google believes the versatility of this system will allow developers to create diverse experiences for kids who will then be able to develop different kinds of computational thinking limited only by their imaginations. There are functions allowing them to compose music, play around with sensors, and simply experiment. The Coding Kit is the portal, setting up children to learn basic programming concepts by allowing them to put code bricks together to create a set of instructions that can be sent to connected devices: anything from a tablet to a robot or to an educational tool like LEGO Education WeDo 2.0.
Making code physical for kids should open doors to a more hands-on learning experience. Google is now looking for participants – educators, developers, parents, and researchers – to take part remotely in further research studies on the project later this year.
---
[ad]