One of my favorite things about having a play kitchen is all of the different types of food that you can purchase for your kids to 'cook'. In the last few years toymakers have taken the creativity factor up a notch and have created some pretty cool products to enhance your child's imaginative play experience.
While creating artful sushi dishes is a skill that not many are able to master, we have found 6 great sushi 'toys' that are sure to make your child look like a pro.  Whether they are creative or just looking to feed their friends, these sets will make sure that there is something cool on the table!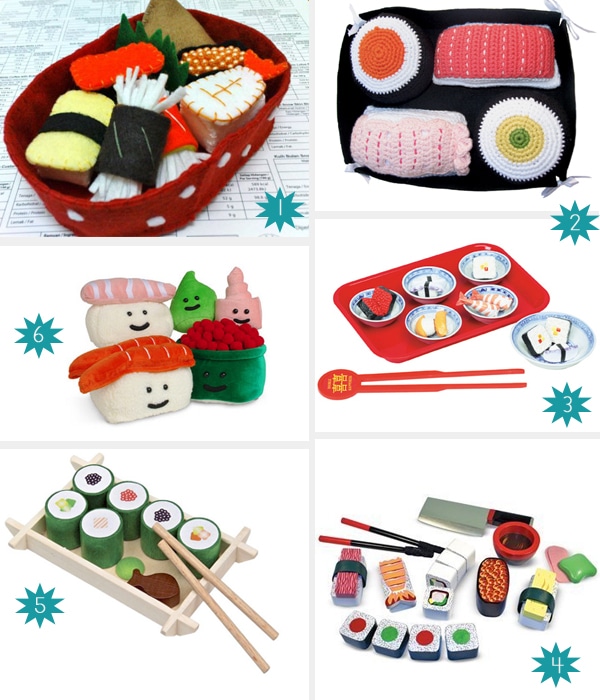 Kids Sushi Lunch Box($17) – This felt sushi kids lunch set is great for your child's imaginative play like parties, picnics and so much more!All sushi are 100% hand sewn with love, made from felt and stuffed with polyester fiber.  Recommended for children 5 years of age and up.
Sushi Set by Yellow Label Kids($36) – Even baby can enjoy sushi with these hand made teething rattles. These unique and beautiful toys are 100% Hand Knit by Fair Trade Artisans in Bangladesh. 4" each approximately
Sushi Sort & Transfer Kit($16) – As children sort the 12 realistic looking miniature sushi pieces using Asian learning chopsticks (or their fingers), they strengthen small motor skills and learn about foods from a different part of the world. Kit includes 5 types of Sushi, Asian Learning Chopsticks, 5 Rice Pattern Asian Dishes, Rice Pattern Bowl, and Tray.(4 and up)
Melissa and Doug Sushi Slicing Set($22) – This elegant 24-piece wooden sushi set is packed in a beautiful storage box and includes sliceable sushi rolls, shrimp, tuna, easy-use chopsticks, a cleaver and more! Sushi rolls make fun chopping sounds when sliced!
Sushi Roll from Erzi($20) – This 11-piece set will make a great addition to your kitchen play. It comes with 6 sushi rolls, a pair of chopsticks, one sashimi, some wasabi and a wooden case to hold everything! Suitable for kids 4+
Plush sushi($8 each) – Designed and manufactured by ThinkGeek, this sushi set turns our favorite food into a group of cuddly plush stuffies.
Related Articles:
---
[ad]