Parents should be aware that today Graco has expanded their buckle recall to include 1.9 million infant car seats manufactured between July 2010 and May 2013. After reports of harness buckles sticking Graco initially recalled 3,773,379 child car seats, spanning 11 models in February.  Just 4 weeks later this recall was expanded to include 9 More Products; 403,222 seats.  At that time the National Highway Traffic Safety Administration's (NHTSA) questioned why the infant seats weren't included in the recall as they used the same buckles, but GRACO maintained that the issue was food and liquids binding the buckle and they didn't feel it was an issue with infant seats.
Today GRACO revealed that they have found that an older buckle design used on select infant car seats was difficult to open. The other buckles used on their infant car seats have been mechanically redesigned to make them easier to use. Regardless, Graco will continue to offer a free replacement buckle to any consumer who has an infant car seat not included in this recall, but would like to update their buckle to Graco's current buckle design.
The harness buckles used on the following models of infant car seats are included in this recall: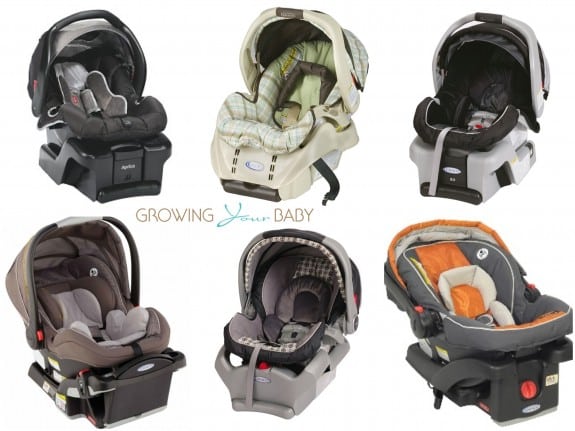 Infant car seats: SnugRide, SnugRide Classic Connect, SnugRide 30, SnugRide Classic Connect 30, SnugRide 35, SnugRide Classic Connect 35, SnugRide Click Connect 40, and Aprica A30.
For specific dates of manufacture, visit www.gracobucklerecall.com
Buckle Replacement Details:
Graco continues to offer replacement harness buckles to concerned consumers at no cost. While many harness buckles look alike, consumers can verify which buckle they have by entering the model name and date of manufacture on GracoBuckleRecall.com. This information can be found on the white label located on the bottom of the infant car seat carrier.
Additionally, Graco will continue to offer a free replacement buckle to any consumer who has an infant car seat not included in this recall, but would like to update their buckle to Graco's current buckle design.
For more information consumers may contact Graco's customer service team at 877-766-7470 (Monday – Friday, 9 am to 5 pm) or consumerservices@gracobaby.com
Those seeking replacement buckles will receive replacement kits in Summer 2014. While waiting for replacement buckles, Graco car seats equipped with affected buckles are safe to use. If your buckle becomes sticky, they recommend cleaning it by following the instructions available on GracoBuckleRecall.com as this will make it much easier to use.
As early as January 2013, Graco began equipping their infant car seats with a new and improved buckle. While some of the buckles look the same, the updated buckle has been re-engineered and has an improved design, which makes it easier to use. This recall impacts only the older model of this buckle, used in car seats manufactured prior to May, 2013.
Moving forward Graco notes that they have met or exceeded every safety standard set forth by the federal government through its 60-year commitment to rigorous engineering and demanding crash testing protocols.
Each Graco car seat must withstand a critical crash test — hundreds of times — simulating a vehicle hitting a brick wall at 35 mph, which is double the force required by the government. Graco has conducted side impact testing on our car seats for nearly a decade before NHTSA proposed such a standard. Graco is also the only manufacturer to crash test our car seats under extreme temperatures – from 0 to 140 degrees F — to ensure the materials maintain their integrity in even the most demanding conditions. Importantly, Graco car seats undergo an additional battery of tests by independent safety experts at the same lab contracted by NHTSA to set the safety standards for the entire industry.

In designing each element of the car seat, the primary focus of our engineers is infant and toddler safety. The harness buckle — a critical part of the car seat — is opened and closed more than 15,000 times, the equivalent of 50 years of use, to ensure it meets our industry-leading safety qualifications. We also pull the harness buckles to withstand a force of over one ton, which is three times more than what is applied during a typical high-speed crash test. While there continues to be no reported injuries or fatalities related to our harness buckles, we have continued to upgrade buckle design as part of our ongoing product evaluation and improvement process.
---
[ad]