Intrauterine growth restriction (IUGR) is a condition in which an unborn baby is smaller than it should be because it is not growing at a normal rate inside the womb. Babies with this condition can sometimes have unproportional bodies as the body prioritizes where the nutrition should go when the resources are limited.
It is believed to occur as the result of certain health problems in the mother, such as, advanced diabetes, high blood pressure or heart disease, infections such as rubella, cytomegalovirus, toxoplasmosis, and syphilis or if the mom smokes cigarettes, consumes alcohol, or abuses drugs.
Often babies born with IUGR catch-up growth in the first three months of life and attain normal growth curves by one year of age. Some early studies have found a variety of long-term complications in infants with IUGR including hyperactivity, clumsiness and poor concentration. But for the most part these children can grow up to be healthy, beautiful little people.
But for one baby, who was born in the seventh month of pregnancy, weighing just 800 grams, her parents gave up hope immediately and abandoned her almost immediately.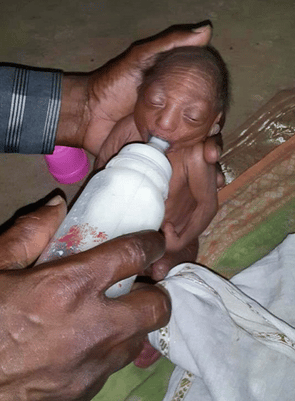 For the past couple weeks the tiny baby, who also has some chromosomal abnormalities, has been in the care of her grandfather, who brought her to the hospital shortly after her early arrival in a small village outside of Mumbai.
He said, "I am thankful to the hospital for giving free medical treatment to my granddaughter.  It is really disheartening that even her parents have rejected her but I will go to any extent to save her."
Dilip Dode, 50, said that his son and his wife believed that they were expecting a healthy baby, but were left in horror when their newborn arrived with unusual features.
"During my daughter-in-law's pregnancy, my son had taken her for regular check ups at primary health care centre in our village but doctors never told them there was any problem with the baby.
"She had a normal delivery at the hospital. But when the baby was given to us, we were left shocked. She did not have the usual features and the word soon spread in the village."
The baby, he says, is a pariah with many people in the community shunning her.
"From our relatives to villagers, everyone gathered at our home to have a look at the baby. And when they got to see her they ran away in fear. None held the baby in hands as they thought they will catch the disease.
"Even my son and daughter-in-law refused to accept her as they were embarrassed to have given birth to her. But I knew it was not her fault so I started taking care of her. My only hope is that she gets well and lives a normal life.
"I will try to convince her parents to accept her but if they still refuse, I will raise her up myself. It is not her fault to have born different and I will not throw her for this disease."
Dr Minnie Bodhanwala, CEO at the hospital the hospital is doing everything they can to help the baby.
"She was dehydrated when she came to us and any further delay could have proven fatal. But now she is responding to the medical treatment and improving.
"We are determined to treat the baby and hopefully after all the test results come we would start the treatment. At present it looks like a case of IUGR or Intra-Uterine Growth Retardation refers to the condition of growth retardation at birth.
"But we can't tell the actual problem unless we get the full results from the laboratory. Once all the required tests and results come, we will be able to chalk down the diagnosis and treatment protocol."
"We are going to do Karyotyping on her today and the results will come after 15 days and only the tests will determine what exactly is wrong with her and whether the condition is genetic or not. We will keep this baby in the hospital for a long time."
---
[ad]