Every year when I walk the ABC Kids Expo floor I look for products that I think moms would love.  This year a shiny red apple caught me eye but when I stopped to check it out I really liked the design and practical nature of the product.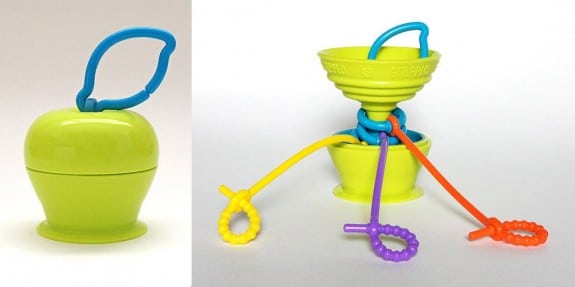 It's no secret that kids like to keep their favorite toys close, but also love to see how many times you'll pick them up off the floor.  And while it's funny the first and second time, we are always looking for ways to keep our kid's toys clean and convenient.
The Grapple is a compact 'apple' that sticks to any surface but when you peel back the 'skin' there are 3 tethers packed inside to hold your child's favorite teethers, rattles or stuffies.
A simple but great design, parents can attach the Grapple to a table, highchair or snack tray of their child's stroller.  I like it because it eliminates the concern of losing something while your out and it keeps the toys from hitting the ground.
Made of soft silicone

BPA, Phthalate & PVC free
---
[ad]