Gwen Stefani was photographed enjoying a lazy afternoon Saturday at the playground in Primrose Hill with her boys Kingston, 5 and Zuma 3.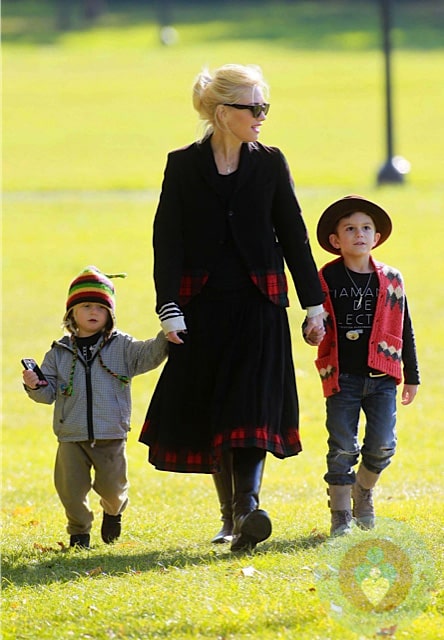 The singer, whos family divides their time between England and California, took advantage of the sun, playing first the swings and then a sandbox, where the boys had a blast digging around.
During a recent interview with InStyle Magazine Gwen revealed that her boys can sometimes be a bit of a fashion disaster.
"I like them to be creative and have fun. I'd love to be part of it – don't get me wrong. Sometimes they'll get dressed and it's horrifying. But they often come out in outfits that are awesome."
For their outing on Saturday, Kingston wore a multi-colored knitted cardigan and a felt Amish hat, while Zuma kept it casual in a rasta patterned hat, Rockabilly t-shirt from Little Trendstar and a pair of Nike runners.
Not present for the outing was dad Gavin Rossdale. He is wrapping up his North America tour this week with his band Bush, but will be heading overseas to play in Germany, Switzerland, France and then London for 3 dates at the end of November.
Related Articles:
{INFphoto.com & FAME}
---