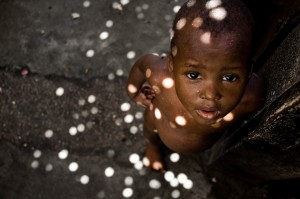 A group of Haitian orphans are safe and sound, but need to find a new place to live after Tuesday's earthquake rendered their newly acquired home unsafe.
Members of the Lifechurch in Allentown, Pennsylvania arrived at the Rescue Children orphanage, Friday, to find all four staff members and 11 children well and living in the garden of their damaged home. The house is still standing but large cracks in the concrete walls have caused fears that it will collapse in the continuing aftershocks. The children are forbidden from going into the building.
They are toileting in a portable toilet in the carport. The women have moved the kitchen into the garden and are serving up spaghetti and sausage at breakfast, rice and canned tuna at lunch, all washed down with sugary coffee. Tents are being set up, in the yard, to provide shade and shelter from the coming rain.
In light of the collapsed buildings that surround the orphanage and the bodies being disposed of by armed men on UN trucks, these children seem lucky. Their origins, however, are anything but and speak to the problems that existed in Haiti even before the earthquake.
One little girl bares a scar from the machete attack that resulted in the deaths of her father and brother. Two of the boys have no history; no one knows where they came from or how they came to be at the orphanage. Another little girl was found, as an infant, in a garbage can. Several of the children have been abandoned by parents who simply couldn't afford the financial burden of a child.
"There's a new type of orphan in the world today, where the mom and dad just can't afford to take care of the kids," said senior pastor Randy Landis.
The orphanage had just moved into the house. On a TV and VCR set up in the garden and powered by a generator, the children were shown a video, of themselves at Christmas. It had been sent to the congregation in Pennsylvania to show how well the children were doing in their new home.
"We showed this at church on Sunday. On Tuesday, we lost it all." said mission director Ramon Crespo, visibly upset.
It is hoped that another rental house, further from the city centre, will be found within a week and a second mission group will come down to help with the move.
"That house may collapse," Crespo said, wrapping his arms around the children. "But this home will never collapse."
It's good to see glimmers of hope coming out of the rubble in Port-au-Prince, and wonderful to see the world coming together to help, in very tangible ways. – Jen R, Staff Writer
*Anyone looking to donate to this orphanage can do so at rescuechildren.org*
Related Articles:
---
[ad]