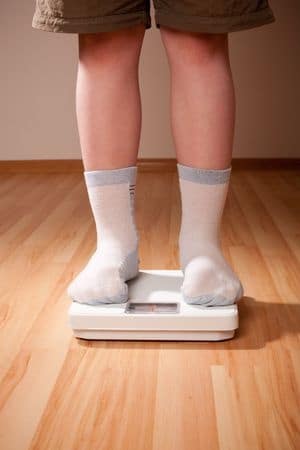 At one time, being overweight was a rarity – something that happened to people with illnesses or physical limitations. Between the change in diets and the advent of various items in modern society, adults slowly started to tip the scales. The numbers reached alarming heights.  A recent study that was published last week found that obesity rates in Canada have tripled between 1985 and 2011.
Now children are suffering from weight issues. They struggle with "adult" diseases. Heart disease. Diabetes. Back pain. Joint pain.
These are not issues that should plague children, yet they do. And, interestingly enough, many of us are still in denial. In fact, a recent study has indicated that parents are misperceiving their child's weight.
Regber's study asked parents of 16,220 (1,800 from Sweden) children between 2 and 10 years of age about the weight and health of their children. They were also asked to describe any concerns they had over their child becoming underweight or overweight. Regber and her team then compared those perceptions to their children's actual measurements.
Findings showed that half of the parents were found to misperceive their child's weight as normal, and about 40 percent were concerned that their child would become underweight. This creates a serious problem for helping children achieve and maintain a healthy weight now, and on into adulthood.
"How parents perceive their child's weight status is of major significance to being able to promote a healthy weight development. Our studies show that the parents' insight into obesity in their children indeed grows in pace with the child's age and higher BMI in the child, but also that a weight development at preschool age can go from overweight to obesity without necessary lifestyle changes being made," Susann Regber, who is presenting the findings in her dissertation, told Science Daily.

"Many parents simply do not see the increase in growth, and are dependent on objective information from, for instance, child welfare centers and school health care to act." A simple measure may be to introduce a routine in pediatric and school health care to always show the child's BMI curve to the parents."
But all is not lost. In fact, parents seemed to open up during the arranged discussion group arranged by researchers. Many of the parents emphasized the obstacles in healthy eating habits at home – long hours at work, commuting, over-full schedules, financial limitations, marketing of unhealthy food and drinks to children. There was another concern brought up that you don't typically hear as well – grandparents, spouses, other people in direct and frequent contact with the children – failing to follow 'house rules' when it comes to food.
"But the parents also emphasized examples that promoted good eating habits, like children being served good, healthy food at day-care and in school," says Susann Regber.
Related Articles:
---
[ad]