Nicole Richie and Joel Madden show off baby Harlow in this month's edition of Harpers Bazaar.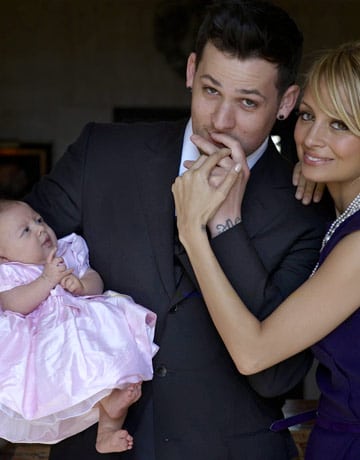 The new mom reveals that she wants to have a whole team of children saying,
"I want five children, twin boys and three girls. I've wanted that since I was a little girl."
On the night of the Grammys in February, just a few weeks after Harlow's birth, the couple headed out and got a rough time from the press. Nicole said with a furrowed brow,
"I was gone for maybe three hours. I never go out. I go four or five days without leaving my house. But the press just went wild with it."
Having Harlow has changed Nicole's life.
She told Diane Sawyer in an interview last year that "I owe the baby my life," and she seems full of new-mommy mojo. Gossip sites like Perez Hilton, which used to gleefully post her too-skinny bikini pictures and mug shot, now gush, "Nicole looks so pretty. Love her hair!"
For more pictures and the full interview please visit HarpersBazaar.com
---