As a rule, the only make-up I wear is lipstick unless I'm going somewhere and then I add in mascara. I don't know much about cosmetics and don't have a lot of time of money to try new things.
Luxe Box, is an exciting and new subscription service that allows members to try beauty products in the comfort of their own home before buying them full-sized. Members receive 4-5 hand-picked deluxe sized products in a chic box every month, delivered to an address of their choice.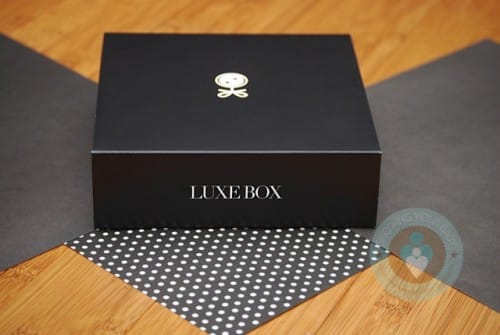 Last month when I heard about Luxe Box through a friend I signed up right away.
I want to try new beauty products but have no idea where to start. Having products chosen for me and sent once a month is not only convenient, but it gives me the chance to try cosmetics that I wouldn't ever think to buy.
Excited about what they would send, I couldn't wait for my box to arrive and when it did – I wasn't disappointed.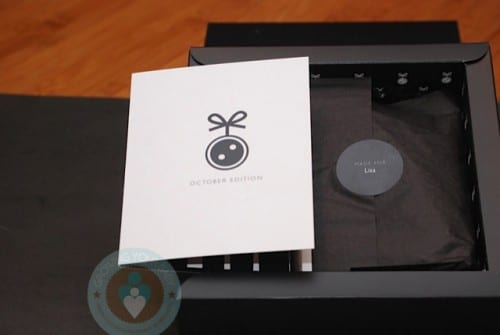 Packaged in a simple black box with the company's logo in the middle, the samples were wrapped nicely in tissue paper that was sealed with a sticker that said 'made for Lisa'.  Inside were 5 samples; Lise Watier Flash Lift Radiance Vitals, Moroccan Oil 25ml,  City Lips lip plumping treatment 1ml, Olay Professional Pro-X eye restoration complex and a 5ml bottle of Chloe eau de perfume.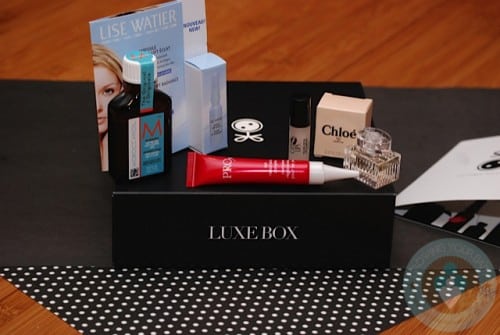 What a great selection.  A girl could definitely get used to this.  The only downfall?  You have to wait a month between shipments!
The good news is  the monthly subscription fee is just $12/month or $10/month if you pay the full year up front, which is less than what I would pay for a mascara or lipstick.
For more information please visit Loose Button's website.
* A note to our US moms.  Luxe Box only currently ships to Canada, but that is going to change soon.  So stay tuned.*
---