Three weeks after the FDA announced a recall of 10 baby wipes brands from Nutek Disposables, Inc Health Canada has followed with their own recall.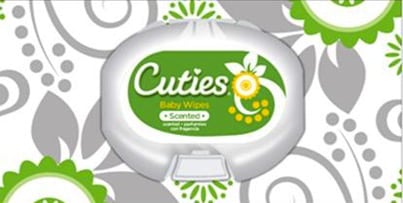 Health Canada's recall involves 164,000 units Personnelle Baby Wipes and Cuties Baby Wipes with lot date numbers prior to and including lot number 29414.  The affected baby wipes were sold to Canadian distributors and retailers up to October 21, 2014.
Even though Health Canada has not received any reports of consumer incidents or injuries related to the use of these products, there have been complaints of odour and discolouration of the wipes. Microbial testing done by the company showed the presence of the bacteria Burkholderia cepacia (B. cepacia) in some of the baby wipe products.
In general, this bacterium poses little medical risk to healthy people. However, people who have certain health problems like weakened immune systems or chronic lung diseases, particularly cystic fibrosis, may be more susceptible to infections with B. cepacia. Numerous reports of complaints from US customers have been received by the Company that include rash, irritation, infections, fever, gastro-intestinal issues, and respiratory issues. In some cases, medical attention was sought.
Health Canada also revealed that Nutek has received two unconfirmed reports of injury from Canadians who purchased the baby wipes in the United States or online.
---
[ad]